Driving Range Mats vs. Grass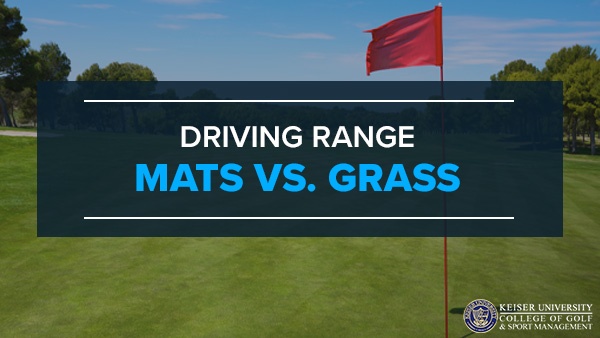 Golf driving ranges are great ways to work on your game. From improving your swing to practicing driving the ball off the tee, a driving range is a great facility to seek out.
Driving ranges across the country vary in the hitting surfaces. Some will have a grass surface just like a tee box or fairway.  Other driving ranges will have an Astroturf mat surface that attempts to replicate the natural feel of a golf course.
The big question is: which surface – mats or grass – should you use?
Mats vs. Grass – Are mats a good idea?
Golfers interested in mats can easily locate them at their nearest golf shop or online. These mats come in various shapes and attempt to replicate the feel of the fairway or tee box. The mats also include rubber tees that can be inserted into pre-fabricated holes in the turf.
Driving ranges will use mats as they are far easier to maintain than grass. A large number of customers can use the range during the week without it getting worn out.
The great thing about a practice mat is that golfers can buy one to have at home to simulate a real golf course. If you have a large enough backyard you can use the practice mat in a variety of ways. It allows you to replicate a real golf course, and when you are done, you can simply roll it up and put it away.
Despite being a great at-home practice tool, many golfers refrain from using a mat at the driving range. According to experienced golfers, there are several reasons they avoid using driving range mats. One commonly expressed complaint is the mat can damage your golf clubs.
Often, mats have concrete or rubber underneath them. Depending on your swing, your club may come in contact with the underneath surface, and it can increase the speed of a club's deterioration. It can especially hurt irons. Real grass allows a golfer to make divots. Obviously, creating a divot is impossible when hitting off of mats without using a tee.
Another often-cited problem with mats is it causes soreness and pain in a player's wrists, arms, and shoulders. Injuries can occur due to the surface underneath the mat and the lack of give compared to a natural surface.
Club deterioration and injury are two major cons of driving range mats. However, there is another major con to playing off of a mat. Golfers can drive the ball perfectly with each swing off of a mat. However, once they return to the golf course and play on natural surface, those gorgeous shots are replaced by ugly ones. The driving range mats help form bad habits and those habits can be hard to break once you return to the golf course.
Mats vs. Grass –  Why should you practice on grass?
There are plenty of problems with practicing on Astro turf driving range mats. Of course, if it is the best you can find, then you must make do with what you have got.
Real grass is a great way to practice, because you get proper feedback on your swing. Every shot you make on a driving range with natural turf is exactly like a shot you take on the golf course. This is not the same on Astro turf mats. A fat shot on a mat will react far differently than a fat shot on a grass surface.
The dreaded fat shot on a driving range mat will most likely look far more attractive than if it is on real grass. This type of feedback is misleading and gives golfers the wrong idea about their game. Real grass allows you to learn from your mistakes. It also allows you to correct those mistakes before playing your next round.
While driving range mats can make you look like a good golfer, natural surfaces will prove whether or not you actually are a good player.
Mats vs. Grass – The final verdict
Not all golfers are blessed with having grass surface driving ranges.
Depending on where you live, the driving ranges could use mats. Driving ranges in colder climates or areas that find it difficult to grow grass during certain times of the year may favor mats. In addition, some driving ranges may be cheaper due to having mats instead of natural grass.
If driving ranges with Astro turf mats are the best you can do, then you must practice on them. Otherwise, it is much better for your game to seek out driving ranges with grass. Your game, body and clubs will thank you.
If you want to take your game to the next level, contact our team at Keiser University's College of Golf & Sport Management today. With our dedication and experience, together, we can elevate your game to new heights. Give us a call today at 888-355-4465.