When You Should Consider Custom Golf Clubs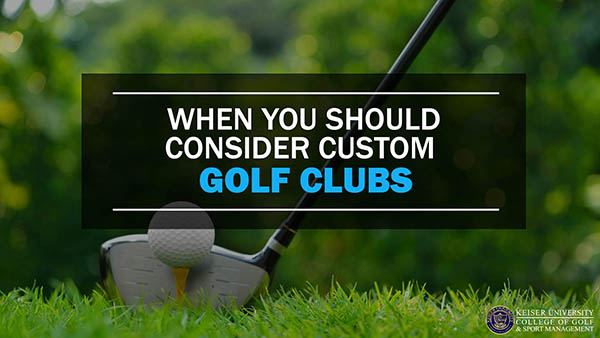 So you've been playing golf for quite a while now, using the clubs you purchased off of a rack in the expanse of a big box sporting goods store.
Your set might be a decent brand or a cheaper knock-off, and you took them straight to the driving range to put a couple of buckets of range balls to the test and were happy enough.
However, some time has passed and you want to improve your game, but aren't quite sure what direction to go.
Should you get lessons from your local golf pro?
Should you buy a membership at a practice facility where they have all of the latest technology to analyze your swing? Or use an app?
These are great suggestions, but won't really help much until you begin using the right equipment; you need to invest in a set of custom golf clubs.
You Want To Improve Your Game
One reason many golfers don't consider custom golf clubs is the price.
Yes, they might be a bit more expensive than a set from a store rack, but the investment you make will pay off in the long run.
Consider the overall money you spend on golf: club memberships, practice range, green fees, etc.
If the goal is for you to become a better golfer (which it should be at this point) why would you not put more money into your game at the front end?
The bottom line is your swing will not improve until you have a properly fitted set of clubs, which you won't get from the standard set you purchase from a store.


You Want Your Clubs To Fit Your Needs
Custom golf clubs are an individualized set and have characteristics that are created for your body's attributes and your swing style alone.
Many clients are shocked when they realize the complex amount of measurements and analysis involved in the production of custom golf clubs.
A fitting session with a reputable custom golf club fitter can sometimes take well over an hour.
One important aspect of the fitting is measuring for the proper length of club, and this includes the golfer's overall height, proportion of the body, such as leg and arm lengths, age, posture, and many other physical factors.
Even the width of your hand is a necessary measurement that must be taken into account.
Have you ever picked up a club that didn't feel comfortable in your hands?
It's because the grip is not right for you.
Think of the standard set of clubs you bought before; did the set come with a size guide?
No. Unless you were one of the less than 1% of golfers who would fit the exact characteristics of the store-bought clubs, you are not using a set that would maximize your overall swing.
You Want Quality Clubs
Another important factor in getting custom golf clubs is the quality of the club itself.
The fitter will analyze your swing to determine how to set the clubface, the rigidity of flexibility of the shaft, the overall weight of the club, and even the style of shot you want to hit.
Buying a set of custom golf clubs is one of the great investments you can make to improve your game, and a necessity if you want to be able to maximize the quality of your swing.
Talk to us at Keiser University College of Golf today to see what we can do to help you get the best out of your golf swing.