Understanding Your Golf Handicap and How it Can Improve Your Game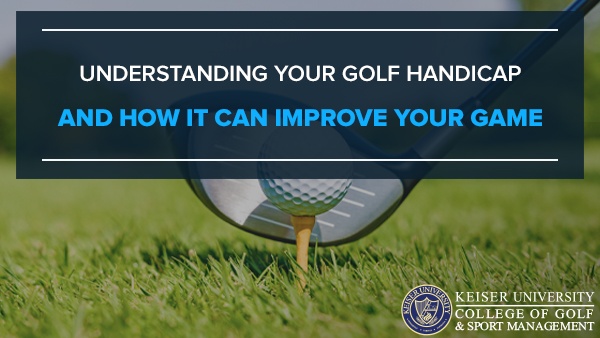 Golf can be considered one of the very few sports that have a handicap system baked into the very fabric of the game.
A handicap system allows players of different skill levels to compete on a level playing field.
Each individual player maintains their own handicap number, and when two different players compete, the handicap system allows the less skilled player to challenge the better player evenly.
Let's take a look at how the handicap system is determined, consider different golf handicap calculators and examine how handicaps work for amateur golfers in particular.
Explanation Golf Handicaps
In simple terms, a handicap is a number that measures each golfer's potential when they play from specific tee boxes.
It calculates a net score that is applied to the actual number of strokes a player makes during a round.
The net score system allows players from different skill levels to play on relatively equal terms.
Different System in the United Kingdom
In effect, players with more skill have low handicaps, and less skilled players have high handicaps.
Handicaps are calculated in collaboration with national and regional golf associations.
Handicaps very slightly from one country to another — for example, the handicap system used in Britain is different from that used in other nations.
No Handicaps On Tour
Professional golfers like Rory McIlroy and Jordan Spieth do not use handicaps when playing on the PGA Tour.
Handicaps are for amateur golfers that maintain an official handicap number.
Typically, they maintain their handicap by entering their score after every round in a computer system located in the golf club or golf shop.
They can print out their handicap and score history, view it on screen at the course, or pull it up online at home.
Measures Player Potential
It's important to note that a handicap is designed to show a player's potential, not an average of their past scores.
The USGA calculates handicaps using a formula that estimates the number of strokes below or above par a golfer may be able to achieve — this is taken from the scores of their 10 best rounds out of the last 20 rounds of golf they played.
In Europe, golf's ruling organization has no jurisdiction over the handicap system, instead leaving the responsibility to national golf associations in each individual country.
Levels the Playing Field
The net score is found by subtracting the handicap number from the actual number of strokes taken during around.
The net scores of each golfer in a competition are compared, and the player with the best result is named the winner.
This is how a golfer with less skill can beat a much better player.
Average Best
The USGA calls this the "average best" system. Golfers with better handicaps will generally play closer to their handicap on an average basis because they are more consistent than golfers with less talent.
For this reason, a golfer who outplays his abilities on any particular round has a statistically better chance of winning.
Course Rating and Slope
In addition to the average of the 10 best rounds out of the last 20 played, American handicaps also include variables such as course rating and slope number assigned to the golf course.
A "handicap differential" is determined from these statistics, and the subsequent player's handicap differentials are utilized to determine the handicap the player is assigned.
Golf courses are rated two ways: slope rating and course rating.
– Slope rating is a number that falls between 55 and 155.
It is used to get a snapshot idea of the difficulty of the course for a bogey golfer relative to a golfer who plays to scratch.
– A course rating is a number that usually is between 67 and 77.
It is an estimate of the average score a scratch golfer would shoot on that individual course.
Augusta National
Interestingly, one of the highest profile golf courses in the world, Augusta National Golf Club, which hosts the legendary Masters Tournament every year, does not have an official USGA course rating.
While the individual members usually have a USGA handicap derived from play at other clubs, Augusta National itself has its own system that is reserved for members only.
Pars and Birdies
The simple system was developed by the co-founder of the club, Clifford Roberts, many years ago.
It is calculated by looking at the number of pars a golfer typically makes in a round, and the result is modified slightly by the number of birdies.
As a result of this internal system, the club has not allowed the Georgia State Golf Association to ever rate the course.
Despite this, some expert estimated the course to have a course rating of approximately 76, which would put it among the toughest courses in the country.

Tough Courses With High Slope Ratings
Other tough courses with extremely challenging ratings include The Ocean Course at Kiawah Island.
Designed by legendary golf architect Pete Dye, it has the highest combined course rating and slope rating in the country.
The daunting slope rating that tops out at 155 and course rating of 79.6 do not seem to have scared off any golfers, as the Ocean Course remains one of the most popular golf destinations in South Carolina.
In 2011, Business Insider determined that there were a total of 19 courses that could claim a slope rating of 155.
The list included:
Hazeltine National Golf Club in Chaska, Minnesota.
Pine Valley Golf Club in Pine Valley, New Jersey.
Ledge rock Golf Club in Mohnton, Pennsylvania.
TPC Treviso Bay in Naples, Florida.
Castle Pines Golf Club in Castle Rock, Colorado.
TPC Sawgrass in Pontevedra Beach, Florida.
The Concession Golf Club Black Course in Bradenton, Florida.
Ballyhack Golf Club, Big Lick Course in Roanoke, Virginia.
Rich Harvest Farms in Sugar Grove, Illinois.
History of Golf Handicapping
Handicapping has an interesting history. The USGA began operation in 1894.
Over time, they have taken steps to improve the handicap system to ensure credibility.
In 1911, they instituted the first handicap system. An essential part of the system was Peer Review.
They wanted to avoid problems arising from individual golfers maintaining their own handicap.
To establish faith in the credibility of the system, they created a policy of only letting golf associations and clubs that were authorized by the USGA issue handicaps.
Make the System Stronger
In the late 70s, they took steps to strengthen the system even further.
The association invested more than 10 years and $2 million to make it better. Among the changes, they:
-Incorporated the difficulty of each course.
-Separated casual and tournament play.
-Made allowance for abnormal scores on specific holes.
The new adjustments were added into the handicap system over time between the mid-1980s and mid-1990s.
Golf Handicap Calculators
Most average golfers will not have to worry about handicap because they don't play enough to determine the number.
For those interested in determining a handicap, the initial task is to begin to keep score of every round.
A friend or associate must keep score for the golfer, and sign the card after the round is over.
Generally, the scorecard needs to have both signatures – the golfer's and the person keeping score.
To figure out the handicap, a golfer needs to play a minimum of 10 rounds.
Many golfers find their handicap drops precipitously at the beginning of the time they start tracking the numbers. However, it soon level outs, and an accurate handicap number begins to emerge.
Automated Tracking System
Most private golf clubs and public courses in the United States have a computer system tied into the GHIN, which is an automated handicap tracking system.
Enter the score from the scorecard you maintain for each round, and the computer will automatically keep track of the date, score and handicap number for you.
As you play additional rounds, your handicap will go up and down depending on how your play evolves over time.
Average Golf Handicap
Okay, so now you have a good idea of what your handicap is.
How does that stack up with the rest of the golfing community?
Remember the computerized system we mentioned earlier?
According to GHIN, there are almost 2 million players that maintain an official handicap. In 2013:
-Male golfers had an average handicap of 14.3. This number is a two shot improvement from 23 years ago.
-Female golfers have an average handicap of 26.5 in 2013, which was almost a three stroke improvement from 1991.
Focus on Fun
No matter what your handicap is, keeping track is a lot of fun.
You get a clear picture of your game, and can see how you are developing over time.
If you ever decide to compete in a tournament, you are ready to go because your handicap is already established.
If you are looking to improve your handicap and  explore the wide variety of career opportunities in the golf industry, contact us today at (888) 355-4465.