The Professional Tournament Ken Martin would Most Like to Play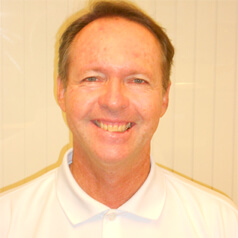 Ken Martin, PGA, Keiser University College of Golf Professor
The tournament I would most like to play is The Open Championship. Having had the opportunity to attend the 2002 Open at Muirfield as a coach, and the 2005 Open at St. Andrews as a coach/caddy, the aura of Scottish links golf has left a lasting impression.
Being that the Open Championship is the oldest golf competition in the world, dating back to 1860, also adds to its prestige and significance.
The attending galleries are often noted for being the most knowledgeable in the sport, and I recall several lively interactions that prompted further curiosity for the experience.
As links land is coastal and treeless, it is wind swept, presenting ground conditions that are typically firm and fast.
The courses may not be regularly irrigated and contain a plethora of dips, swales, knobs, and bunkers; the type of playing conditions I enjoy most.
I have always found that if the venue or conditions intrigue, then my performance will most likely improve.

For this reason, I feel I would have the best chance at scoring well in an Open when compared to a PGA Tour event or USGA Championship.
Typically, courses in America are Parkland, meaning they are inland settings often flowing through wooded landscapes with well-manicured and watered fairways, rough, and greens. Such courses often dictate the style of golf played, mostly requiring long air-carries from the tee, and high, soft-landing approach shots to the greens.
Conversely, links golf can be played on the ground, meaning the ball will roll much further once it lands, and most greens can be accessed with run-up shots or by using a berm to bank the ball toward the hole.
I find this style of play more intriguing as well as providing a more broadly competitive format, since a player's only limitation is their imagination for shot creation, as opposed to potential short-comings in length of drive.
If you enjoyed this golf info, here's how you can get even more. Contact Keiser University College of Golf about a degree in golf.