Highest Paid Professional Golf Caddies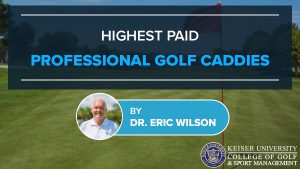 Many people think of a golf career as being glamorous and filled with days of playing golf on some of the most beautiful courses in the world.
Yes, the jet set life of being a well-paid golfer is a truly beautiful thing. But what if there was another way to make a good living and to spend most hours of the day on the fairways and greens of the best courses around?
Sure, it isn't playing the The Masters, but it is still a career in golf. Professional golf caddies may not get the fame and glory that professional golfers do, but they can make a small fortune. Plus, they never have to take a shot.
How Much Do Professional Caddies Make?
Just because some players are cheap and only tip caddies pocket change, it doesn't mean all caddies are living on nickels and dimes.
In 2015, the US Open winner, Jordan Spieth, made a cool $1.8 million in prize money. His caddie Michael Greller pocketed $180,000 for his performance at the tournament.
Sure, he spent the US Open carrying Spieth's golf bag, but he was more than that to Spieth. The tournament winner credited Greller with helping him through the rough patches of the U.S. Open and keeping his eye on the prize.
Despite Greller playing down his role in Spieth's win, he was able to keep the PGA Tour player calm when it mattered.
According to sources, 10 PGA caddies made a minimum base salary of $110,000 in 2022. That is an astronomical amount to many of the lower-tier PGA golfers that hope they can simply make the cut at the upcoming tour event. But six-figure earnings aren't the maximum yearly salaries caddies can make; and some have seen seven-figure years thanks to their careers in golf.
Carrying Tiger Woods' Golf Bag
Perhaps the most famous caddie in recent years, if there were famous caddies previously, is Steve Williams. The veteran caddie worked with Greg Norman before helping Tiger Woods to 13 PGA Tour major victories.
Following a public and bitter divorce with Woods, Williams moved on to Adam Scott helping him to the 2013 Masters title.
Before Williams even began work with Woods, he was earning a great living. In 2007, his $1.4m earnings on commission saw Williams in the top 75 of the PGA's top earnings; and he wasn't even a player.
Williams reportedly made nearly $9m while working with Woods for roughly 12 years. That is based on a 10% cut of Woods' winnings during their relationship, which came to $88.8m.
It is thought that Williams, like caddies for other top-tier PGA Tour golfers, was on a base salary as well. According to Celebrity Net Worth, Williams also received 10 automobiles that Woods won at tournaments.
The pair's relationship soured in 2011. Williams went on to bad-mouth Woods in his book Out of the Rough. Like a marriage, a caddie-golfer relationship can hit tremendous heights and gut-wrenching lows.
Caddies See Increase in Money
The money that caddies are making is increasing so quickly that more people will seek careers as bagmen and women rather than golfers.
The 2017 US Open held in Wisconsin saw Brook Koepka win his first-ever PGA Tour event.
Koepka received an astonishing $2.16m in prize money, the most ever given at the tournament.
Koepka's win not only landed him a great payday, but based on the usual 10% cut, his caddie Ricky Elliot made out with just over $200,000. Less than 2% of Americans, 15 or older, make that kind of money in 12 months.
Elliot pocketed it in a matter of days.
Caddies are Another Breed
Some caddies play golf to a high-degree, others like ESPN's Michael Collins didn't begin playing until his early 20s.
Collins had been a stand-up comedian before getting into the golf caddie game and used his outgoing personality to impress the right people.
Fate intervened and Collins became a caddie for pro golfers such as Omar Uresti and Robert Gamez.
Although his golfers never won on the PGA Tour while he caddied for them, Collins had a great time and parlayed his work on tour into a gig at ESPN.
Caddies' work is indispensable to a PGA pro, and the money they earn today is reflective of their importance as a golfer's sidekick.
Whether your dream is to become a pro caddie or work in professional golf management, Keiser University College of Golf can help you get started. Contact us today for more information.