Do You Have What It Takes To Become A Pro Caddy?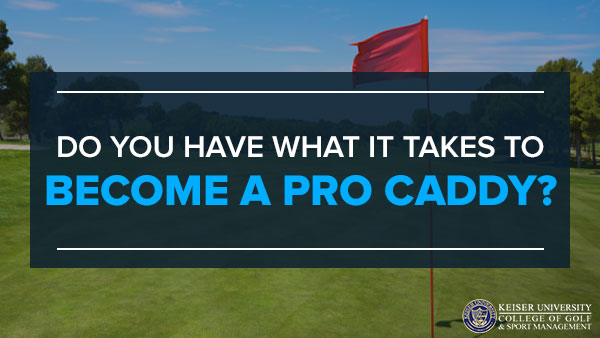 Not so long ago, Jordan Speith's caddy, Michael Greller, was teaching math to sixth-graders in the state of Washington at Narrows View Intermediate School. By April of 2015, his boss had placed second twice and won twice.
He captured the 2015 Masters for a $1.8 million payday, bringing his earnings to $4.1 million through April. That meant Greller had earned $375,000 through the first four months of the year, one of the best-paid golf caddies. But that was not the end of it.
By July of 2015, Spieth hauled in $8.7 million in prize money, so Greller took home just shy of $900,000. And that was only through the middle of the year.
The Benefits Of Being A Pro Caddy
For sure, few caddies will have the opportunity to carry the bag of the top PGA Pro playing at the very top of his game. However, being a caddy presents many rewards that are not monetary.
Several caddies are former golfers who prefer to carry the bag of a current pro than give up the game at a professional level. In addition, while many people have to sit at a desk inside an office park somewhere in a dreary suburb, caddies earn money outside, enjoying sunshine and fresh air. They get to travel around the country, and possibly the world, seeing new places and meeting new people.
What Skills Do You Need to Make It As a Pro Caddy?
Some of the best caddies are players who are extremely good golfers themselves.
They understand the pressure the pro player is under, and provide expert advice on weather conditions, club selection and putting assistance. They read greens, suggest the proper club depending on the distance and lie, help control the crowd from getting unruly and more.
It helps to have a surplus of mental strength, because caddies may get blamed for the golfer's poor performance, even if they are not at fault. One high-profile professional even told his caddie before working with him that he should be comfortable in taking the blame for errors the professional made on the course. It was simply this particular pro's strategy to maintain his mental edge during a tournament. Presumably, the caddy was okay with this unorthodox method.
This story highlights the importance of the mental side of caddying. It is much more than carrying a bag and reading off yardages. Caddies need to know when to assert themselves, and when to back off. They are a combination of coach, counselor and friend, playing different roles depending on the course, tournament and how the professional is playing at the time. After a time, they may know their player's game better than their own.
Caddies Getting Fired
One of the disadvantages of being a caddy is the possibility of getting fired.
In the summer of 2015, Robert Allenby and his caddy, Mick Middlemo, had a contentious disagreement in the first round of the Canadian Open. That led to a separation of the two on a permanent basis midway through the round because Middlemo was fired. A fan had to fill in for the last nine holes of the day. Both Allenby and Middlemo blamed each other for the spat, using the media to continue the disagreement and take shots at each other for several days.
Similarly, pro Jessica Korda got into a yelling match with her caddy, Jason Gilroyed, during the blustery third round of the 2013 US Women's Open at Sebonack Golf Club in Southampton, New York. She fired him after the front nine, and put her boyfriend on the bag. She said the conditions which included high winds and tight pin placements contributed to the pressure she felt at the time.
Tiger Fired Fluff and Steve Williams
Tiger Woods fired his first high-profile caddy, Michael "Fluff" Cowan, after they worked together in the beginning of Tiger's pro career, which included his epic win at the Masters tournament in 1997. However, he fired Mr. Cowan in 1999 and hired Steve Williams from New Zealand. Mr. Williams was Tiger's caddy from 1999 through 2011 when he was also fired. Williams recently put out a book in which he said Tiger treated him like a "slave", but don't feel too bad for him.
It's not always players that fire golf caddies. Sometimes it is the other way around.
For many years Luke Donald and his caddy, Johnny McLaren worked together. McLaren earned a tidy sum carrying the bag for the former number one player. Mr. Donald seemed surprised, but said he knew McLaren had strong opinions, and he supported him when he decided to move on.
Caddies Lawsuit
Golf caddies have made great efforts to improve their working conditions. Over the years, they have felt many times like second class citizens.
For example, in February of 2015, dozens of caddies filed a lawsuit against the PGA Tour in federal court. Their main complaint was that the Tour not only unlawfully made them don corporate logos on their bibs, they did not share any of the estimated millions of dollars in revenue that promotional advertising brought in.
They have made claims in various legal areas including contract, intellectual property and antitrust laws. In fact, they petitioned to make the lawsuit a class action representing all caddies in the US. As of September, 2015 the case continues to be tried in Northern California. Part of the reason that the caddies feel they should get part of the advertising dollars resulting from logos appearing on their bibs is they are independent contractors. In that capacity, they must take care of their own healthcare, retirement plans and pensions. They receive none of these benefits from the PGA Tour.
Caddy Preparation
When a new golf season is on the horizon, caddies begin their preparation in earnest as much as the professional golfers they represent. Dragging their body through an entire golf season without any conditioning and strength training is asking for trouble. This is especially true as the distances at many championship courses continue to grow every year. In addition, they must refresh their knowledge of the yardages, construction areas, putting green grain, weather conditions and other elements related to each stop on the tour.
As many of these factors are constantly in flux, they must refresh their internal knowledge base each time they return to a tournament. For some caddies who work with a golfer who plays internationally, this may mean the caddy must know a wide variety of geographical locations, from the heat of the desert in Dubai to the cold and rain of the great links courses sprinkled throughout Ireland, Scotland, England and Wales.
Another challenge that caddies face is they must remain positive at all times. At the same time, they must offer an honest opinion on each shot. It can be difficult to stay positive if the golfer is experiencing difficulty, and especially if they tend to take out their frustration on the caddy.
Is It Worth It?
In the end, is it worth it to go through all of the frustration of becoming a caddy and attempting to work at the highest levels of the game. Golf Today interviewed caddy Scott Gneiser a few years ago. Gneisser carried the bag of David Toms for more than 15 years until he left in 2013 to work for John Peterson.
Gneisser confirmed that you can make good money as a caddy if you work for a top player. His victories with David Toms included the PGA championship in 2001 when it was held at the Atlanta Athletic Club. Gneisser said he lives and dies with every shot, just like average golfers, and that he would continue to caddy as long as it was fun and provided a good living.
How to Become a PGA Tour Caddy
Working as a caddy at the professional level is clearly a lot of hard work, but the rewards can be well worth it. Because of the stakes involved, competition is fierce. So, what does it take to make it as a caddy at the professional level?
Start Training 
Much like the golfers they assist, caddies who wish to make it at the professional level must train in preparation. Thankfully, organizations like The Caddie Association offer certification programs for those interested in honing their skills and knowledge. Such programs cover topics including the history of the game, responsibilities on the course, and the rules of golf. Upon completion of the self-study portion of the program, participants can take an examination to qualify for certification. Such a certification demonstrates a caddy's commitment to the role.
Master Your Golf Skills 
Obtaining certification is a great start and certainly a step worth taking. But those with true dedication know that a mastery of the game and all that goes with it are just as important, if not more so. Caddies are essential to the success, or failure, of the pro golfers they work with and must therefore possess a prolific knowledge of all the elements that go into a strong game. An ability to read greens, detect wind patterns, and determine how course conditions might affect play on a given day are all vital to a successful caddy.
Compete in Tournaments 
Theoretical knowledge is all well and good, but nothing can beat the lessons learned through real-world experience. Many caddies are great golfers themselves, and participating in tournaments is a fantastic opportunity to hone one's skill and make professional connections. Tournaments are an opportunity to experience a golf course firsthand and meet other caddies and golfers.
Get Experience
As you start your career as a professional caddy, look for opportunities to participate in mini-tours. A mini-tour is a Minor League golf tour that is a more accessible, lower-cost alternative to the major tours. The costs involved in the major tours can be prohibitive if a major sponsor isn't subsidizing you, so mini-tours are a viable way to build your experience without having to fork over all of your dough. And if you can make a name for yourself on the mini-tour circuit, you never know if you'll catch the eye of the next up and coming PGA Tour Star.
Network 
Tournaments and mini-tours are great opportunities to gain experience and hone your skills but don't underestimate the power of networking to advance your caddy career. The competition for caddy positions is fierce, and if you possess a similar skill and experience level as another caddy, name recognition could mean the difference between landing a lucrative gig or not. Build relationships with your fellow golfers and caddies and make a name for yourself. You never know when a golfer might be looking for a new caddy, and if you've made a solid impression on a fellow golfer, they might just drop your name.
Work Your Way Up
Gaining experience and putting your time in are important if you want to eventually work as a caddy on the Korn Ferry Tour and ultimately the PGA Tour. You'll know you've "made it" when you're caddying for golfers playing at this level, but such success doesn't happen overnight. You're going to have to put in a lot of hours of hard work and dedication to make it to this level, but the rewards are well worth it.
Have a Love for Golf 
Caddying is a tough field to get into, and even once you've established yourself, it takes continual hard work. No matter how much money you might make as a caddy, it will be hard to sustain that level of physical commitment and fortitude without a genuine love of the game. If you're thinking about a career as a caddy, take some time for self-reflection to make sure you're in it for the right reasons.
To learn about other great careers in the golf industry, contact us today at Keiser University College of Golf.