College of Golf Starts Short Game League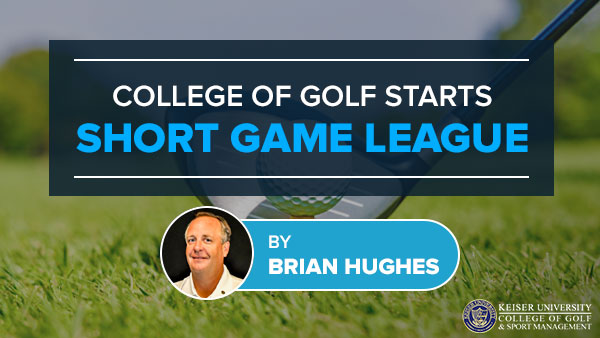 by Brian Hughes, Keiser University College of Golf Program Director – PGA, MA
With chipping, pitching, and bunker play being such an important element of improving golf performance, the College of Golf has started a weekly short game competitive league geared toward this area of the game.
Each Wednesday during the spring semester, our short game practice area is set up with a variety of shots, with scoring and competition part of the fun. Students are challenged at each of 18 different locations to score as many points as possible by getting their shots close to the hole. Five points are awarded for holing out the shot, 3 points for getting the ball inside a three-foot circle, 2 points for the ball stopping in a 10-foot circle, and one point for keeping the ball on the green. At the end of 18 holes, the winner is determined by adding up the total points over 18 holes. The course is set up each week by our PGA Professional Staff, with the course set-up changing each week.
A variety of formats make up the weekly schedule, with individual and team formats, a match play event, and even an event where competitors will be using an old-style "niblick" modeled after pre-20th century golf clubs. While the primary goal is for students and faculty to get together for a little fun, the league is also designed to help students measure skill development in this critical area of golf. By creating added pressure, hitting a variety of shots, and building a scoring average, students can measure their current skill levels, helping them to understand their strengths and weaknesses and leading to more focused practice. Each week the player performance is tracked, with scoring averages and "Player of the Year" points being kept based on regular participation and performance. Entry in the weekly events is $1 per player, with proceeds going toward Cystic Fibrosis.
Here are the weekly winners for the first three weeks of the competition:
Week 1 – Individual Play – Samuel Wilson – 31 Points
Week 2 – Two-Player Teams – Freddie Foden/Bertie Packhaun – 40 Points
Week 3 – Individual Play – Alex Johnston – 35 Points
The race for "Player of the Year" is currently tied between Alex Johnston and Antoni Strzlecki, each with 230 points.
If you'd like to study with Brian Hughes and other PGA Master Professionals, contact The College of Golf today.