10 Careers You Can Pursue with a Golf Management Degree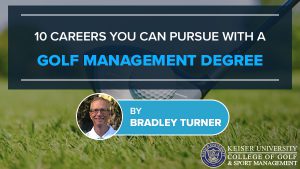 By Bradley Turner Keiser University College of Golf Director of Online Golf Instruction – MBA, PGA
The College of Golf at Keiser University offers a variety of educational programs for students to develop the knowledge and skills to pursue a career in the golf industry. The school offers an Associate of Science degree in Golf Management or Turfgrass Management. A Bachelor's degree is an option in Golf Management or Sports Management. For those interested in golf coaching opportunities, there is a Master's degree in Golf Teaching and Learning. Here are ten popular careers you can pursue with a degree from the College of Golf at Keiser University.
1. Green Superintendent
There are over 16,000 golf courses in America, and each course has an individual responsible for maintaining the condition of the golf facility. Golf facility owners and operators seek educated green superintendents with practical experience caring for their golf courses. The green superintendent role requires knowledge and skill in managing financial budgets, the ability to communicate effectively, and the essentials of turfgrass management. If this type of career interests you, check out the College of Golf's new Turfgrass Management program, available to new students in August of 2023.
2. Golf Professional
Is there a better office in America than your local golf professional? The typical golf professional becomes a jack of all trades at a golf course. Imagine the day's agenda of managing a small outing, giving a few golf lessons, and merchandising the golf shop while providing your customers with a great golf experience. If you love spending time at a golf course and enjoy working with people in a fun environment, the golf profession might suit you.
3. Golf Instructor
As more new golfers take up the game, there is a correlating need for good golf coaches to guide their learning experience. Too many golfers believe they can replace a golf coach by primarily watching online videos. There is great content out there, but so much of it does not apply to the viewer. Every golf facility and the many indoor training centers always look for passionate and educated golf instructors to help their customers play better golf. If you love golf and like the idea of solving swing problems, becoming a golf instructor could be a perfect fit for you.
4. Junior Golf Coach
Do you like working with kids? Do you enjoy sharing the excitement young kids have when learning a new skill or activity? A junior golf coach is in demand to support programs such as PGA Junior League, First Tee, Drive, Chip, and Putt. A junior golf coach has an important role in growing the game of golf. Learning to play golf at a young age will likely turn the youngster into an avid adult golfer. The golf industry needs more junior golf coaches.
5. Golf Retailer
Every golf facility will have a golf shop stocked with golf merchandise for its customers. These golf shops are essentially boutique golf business operations that offer specialized products for their patrons. If you enjoy the idea of running a small business, becoming a golf retailer and merchandise expert is a good starting point. In addition, there are plenty of big box retailers like PGA Superstore, Dick's Sporting Goods, and Golf Galaxy that are always looking for people to join their merchandise teams.
6. Tournament Director
This is a major responsibility at most golf facilities. Giving members and patrons the opportunity to socialize and compete in golf tournaments is a primary strategy for increasing participation at the course. Tournament directors must know the Rules of Golf and tournament management software such as Golf Genius to successfully administer a great golf tournament. Opportunities exist outside golf facilities, such as the many local and state golf associations requiring tournament administrators.
7. Club Fitter and Repair
Quality golf equipment is only good if it is fitted properly to each golfer. Golf equipment is an expensive purchase for most people, so the golf clubs must match the golfers' unique golf swings. Understanding the fundamentals of a golf swing with fitting variables such as the golf shaft, head design, and lie angle is a must for any excellent club fitter. Using a launch monitor and understanding ball flight metrics is essential in the club fitting process. The ability to provide basic repair skills like re-shafting or re-gripping a golf club is always in demand.
8. Caddy
A caddy provides many benefits to the player besides just toting the golf bag for 18 holes. Caddying is like any other profession; gaining knowledge and experience takes time to become good at the craft. A great caddy becomes a guide for their player and manages the decision-making process of playing golf. A century ago, playing golf with a caddy was an expectation. The need for a caddy has declined with the introduction of golf carts over the past 50 years. However, the primary caddy opportunities today are in large metropolitan areas. Destination resorts may also have caddy programs for golfers who need these services.
9. Sales Representative
If you love what you are selling, it makes the job of a sales representative much more rewarding. If you love the game of golf and have the proven ability to establish and maintain relationships with customers, exploring sales opportunities in the golf industry could be the right path for you. People enjoy doing business with people they like. If you are likable and understand the psychology of selling, hundreds of golf businesses are looking for you!
10. General Manager
Do you have leadership and management experience? The General Manager of a golf club is responsible for the facility's entire operation. This includes leading the department managers like the golf professional, the green superintendent, and the food and beverage director. This big job requires a high level of business acumen combined with golf operational knowledge and experience. Lastly, the ability to lead a diverse group of employees into an efficient and effective team is an attribute of great general managers.
Learn more!
Want more tips? If you want to take your game to the next level, contact our team at Keiser University's College of Golf & Sport Management today. With our dedication and experience, together, we can elevate your game to new heights. Give us a call today at 888-355-4465.