Who are the World's Most Famous Golfers?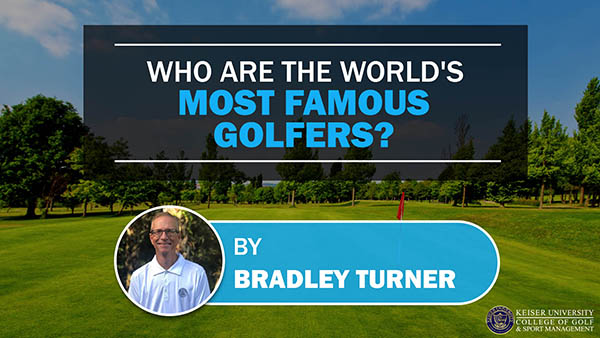 By Bradley Turner Keiser University College of Golf Director of Online Golf Instruction – MBA, PGA
There have been so many luminaries in the world of golf over the years. It is difficult to determine who are the world's most famous golfers, dead or alive. Of course, the answer to this question will be different depending on the generation of the golfer who answers the question. In determining the most famous golfers to have played the game, a good starting point is to look at major championship victories. The major championships are the titles most sought after by elite players and thus garner the most attention from the media. If you did not know who Hideki Matsuyama was at the beginning of the year, his 2021 Masters victory changed that!
Major Championship Winners
There have been 226 different golfers that have won at least one major championship, with 93 winning only one time.  As you can imagine, as the number of major victories increases, the number of golfers who have accomplished the feat drops significantly.  Here is the list of the top 10 professional major championship winners and the number of titles in parenthesis. All are very famous golfers!
Jack Nicklaus (18)
Tiger Woods (15)
Walter Hagen (11)
Ben Hogan (9)
Gary Player (9)
Tom Watson (8)
Arnold Palmer (7)
Harry Vardon (7)
Gene Sarazen (7)
Sam Snead (7)
** Bobby Jones (7)
Bobby Jones was a full-time amateur golfer. He won 7 professional major championships, four US Open Championships, and three British Open Championships. He also won 5 US Amateurs and 1 British Amateur for a total of 13 major championships.
Active Golfers Competing in Major Championships
There are only a handful of active players with multiple major championships who have the capability of winning more.  For those close to the golf world and are avid golf fans, the names below are some of the most famous golfers in the game today.
Phil Mickelson (5) has the most major championships of any active golfer except for Tiger Woods. At the age of 50, his chances of winning his sixth major to join only Nick Faldo and Lee Trevino appear extremely unlikely. Father Time will win eventually, but Phil has the game to surprise the skeptics.
Rory McIlroy (4) has plenty of time to add to his major totals. He quickly won four majors early in his career, but he has not won a major title since the 2014 PGA at Kiawah. Rory will return to Kiawah for this year's PGA Championship. Sometimes, good memories can change the mindset and performance of a great player like Rory.
Brooks Koepka (4) has suffered physical setbacks due to injury. A healthy Brooks is a fierce competitor in major championships. His record in majors is clearly the best over the past five years.  Let's hope he competes the rest of the year as a healthy player.
Jordan Spieth (3) is coming into form in 2021. After a two-year semi-slump, Jordan appears to be ready to add to his list of major championships. Much like Rory McIlroy, Jordan won his three major championships early in his career. We can expect to see this number of major victories double by the end of his career.
Dustin Johnson (2) is the number one player in the world of golf. His total of 24 PGA tour victories is second only behind Phil Mickelson's 44 wins.  Dustin has been close numerous times in major championships over the past 10 years. With only two major titles, some think this victory totals should be five or six by now.
There is no argument that the most famous golfer in the world is Tiger Woods. Phil Mickelson is probably number two on that list. The remaining active players on the above list are certainly getting the attention of the golf media, propelling them up the chart of famous golfers. There are a bunch of one-time major winners like Justin Thomas, Patrick Reed, and Hideki Matsuyama, with the ability to win another major title. Who else is likely to join the list of multiple major winners and elevating their status?
If you'd like to pursue a career in the golf industry, contact us to take the first step.