Top 10 Best Golf Apps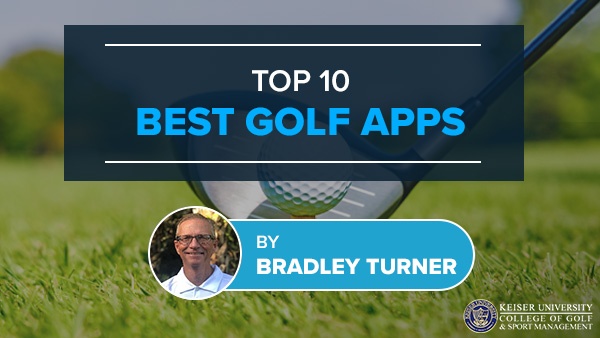 by Bradley Turner Keiser University College of Golf Director of Online Golf Instruction – MBA, PGA
Mobile phone apps focused on golf continue to grow in popularity and use by avid golfers. As the title of this article suggests, here are the ten golf apps you should have on your cell phone. I selected these ten based on quality and value price point. Most of the apps I have included are free to download, as I have all ten of the apps on my cell phone. If you are addicted to the game, you have already downloaded a few of these apps. I have segmented the top ten into three broad categories; apps to keep you updated on the latest golf news, apps that you can use to understand your golf performance, and apps that you can use to help with playing opportunities and tournament play.
Apps for Golf News
Golf Channel
When the Golf Channel was launched in January of 1995, very few golfers would have envisioned the enormous success of the cable channel. The Golf Channel, now owned by NBC, is a must for avid golf viewers to find out the latest news in the world of golf. You can now bring the Golf Channel wherever you go by downloading the app. Additional features at a nominal monthly fee include GolfPass, which offers instructional videos, interviews, podcasts, and special discounts on playing opportunities.
PGA Tour
If you follow the PGA Tour, you have already downloaded this app to your smartphone. Continuous updates of the PGA Tour leaderboard are a great feature of this app, along with news from the tour. PGA Tour stats are also available for those data geeks that love looking at player performance metrics. You can also stream the live broadcast of every PGA Tour event all season long. The PGA Tour app is easily a required app for golf fans.
The Masters
If you want to glimpse the future in tournament broadcasting, download The Masters app for the 2023 tournament. I have downloaded the app for the past two years and can watch every shot any player hits during the tournament. It is a fantastic app that provides golf fans with almost anything news about the Masters tournament. Free to download, it takes tournament golf to a new level for viewers.
Apps for Golf Improvement
CoachNow
The CoachNow app, as the name implies, provides coaches with a communication tool with their students. The app is free of charge to students, but coaches pay a modest annual fee for using this app. The CoachNow app can be used with any sport. It allows coaches to communicate through video voice-overs, written messages, and PowerPoint presentations and maintains a history of all communications between coach and student. CoachNow provides coaches and students with slow-motion analysis using only your smartphone. If you are working with a golf coach not using this service, suggest to your coach that the CoachNow app can help both students and coaches with the improvement process.
Trackman University
This free app provides the committed and serious golfer with the science of club mechanics. This is an excellent app for those that want to understand why the ball flies the way it does, along with metrics provided by a Trackman launch monitor. There are great visual explanations of some complicated aspects of the golf swing. Caution, I recommend this app only if you have a golf coach you work with on your golf swing.
GolfPad
This low-cost app can help you to manage your golf game. An annual fee of $19 gives you GPS capabilities of almost any golf course in the country, private or public. The Golf Pad app will provide accurate yardage from selected tees to any spot on a hole. I loaded up Augusta National on the app and found that the carry from the back tee over the first bunker is 310 yards. You can also do a flyover of each hole before you play it, which is pretty cool to have this type of information at your fingertips. GolfPad can also track the distance you hit your clubs, the performance stats of each round you play, and keep your handicap. This is an excellent tool for you to work with your golf coach on improving your weaknesses on the course while strategizing on how to take advantage of your strengths.
Imagine Golf
The Imagine Golf app could be for you if you struggle with your mental game. These short audio presentations are designed to accelerate your golf process by focusing on the game's mental aspects. At $4.99 a month, this app provides plenty of value for any golfer. You can also upgrade your membership and have an Imagine Golf coach available to personalize your improvement.
Apps for Playing and Tournaments
USGA Rules of Golf
Every golfer should download this free app from the United States Golf Association. You will never need to carry the USGA Rules of Golf book in your golf bag. Download the app, and you will always have the Rules of Golf at the click of an icon. The USGA also provides excellent videos that help clarify the game's rules. If you are a competitive tournament player, this should already be downloaded to your phone.
Golf Genius
Golf Genius is a tournament management program created by the USGA. Many golf associations and facilities utilize this program to operate high-quality tournaments. If you are a tournament player, you may be asked to download the Golf Genius app to your phone. Participants enter a unique tournament code and can then post digital scores after every hole on their phone. A live leaderboard is available for tournament participants to view where they stand in the event. This app has been well received in the golf community, and for those tournament administrators, Golf Genius is a homerun or, better yet, a hole-in-one for tournament players.
GolfNow
I am sure this free app is on the first page of your home screen. You can get a tee time almost anywhere in the country by booking it through the GolfNow app. There is plenty of debate in the golf industry on the benefit of GolfNow from a golf operation perspective. From a player perspective, GolfNow is a must if you want to play different golf courses and enjoy the convenience of booking tee times with your cell phone.
If you'd like to study with Bradley Turner and other PGA Master Professionals, contact the College of Golf today.