The Top 7 Golf Podcasts in 2023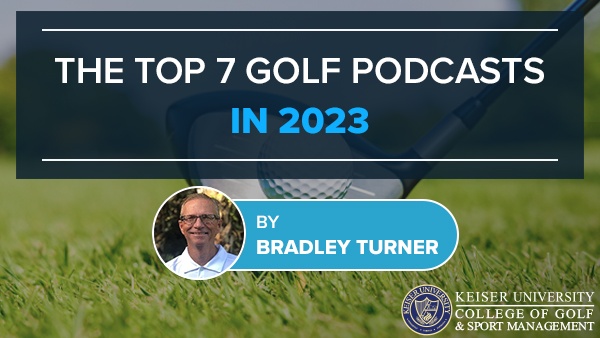 By Bradley Turner, Keiser University College of Golf Director of Online Golf Instruction – MBA, PGA
In 2023, golf podcasts have continued to grow in popularity, catering to seasoned enthusiasts and the sport's newcomers. These top golf podcasts have captivated audiences with their expert insights, entertaining discussions, player interviews, and analysis of tournaments and events. This summary presents an overview of the most popular podcasts, each bringing a unique perspective to the world of golf.
Foreplay – Barstool Sports  
A weekly podcast for the everyday golfer who enjoys sitting on a barstool at their local pub, chatting about the game of golf. A wide variety of topics for the golf fanatic; the podcast hosts are young, energetic, and bring a new perspective to the game. This is one of the most popular podcasts in the golf genre and is a fun and informative two-hour show. The wide variety of guests talk about everything golf – like everyday folks watching golf coverage, venting about the game's difficulties, and weighing in on pro gossip. This golf podcast has almost 600 episodes, so you will find content that fits your golf interests. You will find this golf podcast on Apple Podcasts, Spotify, YouTube, and Amazon Music.
No Laying Up
With over 700 episodes in their library, this golf podcast will provide weekly recaps on the results of PGA, LPGA, and DP World Tour events. Virtually anything happening in the world of golf will be the subject of discussion in this podcast. Weekly tournament previews are in-depth and informative to listeners. Topics cover all professional worldwide tours, players participating in the events, and influential changes in professional golf. No Laying Up is a daily golf podcast with content that lasts one to two hours, depending on the show's guests. A typical week will include a preview of upcoming professional tournaments and daily competition recaps. Guests include some of the biggest names in the sport and most recently included Senator Ron Johnson discussing the LIV and PGA Tour agreement.
Golf's Subpar
Former PGA Tour Professional Colt Knost and his partner Drew Stoltz talk golf with some of the best players in the world. Knost is also an announcer for CBS on PGA Tour telecasts and is in the know regarding the professional tours. If the PGA Tour interests you, then Golf's Subpar is a good choice in podcasts. There are many episodes with PGA Tour player interviews, insight from Tour caddies, and a recap of tour events. The most recent weekly golf podcast from Golf's Subpar featured Open Champion Brian Harman sharing his experience at Royal Liverpool. Harman opens up to Knost and Stolz, his mental toughness displayed in winning the oldest golf championship in the world. He even shares why he had one spectator removed from the tournament. Always interesting and fun, Golf's Subpar podcast is among the highest-rated in the golf genre.
Golf Channel Podcast with Rex & Lav
Rex Hoggard and Ryan Lavner host this Golf Channel podcast targeting everything in the world of golf. Both Rex and Ryan are seasoned golf reporters on the Golf Channel and provide their researched perspectives on the wide array of news in the world of golf. The podcasts range from 20 minutes to an hour, depending on the week's events. If you are looking for insider information on current events in golf, this is the perfect podcast for you. The Golf Channel Podcast is approaching 400 episodes, so they have proven their influence on the golf podcast world.
The Tour Report from Secret Golf
The Tour Report is the perfect name for this weekly podcast, which is fixated on professional golf tours. Steve Elkington is co-host of the Secret Golf podcast and is well known for his incredible PGA Tour career, which included a Players Championship and the PGA Championship. Elkington is originally from Australia and has become an outspoken radio and podcast host since his retirement from the PGA Tour. Alongside Elkington is Diane Knox, a well-known sports broadcaster from her home country in Scotland. Diane's brother is PGA Tour player Russel Knox, so it is evident that Steve and Diane have the inside scoop or secret report from the professional tours. Their 40-minute podcast begins with a recap of the latest tour events and then moves into upcoming events with predictions of the winning players. Both hosts are enthusiastic and prepared for each podcast with stats and the latest from the players.
Local Knowledge – Golf Digest
This podcast is a Golf Digest product, so if you enjoy reading the magazine, you are a match for this podcast. Golf Digest writers Alex Myers, Shan Ryan, and Keely Levins cover many entertaining subjects and understand how to tell a compelling story for listeners. If you are interested in any golf topic, the chance is that you can find this content in the massive library of episodes. Shows run about 30 minutes long, so listening to an episode while commuting to and from the office is easy.
Your Golfers Almanac                                                                                                                        
Michael Duranko is the host of this informative podcast that discusses all aspects of the history of golf. This daily podcast gives listeners a concise look back on significant events in the game, renowned golfer achievements, and golf performance. The short 5-minute podcasts are a great look back on the game of golf. "Remember when" …is a good theme to this golf podcast.
In 2023, the top golf podcasts have continued to captivate audiences worldwide, offering a diverse range of insights, entertainment, and education. Whether you are an aspiring golfer, a seasoned pro, or just a fan of the sport, these podcasts provide a wealth of knowledge, inspiration, and enjoyment to enhance your golfing experience.