The Benefits of Online Video Golf Instruction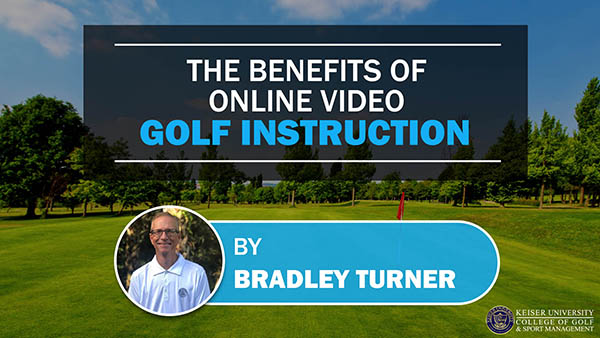 By Bradley Turner Keiser University College of Golf Director of Online Golf Instruction – MBA, PGA
Over the past seventeen months, businesses worldwide have adapted to the necessary changes due to the COVID virus. Some businesses moved quickly to keep the doors open and employees working from home. Many other businesses did not provide a product or service that could adapt quickly enough to the changing business environment. For those organizations that historically wanted to avoid change, the pandemic became a catalyst to new thinking and processes. The world has changed, and I doubt that we will ever go back to the way it was before COVID.
Golf Rounds Have Increased
In difficult economic times, there are always businesses that are first to respond, quick to pivot in a new direction or be in the right place at the right time to capitalize on changes in the business environment. The golf industry has enjoyed increased participation largely because the golf course was a reasonably safe place to spend time during the nationwide lockdown. According to the National Golf Foundation (NGF), golfers in the United States played an estimated 502 million rounds in 2020. This was the second-highest number of rounds played in the recorded history of the National Golf Foundation. Recently, the NGF published preliminary round participation in 2021, and American golfers are playing about the same as the previous year. With golfers playing more over the past two golf seasons, there has also been an increase in those seeking help with their golf games.
Keiser University – Online Golf Instruction
Changes in technology have opened the opportunity for golf coaches to offer their services in a safe and effective learning environment, online golf instruction! There are plenty of new coaching apps that have been created that provide the tools for coaches and students to work together in improving their skills. These apps are targeted for use with almost any sport you can imagine, and golf is at the top of the list. The College of Golf at Keiser University uses the CoachNow app to communicate with their online students. With over 100 students located throughout America, it was essential to have an innovative communication platform dedicated to enhancing and nurturing the coach-student relationship.
Once a new student has completed orientation at the College of Golf, an individual CoachNow account is created for each student. After orientation, every student has the opportunity to complete a one-on-one interview with the Director of Online Golf Instruction. The purpose of this interview is to establish baseline information and begin nurturing the coach-student relationship. It is vital for the student to have trust in their golf coach and a sense that the coach is in their corner about game improvement. Together, the student and coach will build a realistic roadmap to an improved golf game.
After the initial interview, each new College of Golf student will upload videos through the CoachNow app from their smartphones. When the Director of Golf Instruction receives these videos, they view them, and a voice-over video is sent back to the student. A voice-over is a summary overview of a submitted video with screen drawings, comparison videos, and the coach's commentary. Additional communication tools include written documents or articles, personal texted notes, audio comments, voice-overs of top professionals, and access to a library of stock videos, all designed to help each student with their individual challenges.
All communication with a student is saved within the CoachNow app. Posts are kept in chronological order and allow the student and coach to easily review previous lessons and track progression in the student's game improvement. The history of each student is literally at the coach's fingertips, making it very easy to keep a student on track with their improvement plan.
Benefits of Online Golf Instruction
Many golf coaches have responded to the pandemic with a similar approach to the College of Golf. Coaches with an innovative mindset are offering online golf instruction to their customers. There are mutual benefits for the coach and student that can mitigate the main reasons golfers avoid taking golf lessons. According to the PGA of America, only 17% of golfers take golf lessons from a PGA professional. That means that 83% of golfers do not, and most of them should be taking lessons! There are three main reasons golfers say they don't take lessons, and online golf instruction can be a solution to their concerns.
1. Time – One of the main reasons golfers don't take lessons is the time constraints that most Americans contend with. Virtual or online instruction allows each student to find the time that works best for them in creating and reviewing videos. For students living in different time zones from their golf coach, providing personal videos to a coach at a time convenient to the student is a great benefit. As long as students have a smartphone with video capabilities, they can provide content for their golf coach whenever they have time to make a few swings in front of the camera.
2. Frustration – Another reason golfers don't take lessons is the fear that they will not improve. Taking golf lessons can become frustrating when unrealistic expectations are not realized. Most human beings become frustrated when their expectations of learning a new skill are not being met. Building a strong coach-student relationship is paramount for the student to continue and develop their golf skills. Coaches can now conveniently post appropriate information directly to the student, which oftentimes will lead to more in-depth conversations. The ability to stay in touch with students and offer words of wisdom and encouragement is exactly what most golfers are looking for in their golf coach. Other creative tools include the use of Facetime to connect with students on an as-needed basis. The ability to speak face to face with someone in California while the coach is in Florida is another inventive way to reduce the frustration in learning the game.
3. Cost – Finally, the last factor noted by golfers that deters them from taking lessons is the cost of golf instruction. Many excellent teachers have responded to COVID and aggressively provide online golf instruction at a value price point. When combining the benefits of time, convenience, and the ability to provide educational content in building a solid student/coach relationship, many coaches have offered this product at a price that has tremendous value for the student.
Find a Golf Coach
As a golf instructor for almost 40 years, it continues to baffle me as to why golfers do not seek help from a qualified golf coach. If some of the above factors have prevented you from taking lessons, look for a golf coach that can provide online instruction for you. Arnold Palmer said it very well: "Golf is deceptively simple and endlessly complicated." In other words, find a good coach to help you on your golf journey.
If you'd like to study with Bradley Turner and other PGA Master Professionals, contact the College of Golf today.