The 5 Luckiest Things That Can Happen to Golfers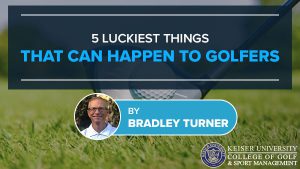 By Bradley Turner Keiser University College of Golf Director of Online Golf Instruction – MBA, PGA
There are many perspectives on the random things that can happen to a golfer. Most great golf shots are a blend of skill and luck. The better the golfer, the more skill has a role in the execution of a memorable golf shot. Less skilled golfers need a little luck to make that shot happen. Many examples of lucky things happen on the course, such as hitting a shot through a tree and finding nothing but air. Or hitting a poor shot that gets a great bounce back onto the putting surface for an easy tap-in birdie. If we play enough, the golf gods will smile and give us some luck. In this article, we will discuss five of the luckiest things that can happen to a golfer that you may not have considered. We will start with the one thing every golfer thinks about, which is one of the luckiest things that can happen to a golfer.
Good Luck in Golf
#1. Hole in One
Believe it or not, there are a few stories of golfers who have made a hole-in-one the very first time on a golf course. The statistics on hole-in-ones are interesting in that the odds of the average golfer making a hole-in-one is 1 in 12,500, or if we assume you have four opportunities per round, it will take you about 3,000 rounds of golf to hit your lucky shot. A little bit of math illustrates the challenge of making an ace. If you play 100 rounds a year (that is a lot of golf), you likely will make one ace in 30 years. The data of hole-in-ones tell the story…making a hole-in-one might be the luckiest thing that will happen to you on the golf course.
#2. A Great Random Pairing
As a 17-year-old, I participated in the National Insurance Youth Classic in Chicago. This event was special as the last two rounds of the 72-hole event paired junior competitors with PGA Tour professionals. In the third round, I played with journeyman Tour veteran Don Bies. We were playing behind a new guy on tour named Fuzzy Zoeller. On one of the par five holes, I had driven the ball into the right rough, and by the looks of the lie, I had no chance of getting to the green. I promptly smashed a 4-iron that bounded onto the green to about 10 feet from the hole while Fuzzy was lining up to putt. Don Bies looked at me and asked why I hit my approach shot when they were on the green. It was embarrassing to apologize to a PGA Tour player, but it was an easy birdie for me.
As luck would have it, I drew John Mahaffey for the final round. Mahaffey had just won the PGA Championship at Oakmont Country Club, beating Tom Watson and Jerry Pate in a playoff. I was so excited that I could barely sleep the night before. I finally fell asleep but woke up late and made my tee time with a couple of minutes to spare. The Chicago Sports News teams were out in force interviewing the newly crowned PGA Champion. Chicago golf fans came out to watch Mahaffey play, and I got my first experience with golf fans and TV cameras. It was an excellent experience for a young junior golfer to watch such an accomplished PGA Tour player for 18 holes. A lucky pairing indeed!
#3. Phenomenal Weather
Standing by the first tee at the Old Course at St. Andrews, I was wearing my rain suit and umbrella, shielding me from the rain. The group in front of us struggled to get their tee shots off as the conditions were a golfer's worst nightmare. Nothing is worse than terrible weather conditions on a bucket list golf course like St. Andrews. The weather forecast predicted a good chance for this type of weather, and our group resigned ourselves to a disappointing day of wind and rain.
Just as we stepped to the tee, the rain subsided, and we could put the umbrellas away for the time being. By the time we finished the second hole, the clouds had dissipated, and we found ourselves in warm sunshine but with a stiff wind from the west. The weather was phenomenal the entire day; a turtleneck and vest were the perfect attire for the round. A great golf course with great friends and weather is a trilogy of luck that all golfers would enjoy.
#4. Avoiding Slow Play
Slow play is one of the unsolved problems in golf. The culprit of slow play is a need for more education on fast play strategies combined with golfers that think they should play the game like a PGA Tour player. There have been many times I have shown up to play on a Saturday morning with a full tee sheet of golfers ready to test their golf skills. Most avid golfers would get that feeling of angst with a packed house of golfers anticipating a five-hour round of tortuous slow play. Every once in a while, the golf gods will shine down upon these golfers and allow the pace of space to be less than four hours. A perfect pace for a round of golf is three hours and 45 minutes for a foursome of golfers. While avoiding a slow day on the golf course may be one of the random things you experience on the links, it should become the expectation of all golfers.
#5. To Just Be Playing Golf
Appreciation for simply playing the game is something that every golfer should experience. Too often, golfers become immersed in their performance and need to remember the comradery of spending time on the links with close friends and family. I have lived in Florida for over 30 years, and when the golf gods do not look down on us with favor, I often think of how many other golfers would love to play in 70-degree weather in February. Yes… appreciation to play the game can be felt when the snow is piling up outside or some physical aliment is preventing you from swinging the golf clubs. The next time you get out to play, remind yourself that a day on the golf course is better than many other days when you can't get out to the golf course. Enjoy!
If you'd like to study with Bradley Turner and other PGA Master Professionals, contact the College of Golf today.