Students Enjoy Historic Hickory Open Putting Championship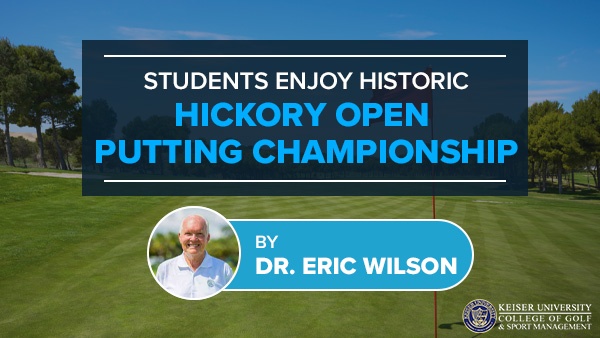 by Dr. Eric Wilson Keiser University College of Golf Executive Director of Golf Operations
Keiser University College of Golf (KUCOG) History of Golf class students recently had the unique opportunity to organize and participate in a putting competition using hickory-shafted putters and golf balls from different historical eras, beginning in the early 1800s and progressing through modern day.
Led by Professor Ken Martin along with College of Golf Executive Director of Golf Operations Dr. Eric Wilson, the group gathered at Keiser University's outdoor putting green as Martin explained each of the different putting stations, culminating in an 18-hole putting competition.
Students putted three-hole segments with each of the following:
Long nose putter and featherie golf ball (pre-1848)
Wry neck putter and smooth gutta percha golf ball (1848-1850)
Hackbarth putter and hand-hammered gutta percha golf ball (1850-1865)
Brown-Vardon semi-mallet head putter and bramble pattern gutta percha golf ball (1865-1900)
Schnectady putter and balata covered golf ball (1900-1960)
Calamity Jane putter and Pro V-1 golf balls (1960-modern day)
Par for the course was 36, and the winner of the Historic Open Putting Championship was Robert Burns, who scored 41. Finishing tied second with scores of 46 were students Bryan Staten, Hojun Kim, and Austin Eggleston.
If you'd like to study with Dr. Wilson and other PGA Master Professionals, contact The College of Golf today.