Students Enjoy Friendly Competition at Okeeheelee Golf Course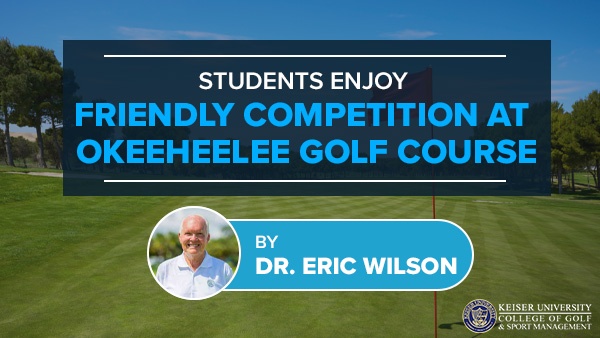 by Dr. Eric Wilson Keiser University College of Golf Executive Director of Golf Operations
Keiser University College of Golf students participated in a friendly Student and Staff competition held at the Okeeheelee Golf Course in West Palm Beach, Florida. The format of the competition was a two best balls of three, and the winners were Sam Wilson, Frank Longabucco, and Jesse Cruz.
Before teeing off, students attended a ball-striking clinic conducted by PGA Instructors Frank Longabucco and David Wixson. The clinic included keys to centeredness of contact and Impact Zone Golf line drills for ball-first contact. Students were also shown how to measure the results of the drills, which was critical to their success on the golf course.
The event was fun while being competitive and gave students a playing opportunity to improve their games. Students also played with PGA Instructors, learning golf course management and mental game skills.
If you'd like to study with Dr. Wilson and other PGA Master Professionals, contact The College of Golf today.