Student is One Step Closer to a Career in Golf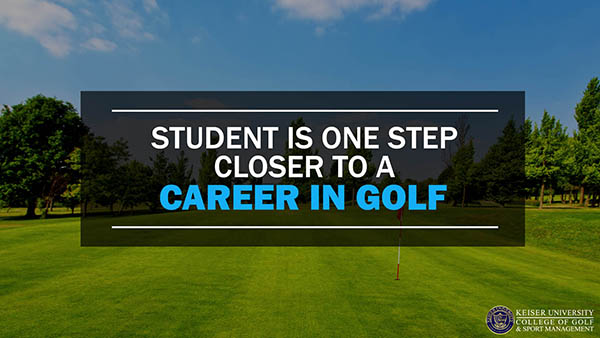 Palm Beach County student Amber Steele is one step closer to a career in golf thanks to a full-tuition scholarship offered by Keiser University and The First Tee of the Palm Beaches.
After becoming fascinated with the sport and the camaraderie it offered from watching her father play as a child, the Loxahatchee, Florida resident first joined The First Tee as a student when she was in eighth grade, and later competed on her Seminole Ridge Community High School's Hawk Golf Team throughout her high school years.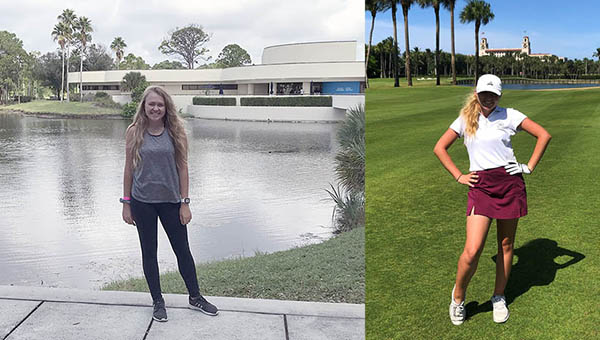 But it was the summers spent volunteering at the local nonprofit designed to positively influence young people through the game that made her realize she wanted a career in the field. "After being introduced to The First Tee of the Palm Beaches by my dad, I was taken by how the organization transformed the lives of so many," said Steele, who began serving as the Lead Coach of The First Tee's 'Little Chippers' class of two-three year-olds among other roles and now serves as the president of the Teen Golfers Association. "The experience made me realize that I wanted to pursue a career in golf management or instruction, so I was excited to learn about the scholarship opportunity and Keiser University's College of Golf."
Designed to support members of The First Tee who wish to become golf industry professionals by earning Keiser University College of Golf degrees, the renewable scholarships are made available to up to two students annually. "We are excited about this scholarship partnership, as it presents The First Tee members the opportunity to acquire their education at Keiser University while further pursuing their passion for the game of golf. The scholarship recipients can give back to The First Tee organization by returning to serve as Certified Assistant Coaches while they are earning their degrees," said John McMurry, Keiser University's Flagship Campus Vice President and Advisory Board Member of The First Tee of the Palm Beaches and a Certified Level 1 First Tee Coach.
Now entering her first semester, Steele shared advice to others who are striving to succeed. "Get involved in your community and don't hesitate to explore new opportunities," she said.
Located at Keiser University's Flagship campus, the College of Golf offers a 1,500-square-foot indoor training facility, which includes a putting area, advanced launch monitor technology, V-1 and Swing Guru video analysis systems, an interactive golf simulator powered by Sports Coach Systems, a Motion Analysis Technology by TaylorMade (MAT-T), a 3-D swing analysis system, and a golf club repair lab equipped by Mitchell Golf Equipment. Keiser University's PGA-credentialed faculty are available to College of Golf students for individual and group instruction, and those same faculty are available to assist the Seahawk intercollegiate squads to improve their golf skills.  In addition to the indoor facility, students also have access to a 6-acre outdoor, on-campus golf range facility with 12 hitting stations, a 9,000 square foot putting green, and a 14,000 square foot chipping/pitching/bunker green.
Members of The First Tee who have obtained a high school degree with a 3.0-grade point average are encouraged to apply. To learn more and to obtain a scholarship application, potential candidates should contact Carl Mistretta, Executive Director of The First Tee, at [email protected].
Keiser's Associate and Bachelor of Science degrees in Golf Management prepare students for a wide variety of positions in the golf industry. The programs provide students the educational background and training to provide golf instruction, manage golf course operations, ensure proper maintenance of golf facilities and equipment, as well as how to incorporate the play of golf into the broader hospitality and recreation domain.
About The First Tee 
The mission of The First Tee is to impact the lives of young people by providing educational programs that build character, instill life-enhancing values, and promote healthy choices through the game of golf. One of 15 chapters in the state of Florida and 150 globally, The First Tee of the Palm Beaches golf facility includes a par 3 course, hitting tee, and chipping and putting short game areas.
About Keiser University
Keiser University is a private, not-for-profit university, serving nearly 20,000 students and employing 3,800 faculty and staff members. Co-founded in 1977 by Chancellor Arthur Keiser, Ph.D., and Evelyn Keiser, the university currently offers more than 100 degrees at 21 Florida campuses, as well as online and at two international sites.
Keiser University is accredited by the Southern Association of Colleges and Schools Commission on Colleges as a level VI institution to award certificates and degrees at the associate, baccalaureate, masters, specialist, and doctoral levels. For additional information regarding Keiser University, visit www.keiseruniversity.edu.
If these events sound like fun, contact us today to chat about starting your golf career.