So Near, Yet So Far Away: How to Handle Greenside Rough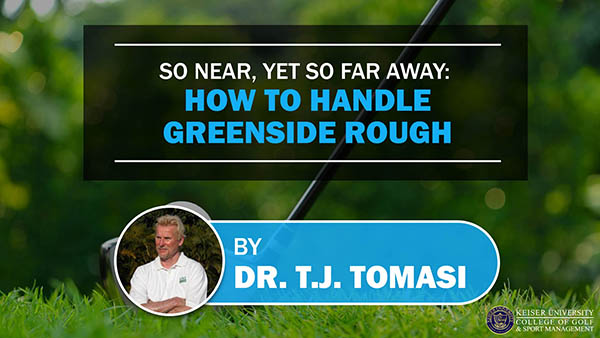 By Dr. T. J. Tomasi, Keiser University College of Golf Senior Faculty and Director of Research
In the photos below, I may be near the green, but from this lie, I'm 'far, far' away from making a par. In fact, I'm lucky to be able to see the ball in this long rough – but while this is a tough shot (that's why they don't call it "the easy"), there are a few adjustments I can make to limit my losses. 
(1) The club head should rest on its heel, with the toe of the club off the ground.
(2) Stand further from the ball with your hands lower than normal. This ensures preset wrists and creates a steeper angle of attack that mitigates the effect of the grass behind the ball.
(3) Aim slightly right to allow for the pull caused by the deep grass grabbing the neck of your club. It's this twisting of the club face into a closed position at impact that pulls the ball off line.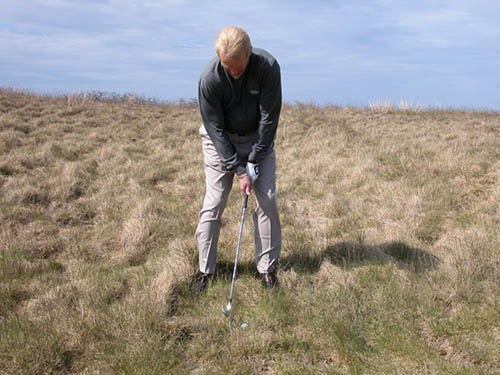 I'm careful not to sole the club for two reasons: (1) If I press down too aggressively, it could be construed that I'm improving my lie, which is against the rules. (2) I can't be sure exactly how much grass is under my ball — it may be sitting precariously on a little tuft I don't even see – so the act of soling the club head dislodges the ball from its original position = another penalty under the rules.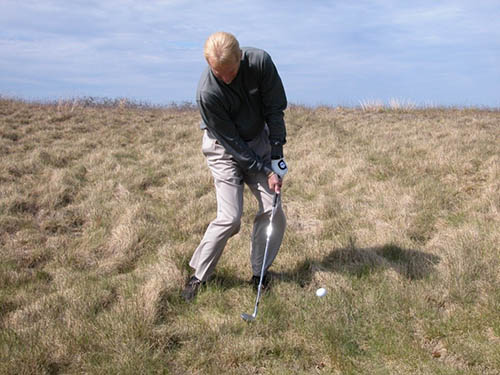 Note how I retain the cup in my right wrist. This assures that the club head doesn't flip over through impact. The long grass will wrap around the neck of the club, and if my wrists buckle under the strain, the ball will squirt low and left. The other key is that I keep my knee flex while I drive my knees through the ball toward the target. The tendency is to rise up trying to help the ball out of the grass, so my focus on keeping my knees flexed is a palliative to keep from hitting it skinny.
If you'd like to study with Dr. Tomasi and other PGA Master Professionals, contact The College of Golf today.