Shanking Explained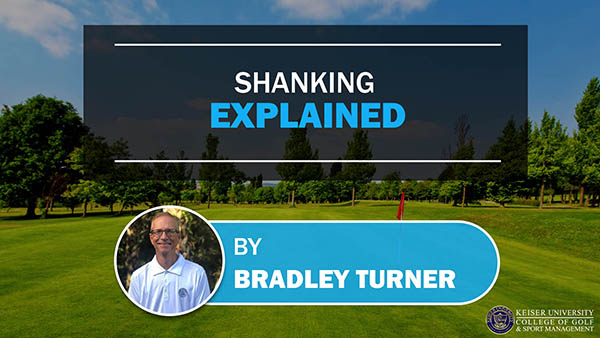 By Bradley Turner, Keiser University College of Golf Director of Online Golf Instruction – MBA, PGA
Say the word "shank" to a group of golfers, and they will act as if the devils of golf have just been released to wreak havoc on their score. Shank is a five-letter word, but it is worse than any four-letter word a golfer can imagine. Most golfers have shanked a few shots in their day, and even the most skilled professionals may hit a hosel rocket on occasion. Once a golfer shanks a golf shot, the fear of the dreaded shanks becomes a real concern. And for some, it can become as much of a mental challenge as it is a technical correction to eliminate the problem.
My First Professional Event
After graduating from college and competing in the NCAA National Championships, I turned professional. I worked for my hometown PGA professional (Jim), and he was very supportive of my playing and teaching aspirations. Shortly after starting work as a professional, he surprised me by securing an invitation for both of us to play in a Pro-Member golf tournament at a private country club in Flint, Michigan. There were 25 professionals paired with members of the host club for a fun 18-hole competition. The thought of actually winning money for playing well was rather exciting for a new professional!
On the day of the tournament, I was to meet him at the Golf Shop, and he would drive us to the tournament. I was very excited and anxious to get to the golf course and prepare to play.
When I walked into the golf shop, the shop attendant had a panicked look on his face. He said, 'Brad, Jim needs to see you at the range right away.' As I walked toward the range, I could see it in his body language. The shanks had struck my boss!
My boss Jim was a solid golfer with an atypical golf swing. He could shoot some really good scores for a professional that did not spend a lot of time playing or practicing. The shank shot was something that he had experienced often, but as he said, 'I always seem to shank a shot once every round, and then it is gone.' The few times I had played with him, he did, in fact, shank a wedge in each round. But this day, the shanks appeared unstoppable, and we had a tournament to play.
When I got down to the range, he looked at me as if I would somehow save him from this dreaded shanking disease. But as a new golf professional, I didn't know what to do to solve his problems. I don't recall my suggestions to him, but I vividly remember the disappointment when any remedy I rendered failed within three of four swings. Jim would be excited as the first few shots flew as he wanted. 'There we go…that is working…yes…alright…shanked another one!' His body language was that of frustration and actual fear of hitting the golf ball.
As we left for the tournament site, my anxiety in playing in my first professional event gave way to the concern for my boss. I really thought he was going to lose his mind. He wanted to withdraw from the tournament, but he was playing with the local sports anchor from Channel 9. Plus, he worked to get both of us in the event, so he couldn't back out now.
My concern for Jim's round put my mind at ease regarding my own golf game. I played very well, shooting a 68 and winning my first professional event. As I checked the scoreboard for my boss, I was afraid of what I would see. Shockingly, Jim shot a 73! I asked him how the heck he played so well, given the range session we had earlier that morning. He had no answer, other than he didn't hit one shank all day until the 18th when he shanked his wedge shot right off the green and made a stupid bogey. 'I shank one every round, and that is the way it is,' he said.
What is the Shank?
A shank occurs when the club's hosel makes contact with the ball instead of the face of the club. Some golfers believe that the clubface must be wide open for the shank shot to happen, but that is never the case. Over the years, I have come to a conclusion there is really only one reason the player shanks the ball, and that is the hosel of the club has moved too far away from the player's initial starting point. How the hosel gets too far away from the player is most likely one of three reasons. I have seen good players shank a ball with a club path that is too far in to out. I have seen higher handicap golfers shank a ball with a club path that is too far out to in.
And I have seen players shank a ball with a great path. They have just moved their body too far out towards their toes, resulting in their hands too much towards the golf ball.
It is also very common for the shank to occur when a player hits less than a full golf shot. Most golfers will spend some time practicing their full swing but very little working on the finesse wedge shots. When a golfer has an atypical golf swing like my PGA pro, Jim, any soft wedge can disrupt the timing of the golf swing, making it more difficult to find the center of the clubface.
Stop the Shank
The easiest solution is to place a soft barrier such as a swim noodle on the outside of the golf ball. The noodle should be placed a few millimeters away from the toe of the club. Give yourself enough room, so you don't need to hit it perfectly in the center of the club. You should not make contact with the noodle at any time. Barriers are amazing as the human brain will subconsciously want to avoid hitting the object. This training aid will help stop the shank, no matter which one of the three identified reasons is the root cause of the problem. This training aid is like aspirin; it helps with a lot of different problems.
If you'd like to study with Bradley Turner and other PGA Master Professionals, contact the College of Golf today.