Which PGA Pro's Swing Style Does Yours Most Resemble?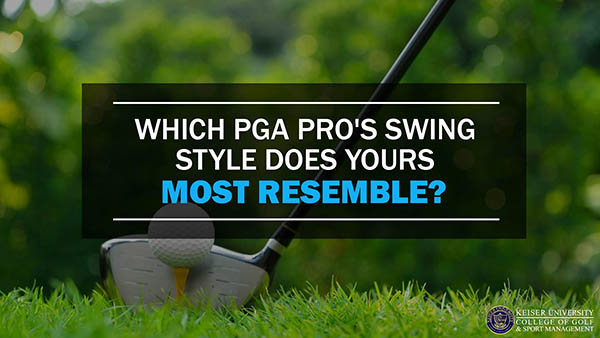 Keiser University College of Golf Instructors answer,
Which PGA Pro's Swing Style Does Yours Most Resemble?
ERIC WILSON
Matt Kuchar. While our body types are not the same, Matt has a pronounced "flat" swing position at the top. I grew up playing with that "flat" style until I took lessons from Cary Middlecoff's instructor, Doc Mitchell, at Memphis Country Club. Doc got me to get my hands higher in the backswing, and that worked well as long as I had the time to practice. My swing reverted to "flat" when I was in the military with little time to practice, and I continue with that style today, especially with my hickory shafted golf clubs. I guess you could call it the "old Scottish swing."
BRIAN HUGHES 
Showing my age here, but likely my swing would best resemble Hall-of-Famer Raymond Floyd's swing. Floyd's backswing would travel very much to the inside of the target line, resulting in a club position that was very flat when the club reached the first point where it was parallel to the ground. While not an ideal movement, he had plenty of time to get the club back on track before it reached his desired impact position. My only wish is that I was at good at redirecting the club as consistently as he was!
DAVID WIXSON
In years gone by, I attempted to model my swing after Jeff Sluman (PGA Championship winner) since we are about the same size. I even contacted Sluman's coach at the time, Craig Harmon, to get a swing sequence. This was long before the internet age (no YouTube or even email), but Craig was kind enough to send me a series of still pictures of Sluman's swing.
My current swing really doesn't resemble any Tour Pro, or I would probably play much better than I do these days.
FRANK LONGABUCCO 
I would say my swing style most resembles Gene "The Machine" Littler. I wish I could compare it to a more recent player, but I can no longer hit most of the positions in the modern-day swing. My style is based on balance and rhythm.
KEN MARTIN
Growing up in the 70's I had several great players whose swing styles I often imagined when playing.  While I wished for the swashbuckling style of Johnny Miller and the concentrated pre-shot routine of Jack Nicklaus, my swing style came to resemble that of Larry Mize, best known for his 1987 Masters victory.  Notable in this style is a long backswing at a slow tempo transitioning smoothly into a rhythmic forward swing to a comfortably balanced finish.  I recently received one of the best compliments ever regarding my swing while participating in a Symetra Tour pro-am event when, after my tee shot with a driver, the player's caddie remarked, "your swing is like smooth jazz."  That still makes me smile.
JOHN CALLAHAN
I tried to swing like my favorite PGA Tour Professional, Arnold Palmer, when I was a kid. I copied everything he did, including hitching up my pants between shots. Later at a PGA Tour event where I caddied, Tony Lema thoughtfully signed a copy of his book, Golfers' Gold, that my parents had bought for my birthday. I immediately started mimicking Lema's swing style. Tony had a beautiful wife and ordered champagne for the press corps after his tour wins. For me at 19, what's not to like? It wasn't until the 1970s, with the advent of videotape replay, that I saw my swing for the first time and decided that it might be a good idea to try matching an elite player whose physique was closer to my own. I was relatively tall and skinny, so I chose Johnny Miller. I wasn't quite as tall as Miller but just as thin, and I did a rather good job modeling his swing. Because it matched my body type, This swing-model choice led to the best playing days of my career. In subsequent years I found out through my friend, colleague, and former Keiser University College of Golf faculty member, T. J. Tomasi, Ph.D., that this swing is "A-L: an arc player with some leverage characteristics (Adams et al., 1998, p.170)." Today, August 2021, my swing style is quite different. It closely matches one of many fatter-and-shorter-than-they-used-to-be senior players on the PGA Champions Tour. Ian Woosnam is a good example. Dr. Tomasi identifies this swing style as "W-L: a width player with some leverage characteristics (Adams et al., 1998, p.170)." Bottom line, copying a swing style can help your game or stifle your potential, so choose wisely. The old bromide of picking a player who closely resembles your body type is an excellent place to start.
DONNA WHITE 
My swing most closely resembles that of Nick Price – short and quick but balanced with proper kinematic sequence. 
NANCY QUARCELINO
PGA – Jon Rahm and LPGA – Liselotte Neumann.
If you'd like to study with PGA Master Professionals, contact The College of Golf today.