What PGA Pro's Playing Style Does Your Game Most Resemble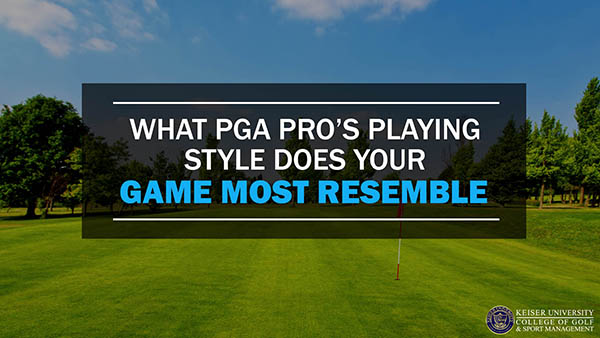 Keiser University College of Golf Instructors answer,
What PGA Pro's Playing Style Does Your Game Most Resemble?
ERIC WILSON
Certainly not Bryson DeChambeau! Length has never been my strong suit. I'm mostly about fairways and greens, which brings to mind the great Ben Hogan. While I may try to emulate Mr. Hogan's playing style, I'm nowhere as accurate as he was, and I don't have the short game that he had. Needless to say, style does not necessarily transfer to scoring ability. Even though I have shot three course records (two at 8-under and one at 6-under), I could never hope to match Mr. Hogan's course management skills and ability to control the golf ball – doesn't mean I won't keep trying!
BRIAN HUGHES
What current player is short and crooked off the tee?  No one successful, but I guess if I had to find someone, it would be Webb Simpson.  Not the longest player but long enough to contend. Not the greatest putter but tends to get hot from time to time.  Normally very consistent and keeps the ball in play even when not having his best ball-striking day.
DAVID WIXSON
My game at its best always relied on Driving Accuracy and Scrambling. I generally keep the ball in play off the tee, but my lack of distance and poor iron play makes it difficult to hit many greens in regulation. However, my short game around the greens is decent enough to allow me to scramble for quite a few pars and avoid too many double bogeys.
On the PGA Tour, Brain Stuard is ranked 2nd in Driving Accuracy but 201st in Driving Distance…which resembles my game off the tee.
In terms of Scrambling, currently, Patrick Cantlay leads the Scrambling category on Tour, but he is ranked 15th in Greens in Regulation, so he is a far better iron player than me. My iron play and scrambling abilities might be more similar to Aaron Baddeley's, who is ranked 150th in Greens in Regulation but is 6th in Scrambling. He gets up and down 65% of the time when he misses the green. Of course, this leaves Aaron currently ranked 200th on Tour in money earned this season, and he has missed the cut in more than ½ of the events he has played. If he keeps playing like me, he might have to find a job like me, too, teaching golf instead of playing golf.
FRANK LONGABUCCO 
My playing style does not resemble any current PGA Tour players as I can only drive it 250 yards! For driving accuracy, I would say, Brendon Todd, who leads the PGA Tour in Driving Accuracy at 74% (I'm at 72%). Going back some years, Calvin Peete comes to mind as he led the PGA Tour in Driving Accuracy for 10 straight years (1981-1990). My thoughts are you will not make big numbers from the fairway, and avoiding the big number is critical for scoring. 
KEN MARTIN
I have followed the career of Bernhard Langer since the mid-80s, and he continues to produce excellent results on the PGA Tour Champions.  I sense my playing style is very similar to his, primarily conscientious in nature.  I have a strong desire to do things as correctly as possible and spend a lot of energy analyzing my game and the courses I play. Understanding the details of the swing and varied playing strategies is part of my enjoyment of the game. Like Langer, I feel good preparation is essential for success.
JOHN CALLAHAN
For the sake of brevity, let's assume there are two types of playing styles, conservative and aggressive. My playing style is conservative. I look at each hole and ask myself, How I can avoid a big number?" Playing away from trouble and playing to the "fat" portion of the greens are hallmarks of this style. I would often play 100 consecutive holes without a double bogey because I adhered to this policy. Now don't get me wrong, this seemingly impressive streak of holes does not make me a great player, far from it. I was generally over par for the 100 holes—the bogeys would exceed the birdies. The saving grace was that I was competitive over the years with this playing style given the level of competition in PGA of America Sectional Tournaments—a long way from the PGA Tour. The best conservative style PGA Tour player I can recall was Al Geiberger. I once had the opportunity to play with Al in the late 1960s with a close mutual friend, Golf Professional Tom Scully. Geiberger told me that he played to the center of the greens and waited for his competitors to mess up. Now that may seem strange coming from the first man to shot 59 on Tour (1977 Memphis Open, 13 under the par 72) and earned him the nickname "Mr. 59". However, most of Al's victories were more like his four over par (71,71,73,73 – 288) at the Western Open in 1976 at long and difficult Butler National just outside of Chicago. Geiberger, with his conservative style, was at his competitive best on challenging courses. I'll say my playing style most resembles Al Geiberger. 
DONNA WHITE
Probably Bubba Watson or Rickie Fowler. My style of golf is "ready golf" see it, feel it, do it!  Start preparing for your next shot mentally the moment you hit your last shot!  You should be ready to hit when your turn, not have to wait to start gathering all your information when it is your turn. All the analytical conversations and measures to me have taken away one's ability to play by instinct and feel…assess the lie, get the yardage, pull the club most appropriate for the shot shape, commit and hit.  
NANCY QUARCELINO
Jim Hermann – He does not have length, but he is accurate. I want to be like Anne van Dam, but I am more like Lydia Ko and Lizette Salas in my length. 
If you'd like to study with PGA Master Professionals, contact The College of Golf today.