My Top 10 Favorite Golf Experiences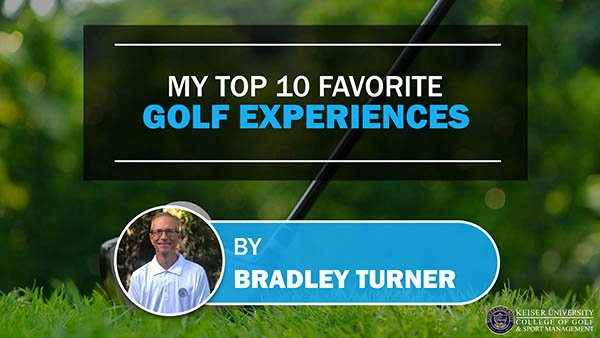 Brad Turner, PGA Certified Professional and Director of Online Golf Instruction
As a young golfer, I was fortunate to play a lot of golf at the local public golf courses. I grew up playing the municipal golf course in my hometown and consider myself to be a muni golfer at my core. As I played in more competitive events in high school and college, I got the chance to experience some special golf courses for the first time. I remember playing a golf course in northern Michigan with bent grass tee boxes. The tees were better than the greens at my home course. The excitement of a new golf experience does not diminish over time, and it is always a thrill to play an outstanding golf course for the first time!
The list of the top 100 golf courses by prominent golf magazines is a fun list to review. Having played the game for over 50 years, I have played a good portion of these special golf courses. I reviewed the latest top 100 list and decided to spin it off into my top 10 favorite golf experiences. When you play a special golf course for the first time, it is an exciting and adrenalin-filled day. A great experience is a part golf course, the group you play with, and conditions of play. We all have our favorite golf experiences, with each golfer creating their own unique list. Here is my top 10 in reverse order. The course ranking in America is in parenthesis.
10. Inverness Club (#65)
Inverness hosted the 1979 US Open, and I had the chance to play the historic golf course that fall. As a freshman on the golf team at Bowling Green State University, I had never played such a revered golf course. I remember reflecting that the best players in the world had just played there in June, and now I am experiencing the same golf course. The locker room at Inverness is full of pictures and memorabilia highlighting the many major championships hosted at Inverness. Host site of four US Opens and two PGA Championships, it is one of the great venues for championship golf.
9. Turnberry (#7 outside America)
Turnberry is the site of many of the great British Open championships. One of the famous Open Championships was held at Turnberry in 1977 when Tom Watson defeated Jack Nicklaus. The golf course is a wonderful test, but the scenery is majestic as holes #4 through #11 play along the rugged coastline. The ancillary beauty of the Turnberry lighthouse adjacent to the #10 tee, along with the view of Ailsa Craig sitting alone out to sea, is just a spectacular place to play golf.
8. Olympic Club (#34)
Prior to playing the Olympic Club, I was notified that I had an interview for a Head Professional position back in Indiana. Unfortunately, I was in California playing golf. I contacted the Chairman of the Search Committee, and he was understanding of the situation and was happy to accommodate me. I was to call him before teeing off at Olympic Club to confirm a date and time when I returned. When I drove into the club, I was stunned at the topography and the enormous Monterey pine trees that lined the fairways. It was an amazing sight, and I could not wait to tee it up on the first hole. I was standing in the middle of the 11th fairway when I realized I had forgotten to make that important call. That is how good Olympic Club is in my mind! What a great golf course; so good it cost me a job opportunity.
7. Oakland Hills (#21)
Growing up in Michigan, I always wanted to play Oakland Hills in Detroit. Oakland Hills has hosted more major championships than any golf course in the state. When I had the chance to finally play the golf course, I quickly realized why Ben Hogan called the course a "monster" when he won the US Open back in 1951. The green complexes are outrageous at Oakland Hills, while the layout and terrain made this a wonderful parkland-style experience. After waiting about 30 years to play the golf course, it was a special day for this Michigander.
6. Crystal Downs (#14)
Anyone in the state of Michigan who was a fanatical golfer knew of this hidden Alister MacKenzie golf course. Situated between Crystal Lake and the dunes of Lake Michigan, I had heard numerous stories of the golf course from some of my golfing friends. The greens had "elephants" buried in them as the contour and green speed created many three putts for those that didn't know the golf course. I played it for the first time after graduating from high school and shot an 80, but I did have my very first hole in one that day. I was fortunate to play Crystal Downs many times every summer, and I consider it my first experience with a truly great golf course. I became a fan of Alister MacKenzie's designs and have enjoyed playing many of his great works.
5. Pine Valley (#1)
Pine Valley did not disappoint. A good friend of mine had played Pine Valley many times, and he was excited for me to experience his favorite golf course. I had read the many stories about the golf course, and I had high expectations as I walked to the first tee. I was a bit nervous on the first tee shot and hooked it into the gunch off the first fairway. Sure enough, I was in big trouble already. I chipped it about 5-feet, so I could make a swing and eventually made a double bogey on hole #1. When we walked to the second tee and looked down the fairway to an extremely elevated green, I realized that Pine Valley was going to be as good as I had hoped. There just is not another golf course like Pine Valley, and understandable deserving of the #1 ranked golf course in America.
4. Pebble Beach (#8)
Start saving now for your Pebble Beach golf trip. You have seen it on television when the PGA tour visits, as well as the many US Opens that have been played there. It is wonderful to watch these events but to actually experience the golf course, and the unmatched beauty of the Monterey Peninsula is worth the price of admission. It is just hard to imagine a golf course actually located on such a spectacular piece of property. Pebble Beach is every bit as difficult as it is majestic in beauty. I was shocked at how small the greens were, and the slope of the green complex made it difficult to putt. Being below the hole is a must, but I learned that a bit too late in my round. Ranked the number one golf public golf course in America, it very well could be the best golf course in the world.
3. Cypress Point (#3)
The connection from Crystal Downs afforded me the chance to play Cypress Point, another Alister MacKenzie course design. Rated the most beautiful golf course in the world, I played it on a perfect 65-degree day in Monterey. The golf course has three distinct terrains; the Monterey pines, the sand dunes, and the ocean holes. I played the course the first week in February and had not played at all during the mid-west winter. We played our first round of the year the day before at Poppy Hills before teeing it up at Cypress Point. For some reason, the golf gods were on my side as I played a great round of golf making five birdies and the rest pars until I bogeyed the last hole for a 68. My caddy said it was the second-best round he had witnessed as a caddy in his 15 years at Cypress Point. Yes, that was a special day!
2. St Andrews Old Course (#3 outside of America)
If you are a golf historian, then the Old Course at St Andrews is a must experience. If you are fortunate to play on a warm spring day in Scotland, it makes it that much better. As I drove up to the Old Course, it appears to be nothing but a flat piece of property with some heather and gorse scattered about at random. Once on the golf course, I began to see the uneven topography with moguls and mounds throughout the golf course. The green complexes are massive in size, with steep slopes to challenge a golfer's putting skill. I found a few famous sod wall bunkers, hit one into the gorse, and birdied the 18th to shoot 72 for the day. I finished up with a pint at the Jigger Inn with our caddy Alistair, sharing a few caddy stories. It doesn't get much better than that.
1. Augusta National (#2)
The all-time memorable golf experience was the chance to play at Augusta National. A friend from high school worked on the grounds crew at Augusta National, and he was allowed one guest to play the course with him during the volunteer appreciation week. The night before our round, we attended a going away party for the assistant green superintendent as he had accepted a great job in Florida as the new head superintendent. It was amazing to feel the excitement at the party as the grounds crew was debating the hole locations for the next day. It was finally decided that we were going to play the traditional Sunday pins during the Masters tournament. We spent the entire day at Augusta National playing 36 holes, playing the par 3 golf course where I made a hole in one, and playing a few extra holes until dark. We entered the property at sunrise and left after sunset. Augusta National exceeded my expectations in every possible category. It is such a special golf course that there really is nothing to compare to Augusta National. There is much to the story, but we will save that for another time.
Our team at Keiser University College of Golf & Sport Management takes pride in getting your game on the right course. Call us today at 888-355-4465 for more information.
Sources:
golfdigest.com/gallery/americas-100-greatest-golf-courses-ranking
golfdigest.com/story/100-best-golf-courses-outside-us
If you'd like to study with Bradley Turner and other PGA Master Professionals, contact the College of Golf today.