'Hole-In-One' Focus Helps Define Success for Keiser University Valedictorian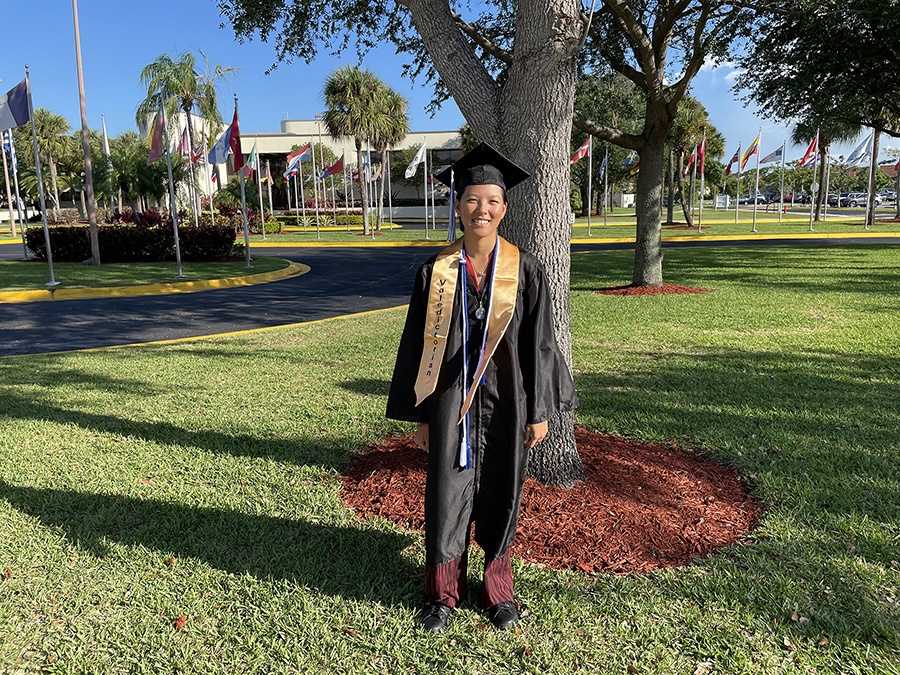 Keiser University graduate Michela Tjan Salti Effendie is now realizing the rewards of her academic efforts as she is recognized as Keiser University Flagship Campus' co-valedictorian along with fellow student Samantha Lopez Cruz.
Having originally settled in the United States from her native Indonesia in 2018 to join Keiser's golf program, Effendie soon began to successfully juggle the rigors of scholarly pursuits along with her role on the university's golf team and quickly delved into her associate's degree in Golf Management studies followed by her Bachelor of Science degree in Interdisciplinary Studies.
"Faculty and staff members helped with my transition from focusing solely on golf to being a well-rounded student-athlete," said Effendie who was thankful to integrate her marketing and entrepreneurship interests as part of the university's Interdisciplinary Studies degree.
Now celebrating her honor with loved ones, she's thankful to family and class, and teammates for their emotional support and sends a shout-out to Keiser University professors and golf leaders. "Professors Sunday Barbaro and George Stamas helped me with my career path as I gained a real-world skillset, and Mr. Longabucco and Ms. White further mentored me in the golf aspect, which impacted my game greatly and helped me improve every day," she said.
Professor Barbaro shared that Michela's devotion to family and friends along with her commitment to golf and her studies are most notable while her unique skillset and role as a leader will take her far both personally and professionally. "Michela has a wonderfully diverse set of friends who adore her. She is a natural born entrepreneur, extremely creative, driven, cultured, kind, generous, and social, but at times reserved. I have no doubt she will continue to be very successful in her next exciting phase of life," she said.
When asked what she'd recommend to others who are reaching for the stars, Effendie, who plans to play professional golf while launching a marketing career, recommended perseverance along with a strategic vision. "Portioning a dream into short and long-term goals will help sustain focus to reach the dream – never stop chasing them," she smiled.
Keiser University's Bachelor of Science degree in Interdisciplinary Studies provides a comprehensive curriculum that allows broad exposure to multiple disciplines. The major provides a practical alternative for baccalaureate degree-seeking students whose needs cannot be met by individual majors. Students can design a course of study that meets their academic objectives and furthers their professional growth and development by combining two or more disciplines into a coherent program. The degree will combine general education courses with an interdisciplinary concentration, electives, and a capstone course. The proposed coursework is subject to approval by the dean of academic affairs.