Match Your Strategy to Your Current Performance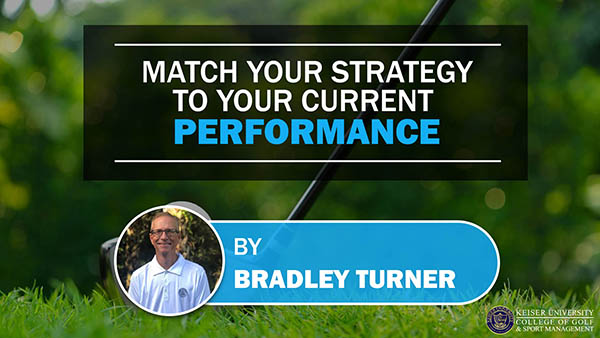 By Bradley Turner, Keiser University College of Golf Director of Online Golf Instruction – MBA, PGA
I would suggest that the average avid golfer is an eternal optimist on the first tee.  Through the course of the day, the positive thoughts on the first tee may fade away but, in the end, the avid golfer will believe that tomorrow will be a better day. Optimism and high expectations are some of the reasons golf can be so much fun. However, this optimism can overrule common sense when it comes to course strategy. A player that can manage their game by making sound strategic decisions is the golfer who can play up to their own expectations.
Current State of the Game
When stepping up to the first tee, an overly optimistic golfer may be setting themselves up for a difficult day on the golf course. Clearly, understanding your own capabilities is essential in establishing a good game plan for the day.  Did you bring your "A" game?  Have you been playing well? Have you been struggling recently?
I suggest that there are three levels to golf performance:
"A" Game – This is when you are playing your best golf. The USGA handicap index is a representation of you're "A" game because the index is based on your best eight of the last 20 rounds.  If you play to your handicap by shooting net par, you played a good round of golf. If this has been a recent reflection of your golf game, then your confidence should be good as you step up to the first tee. "A" game strategy is based on your confidence to execute golf shots that match your capabilities–playing more aggressively by hitting at selected hole locations and an occasional gamble if the reward is worth the risk. An "A" game strategy does not imply hitting at the flagstick all day long.
"B" Game – Statistically, this is your normal golf game. This is an accurate assessment of your playing ability. If you have been playing your "normal" game, then you should feel good as you put the ball in play on the first hole. The "B" game strategy is simple; get the ball in play and hit to the middle of the green on approach shots. It takes mental discipline to disregard the hole location on hole #1 and aim to the center of the green, but this is the best strategy for the day.
"C" Game – This is when you are struggling and unsure where the ball is going. This is a difficult time for any golfer, regardless of handicap or skill level. It is very difficult to step on the first tee with the thought, "where is the ball going today?" Don't let an optimistic attitude influence the wrong strategy. Pragmatic decision-making is essential to making your day on the links a successful one. The "C" game strategy requires a conservative play on all shots. There is no risk worth the reward. Managing your miss is the recipe for shooting a good score, even when your ball-striking is below your own standards.
Adjust Your Strategy
A good suggestion is to begin each round with a "B" game strategy. Golf is like any other sport – momentum can play a big part in building up a good round. Making a birdie on the first hole does not guarantee you anything other than the fact you are one under par after playing the first hole. An excellent round of golf requires patience to build!  If the day is going well and your confidence begins to rise, switch to an "A" game strategy on holes that favor your game and ball flight characteristics. If you are really playing well, ride that confidence the rest of the day and have fun.
Sometimes you may need to adjust your strategy in the opposite direction. There is nothing wrong with switching to the "C" game strategy for a series of holes while you assess the state of your game. Applying an "A" game strategy to "C" game performance is a scoring disaster. On the other hand, applying a "C" game strategy to an "A" game performance can be very productive in building a solid round for the day. Remember, everyone can score well with their "A" game, but an experienced and savvy golfer can still manage a good score with their "C" game.
Patience in building your round is a key that experienced tournament players understand. Match your strategy to your game, and you will find more consistent scoring in the future.
If you'd like to study with Bradley Turner and other PGA Master Professionals, contact the College of Golf today.