Master the Kinematic Sequence for Power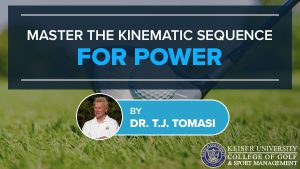 By Dr. T. J. Tomasi, Keiser University College of Golf Senior Faculty and Director of Research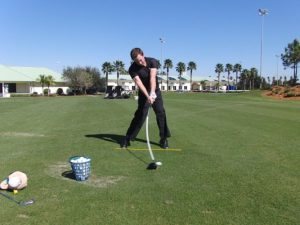 He has a high swing speed – and he's good.
Is a big hitter off the tee usually a good player? Usually, the answer is 'yes,' as experience and research indicate that club head speed is a valid predictor of excellence in golfers. While handicap is the standard performance measure, clubhead speed is a much more swing-based indicator since it's established on the principle that guides the transfer of power called the Kinematic Sequence.
During the downswing, data analysis confirms energy transfers from the core of the body, flowing through the upper torso, along the arms, down the shaft, and into the ball. The Kinematic Sequence describes how the segments of your body, each in their turn, accelerate early in the downswing and then progressively slow in order to pass their energy to the segment immediately following until the clubhead has accumulated the power of the entire system and it is ready to dump it into the ball. This acceleration order confirms my long-standing approach: first, learn to hit it hard — you can learn control later.
If you'd like to study with Dr. Tomasi and other PGA Master Professionals, contact The College of Golf today.