College of Golf October 2022 Events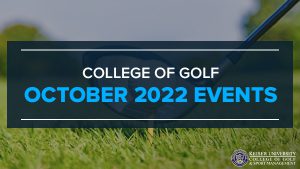 Keiser University College of Golf Students Participate in Hickory Open and Bullseye Putting Championship
Keiser University College of Golf (KUCOG) History of Golf class students recently enjoyed a putting competition using hickory-shafted putters and golf balls from different historical eras, beginning in the early 1800s and progressing through the modern day, and Bullseye putters from the 1960s.
Led by Professor Ken Martin and KUCOG Executive Director of Golf Operations Dr. Eric Wilson, students gathered at the outdoor putting green as Martin explained each of the different putting stations, culminating in a 36-hole putting competition over two days.
The group putted three-hole segments with each of the following:
Long nose putter and featherie golf ball (pre-1848)
Kempshall Pyraline putter and smooth gutta percha golf ball (1848-1850)
Wry-neck blade putter and hand-hammered gutta percha golf ball (1850-1865)
Brown-Vardon semi-mallet head putter and bramble pattern gutta percha golf ball (1865-1900)
Schenectady center-shafted putter and balata covered golf ball (1900-1960)
Hackbarth putter and Pro V-1 golf balls (1960-modern day)
They also putted 18 holes with Bullseye putters and balata golf balls.
Par for the course was 72, and after 36 holes, students Billy Reid and Theo Michael tied for first place with scores of one-under-par 71. The ensuing playoff ended on the second hole when Theo scored a hole-in-one using the Carnoustie Championship putter and featherie golf ball and claimed the Championship. Third place went to Evan Pollera with a score of 77; tied for fourth place with scores of 78 were Jadin Holmberg, Joey Flanagan, and Kyle Nieter.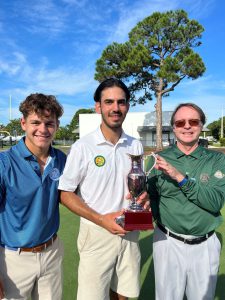 L-R: Billy Reid, Theo Michael, Professor Ken Martin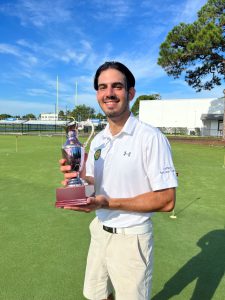 Historic Open Putting Champion Theo Michael
Keiser University Finishes Third at the National Collegiate Club Golf Association's Florida Regional Tournament
The Keiser University National Collegiate Club Golf Association (NCCGA) Club Golf Team recently finished third place at the NCCGA's Florida Regional Tournament held at Royal St. Cloud Golf Links in Kissimmee, Florida.
The team was led by Ryan Byrd 71-74 (T-9), Heloise Garcin 71-77 (T-18), Robert Vinson III 73-76 (T-20), Sam Wilson 72-77 (T-20), Ian Gillis 79-72 (T-28), and Braden Lohr 76-77 (T-35). Ten teams competed in the event, with the University of Tampa finishing first and the University of Florida second.
"The team played very well, learned much about their games, and most importantly had a wonderful weekend continuing Keiser University's long history of strong performances," said PGA Instructor and Coach Frank Longabucco. The weekend scores should move Keiser University up in the national rankings.
The next regional will be on October 8th & 9th at Bent Tree Golf Club in Sarasota, Florida. Another strong weekend could earn the Seahawks an invitation to the National Championship in Las Vegas. For complete results and to follow the Seahawks, please visit NCCGA.org.
1st University of Tampa
2nd University of Florida
3rd Keiser University
4th Florida Tech
5th University of Florida (B)
6th University of South Florida
7th University of Tampa (B)
8th University of Central Florida
9th FIU
10th University of Tampa (C)
(FSU skipped this week's event)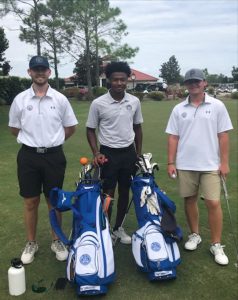 Left to Right: Ian Gillis, Robert Vinson III, Cameron Lindell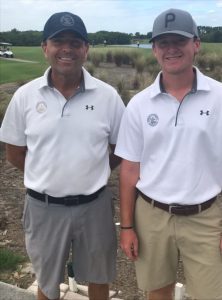 Left to Right: Sam Wilson, Braden Lohr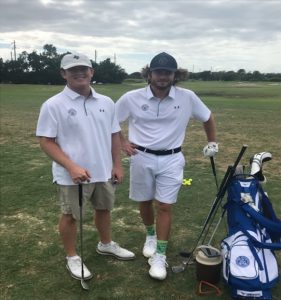 Left to Right: Ryan Byrd, Kyle Neiter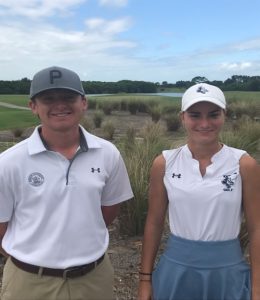 Left to Right: Branden Lohr, Heloise Garcin
Keiser University Flagship Campus Hosts Florida State Golf Association Seminar
The Florida State Golf Association (FSGA) recently held its World Handicap System (WHS) Seminar at Keiser University's Flagship Campus.
Several Keiser University College of Golf (KUCOG) Club Management class students joined PGA of America professionals and club members to learn more about the WHS from presenter Mark Boyko, Club Services Manager. The group also enjoyed a lively discussion about monitoring handicaps at golf facilities.
Keiser University students were grateful for Boyko's insights and the opportunity to interact with PGA of America Professionals and local leaders in the industry.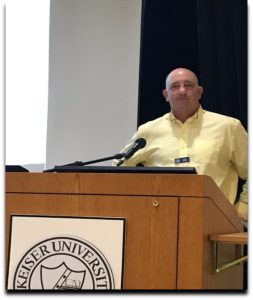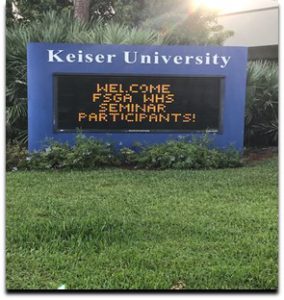 Keiser University College of Golf Students Play Hickory Golf
Several Keiser University College of Golf (KUCOG) students recently enjoyed a round of Hickory Golf using hickory shafted golf clubs.
Professor Ken Martin had the History of Golf class dress in period clothing while using mid-irons, mashies, niblicks, and putters with hickory shafts to play the par-72 Martin Downs Osprey Point Golf Course located in Palm City, Florida.
Playing in a "Net Scramble" format, five teams competed in the event. As seems to be the recent norm, the competition was very close.
Of interest is the developing friendly rivalry between Billy Reid and Theo Michael.  With Michael having earned the Champion Putter of the Term title by winning the Historic Putter and Golf Ball Championship in an exciting two-hole sudden victory playoff over Reid earlier in September, Reid, with the help of his team Joey Flanagan, Evan Pollera, and Jack Gallagher, was able to enjoy a two-stroke victory over the capable team of Michael and his partners Ricky Anderson and Christian Fields.
With the Persimmon and Blades Championship being the one competition remaining for the term, fans are interested to learn whether the rivalry will continue or if one victor will rise to the top… stay tuned!

Keiser University Flagship Campus Golf Coach Brandon Miller donated a "gold" cup for the winner's prize, and the team will "own" the cup until the next competition. The opportunity to use replica golf clubs from the 1920s gave the students an appreciation for the skills and abilities of golf's greats of the era. Champions such as Walter Hagen, Bobby Jones, Gene Sarazen, and Long Jim Barnes all shot incredible scores and won major championships using hickory shafted golf clubs. Overall, the experience was enlightening and fun!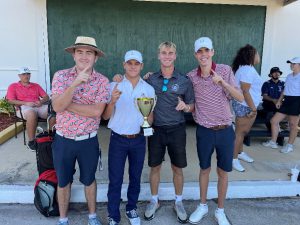 Hickory Golf Champions (L-R): Joey Flanagan, Billy Reid, Evan Pollera, Jack Gallagher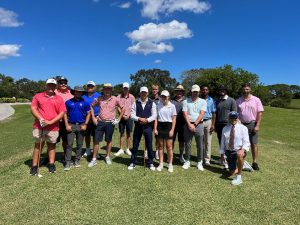 History of Golf Class Hickory Golf Group Photo
College of Golf Learners Enjoy Student and Staff Competition
Keiser University College of Golf (KUCOG) learners recently participated in a friendly Student and Staff Competition at Martin Downs Golf Course in Palm City, Florida.
The competition format was 'two best balls of four net,' and the winners were Ryan Byrd, Sam Oscarsson, Heloise Garcin, and Instructor Frank Longabucco, scoring 18 under par 126.
Students enjoyed a clinic on the "Texas Wedge" conducted by PGA Instructors Frank Longabucco and David Wixson before teeing off. The clinic opened its eyes to the possibility of putting more from off the green to save strokes. They were also shown how to determine the best situations for using the "Texas Wedge," which was critical to their success on the golf course.
The event was fun while being competitive and gave participants a playing opportunity to improve their games. Students also played with PGA instructors, learning golf course management and mental game skills. The next event is the Tournament Management class competition on November 4, 2022.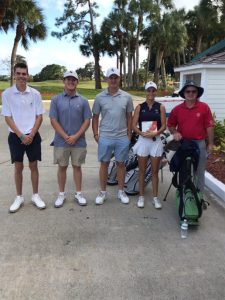 L-R: John Gallagher, Ryan Byrd, Sam Oscarsson, Heloise Garcin, David Wixson