How to Prepare for Your Next Golf Tournament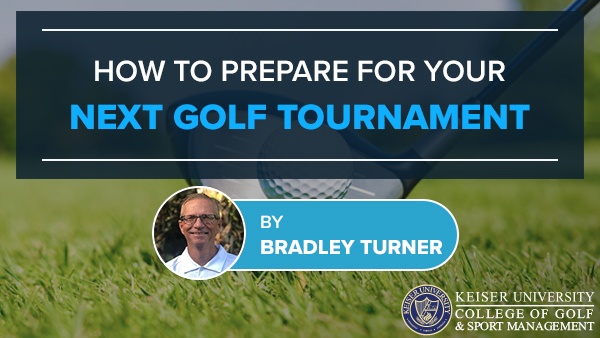 By Bradley Turner, Keiser University College of Golf Director of Online Golf Instruction – MBA, PGA
Ben Hogan once said, 'Golf and tournament golf are as different as tennis and ice hockey.' That description may seem odd for those who have never played tournament golf, but it is absolutely true.
With no disrespect to Mr. Hogan, I like to use the analogy of rock climbing to delineate the difference between golf and tournament golf. The vast majority of rock climbers use safety ropes to assist them during a climb. There are a few climbers that free climb, meaning that they don't use any safety ropes! The technical skill in climbing is basically the same, yet we don't have to be rock climbers to know there is a big difference between the two.
Golf Tournament
Golf and tournament golf require the same mechanical skills, but they are vastly different games, kind of like tennis and ice hockey.
Climbing without a rope or free climbing is a test of mental discipline, preparation, and extreme courage (or maybe insanity). If something goes wrong while free climbing, well, the outcome is not good. The potential negative outcome is something that free climbers must learn to overcome, and they do this by preparing at the highest level before testing their skills on a new mountain climb.
Similarly, tournament golf exposes the golfer to potentially negative outcomes, more pressure, and often the fear of a missed short putt or dumping one into the water. Tournament golf is exponentially more of a mental test than a fun recreational round with friends. There is no safety rope in tournament golf, and the real test that Ben Hogan refers to is the mental discipline, preparation, and courage to play to your potential.
How to Prepare for a Golf Tournament
For those that choose to test their skills in a golf tournament and are seriously focused on performing up to their potential, then proper preparation is a must. A great movie to watch and get a glimpse of preparation at the highest level is Free Solo. This movie documents Alex Honnold's ascent up El Capitan in Yosemite National Park in 2018 without any safety ropes. El Capitan is a 3,000-foot vertical granite monolith that very few have ever climbed, and they all used safety ropes. Honnold was going to free climb El Capitan, much to the dismay of friends and loved ones. Mental discipline and courage were on display for certain. The interesting takeaway for me was the level of preparation it took for Alex to finally attempt the outrageous idea of climbing El Capitan without a rope. Alex's prep work was amazing, as he memorized every move he would take up El Capitan. I certainly understand that tournament play for the avid golfer will not take the same level of preparation. Still, you don't show up at the first tee of a tournament utterly unprepared for the competition and expect to perform at your best.
Know Your Opponent
The more you know about your opponent, the better you will be in your next tournament. And the opponent I am referring to is the golf course you will be playing. During your practice round, there are two very important aspects of the golf course you should be analyzing before you establish your tournament strategy. A range finder has been an awesome ally in understanding the golf course, but knowing the yardage to a hole location or a fairway bunker does not replace the need for tournament prep work. The two areas of the golf course that should capture your attention in formulating a good strategic plan are the green complexes and the sight lines off the tee.
Green Complexes
The most crucial element of the golf course to pay attention to is the green complexes. If this is the only area you have time to get to know during a practice round, you will have a good chance of scoring to your potential. The first thing to evaluate is the green speed and the relative firmness of the putting surfaces. Hit some long putts up a hill and then turn around and go back down the hill. You want to gauge the speed of the greens and get your mind married to the necessary pace of your putts.
Additionally, you should hit a few extra chips and pitch shots and note how the ball reacts on the putting surfaces. Make sure and hit a few bunker shots during the practice round as well. Sometimes bunkers can be easy to play from, while other times they can be very difficult.
Look around each green complex and note where you would have an easy up and down opportunity. Sometimes missing the green on the easy side is much better than trying to two-putt from the wrong side of the green. Most importantly, note where you never want to miss the green. There are spots around some green complexes that are almost impossible to get the ball up and down. If you have a yardage book or course map, you should highlight these areas in red so you are not tempted to get too close to a hole location near one of these dangerous areas.
Sight Lines
Sight lines refer to aiming points on all your tee shots, except for the par-three holes. It is important to scout out any areas that could influence your second shot. For example, I recently played a golf course for the first time and faced a sharp dogleg to the left par-four hole. Intuitively, it appeared that a nice right to left tee shot was the appropriate play. I hit a good tee shot with a bit too much draw to the left. When I got to my ball, I was just in the left rough and completely blocked from going directly to the green because of a big oak tree. The best play off the tee was to keep it center-right of the fairway. These are the type of issues you should be looking for during the practice round.
A good friend of mine played on the PGA Tour for a couple of years and was ranked in the top 10 in driving accuracy. His strategy off the tee was to find the widest part of each fairway and play to that area. That may require a driver on one hole, and the next hole is a fairway metal. Even though he hit the ball very straight, he didn't always use a driver. The courses you will play may not have rough that penalizes the golfer like it can on the PGA Tour, but it is always easier playing from the short grass. However, if the rough is difficult, it would be wise to find the wide part of the fairway and use the appropriate club to find the fat part of the fairway.
With range finders, it has become much easier to determine the best sight line off each tee. You want to note good visual targets whenever possible, such as tall trees, edges of fairway bunkers, or buildings in the distance. Many visual targets can help you establish good sight lines and help to build your confidence.
Confidence Uptick
Knowing you have prepared to play your best golf will build an appropriate level of confidence. Preparing well does not guarantee a good performance, but it certainly increases the probability. With solid preparation, you will have earned the right to be confident on the first tee. With an uptick in confidence, facing the challenges ahead with a positive attitude will make your next tournament experience a lot more fun.
If you'd like to study with Bradley Turner and other PGA Master Professionals, contact the College of Golf today.