How to Practice on Your Couch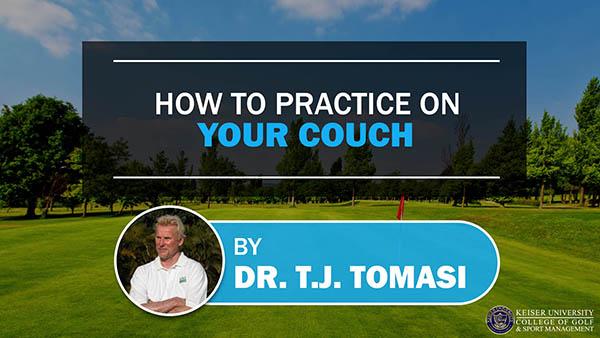 by Bradley Turner Keiser University College of Golf
Director of Online Golf Instruction, MBA, PGA
The title of this article is not a misprint. You can practice any aspect of your golf game while sitting on your family room couch. The time on the couch must be productive and purposeful, so taking a nap will not help your golf game. I recently received a message from a College of Golf student asking my opinion of an article he read regarding using mental imagery to help musicians' performances. In a study conducted by Georgia State University, "a research team has identified how the brain changes when artists are in a state of 'flow' and found that simply imagining improvised performances elicits the same flow-like brain state when musicians are singing."
The student asked if these findings by Georgia State University would be beneficial in helping his golf game. The answer was easy, absolutely!
Mental Imagery Experiences
My first experience with mental imagery was a story told to me by my college golf coach while I was a student at Bowling Green State University. A music professor was invited to perform at a music festival in California. While on the plane, the professor "practiced" his entire piece while flying from Detroit to San Francisco. I had never heard of such a thing and was initially skeptical of the entire idea, but I eventually began applying this idea to my own golf game.
My favorite experience with mental imagery happened in 1997. On the Friday before Masters week, I recall shooting a messy 81. I had signed up to play in the North Florida PGA section Match Play championship that started the Monday after the final round of the Masters tournament. At the time, I was frustrated with my game and thought that withdrawing from the tournament was a good idea. The time to practice and play prior to the tournament was not going to happen as I was heading to Augusta to watch Tiger Woods play in his first Masters as a professional.
After watching some of the best golf in the history of the game, my excitement to play was once again renewed. My buddies drove home Sunday evening since I had a tee time on Monday morning back in central Florida. I sat in the back of the car the entire way home and went through mentally rehearsing my golf swing, short game, and putting stroke. By the time I teed off on Monday morning, my mind was crystal clear on what I needed to do to play to my potential. I went on to win the Match Play championship despite not picking up a golf club for ten days prior to the competition. The power of the mind is amazing!
Before you abandon the practice range for your favorite couch, an article published by Physiopedia stated that "Mental imagery seems to be better than no practice at all, but mental imagery alone is not as good as physical practice alone. Mental imagery cannot completely substitute for physical practice, and it appears as though a combination of mental imagery and physical practice leads to the most effective performance."
A balance of hitting practice balls and striking putts on the practice green combined with some mental practice appears to make good sense for avid golfers. There is no perfect formula for all golfers, but the more experienced the golfer, the more they can spend time on mental imagery. Beginners need to spend time with a club in their hands and use it to build the basic motor skills needed to play the game. Mental imagery practice should be very limited since beginners may not even know what to imagine!
Mental Practice Suggestion – Driving to the Course
The next time you play, the first suggestion I have is to utilize the time in the car to improve clarity and, ultimately, your performance on the course. Turn off the radio and quietly rehearse the key swing thought you plan on using during the round. Your golf performance can be optimized with one key idea or swing thought. But if you try and make things even better with a second swing thought, performance begins to drop. The mind is just not capable of handling two things in the time it takes to hit a golf ball. You may want to settle on a backup swing thought if things just are not going the way you want. I would caution against experimenting and punching buttons, hoping some new idea will fix any problems you may be having with controlling the ball flight. A very good swing key to rehearse while driving to the golf course is imagining your ideal swing tempo and rhythm. The tempo is the general pace of the swing, with some preferring a fast tempo while others like a slower tempo. All great ball strikers maintain a consistent rhythm during the course of a round of golf. With some quality mental imagery, by the time you park your car at the golf course, you will have removed any cloudy thoughts and are vividly committed to your keys for the day.
Mental Practice Suggestions – On the Couch
To supplement your practice sessions on the range, using mental imagery from your couch is a proven method for improving performance. Ideally, you should turn off all the electronics in the room and internally focus on one of two areas. The first is to play a mental round on the golf course where you will be competing. This is especially effective for an unfamiliar course or a tournament golf course. The second area is to visualize and feel the mechanical changes you are working on with your golf coach.
Visualize yourself on the golf course you will be playing. Imagine yourself on the first tee and see the tee shot you plan to play. Solidifying start lines and finish points for your tee shots is a good way to build confidence in your strategic plan. As you progress through the golf course, identify areas that are red zones. These are areas where you must not hit a golf ball. It is perfectly normal to recognize water hazards and bunkers you do not want your ball to find. However, it is essential that you replace any of those negative images with what you want the ball to do! Imagining a bad shot is going to happen to everyone. The best competitors can replace a negative image with a positive one. If you are playing on your home course, you know the start lines and the red zones to play your home course rather easily. You may be surprised by the mental discipline it takes to play all 18 holes from your favorite couch!
Making swing changes is difficult, and using mental imagery will only help with the changes you seek. Good golf coaches will convey the concept behind your swing problems and provide suggestions on making positive changes to your swing. For you, it is important to be very clear on what you are supposed to do. Clarity will allow you to quietly sit at home to see and feel the changes you are making to the golf swing. Mental imagery will help with all aspects of your golf game, including the short game and putting.
Finding time to practice is one of the reasons golfers do not practice at all. But the above suggestions are convenient and effective ways to mitigate the time crunch we all face and improve your golf game. The next time you watch a meaningless program on television, turn off the electronics and turn on your mental imagery skills. Your golf game will thank you.
If you'd like to study with Dr. Tomasi and other PGA Master Professionals, contact us today.