How to Become a Golf Course Superintendent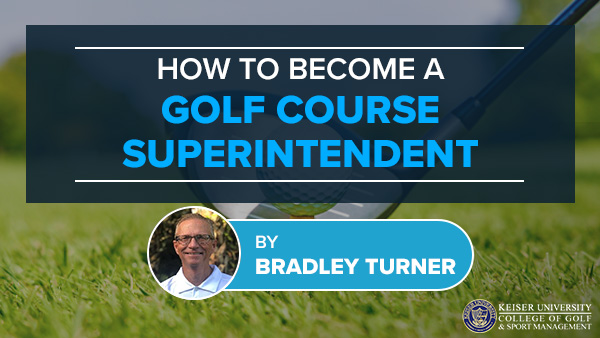 by Bradley Turner Keiser University College of Golf Director of Online Golf Instruction – MBA, PGA
The National Golf Foundation (NGF) is the leading authority in the business of golf in the United States. According to the NGF, the golf industry generates an estimated $84 billion in revenue annually in the United States. The COVID pandemic has ignited more participation than ever, with a record 529 million rounds of golf played in 2021. There are over 16,000 golf courses in America, with about 29,000 Professional Golfers' Association members employed at these facilities. The College of Golf at Keiser University offers golf management programs to prepare students for employment opportunities in golf operations management. The College of Golf offers an associate and bachelor's degree in golf management and recently introduced a master's degree in golf teaching and learning. All three degrees provide graduates with the knowledge and skills to assume various positions in golf operations management and instruction.
Demand for Green Superintendents and Associates
The Golf Course Superintendent Association of America has about 19,000 members and associates (GCSAA, 2022). This association includes individuals such as the Head Green Superintendent, Assistant Green Superintendent, and Grounds Maintenance workers who are responsible for the maintenance and upkeep of the golf course. Experts in turfgrass management continue to be sought after by golf facility owners and operators. Many individuals that pursue opportunities in golf course maintenance do not have an educational background or knowledge of the industry. Consequently, their progression to more professional responsibility and better-paying positions is limited without additional education. According to the GCSAA, the highest paying maintenance positions at golf courses require a minimum of an associate degree in turfgrass management or a similar degree.
Green Superintendent Competencies
The typical prospective student will likely have a passion for working outdoors, enjoy working with their hands, and possess the ability to fix a variety of problems. Individuals who desire to improve facilities, grounds, and equipment will succeed in this career path. The GCSAA has identified the essential competencies required for higher-paying positions such as the Head or Assistant Green Superintendents. These competencies are categorized into five domains: agronomy, business management, communication, environmental management, and leadership.
Agronomy
This domain focuses on the essential knowledge and skills in turfgrass cultural practices. Agronomy involves the maintenance of the golf course property and infrastructure, including the equipment to properly maintain the turfgrass.
Business Management
Green superintendents must be knowledgeable of business management systems and utilize technology in managing their departments. Project management and human resource practices are essential to a successful green superintendent.
Communication
The ability to communicate effectively with peers, subordinates, and superiors is a necessary skill in managing and leading people. Managing conflict and facilitating the flow of information is essential for department leaders.
Environmental Management
Environmental management and understanding the impact of agronomy practices, including hazardous materials, is vital knowledge for green superintendents. Knowledge of regulatory agency policies, including water resource management and managing the ecosystem, is crucial for green superintendents to stay compliant with state and federal agencies.
Leadership
Leading and motivating employees and establishing a positive work environment are expectations of the green superintendent. Strategic planning, employee training, and problem-solving are examples of good leadership.
Entry-level opportunities in golf course maintenance are in high demand and require an individual to enjoy working in a golf environment. Typical duties include the maintenance and grooming of turfgrass, assistance in irrigation systems, and equipment maintenance. As you move into areas of higher responsibility within the organization, applying business and leadership skills becomes paramount.
Education Opportunities
A degree in golf management provides prospective students with the chance to build a foundation of knowledge and skill that can help them advance their career opportunities. If you are interested in pursuing a golf course maintenance career in the golf industry, contact the College of Golf at Keiser University to explore the educational opportunities to prepare you for a rewarding career in golf.
If you'd like to study with Bradley Turner and other PGA Master Professionals, contact the College of Golf today.