What Is a Good Set of Golf Irons for an Average Golfer?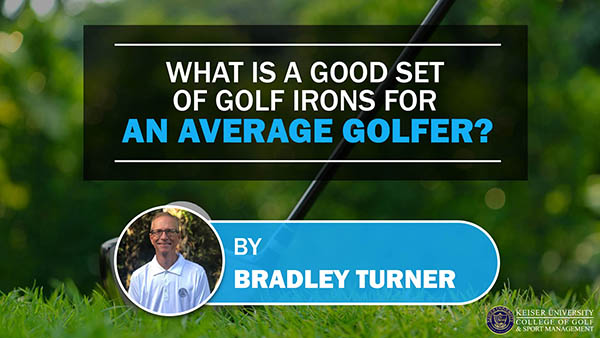 By Bradley Turner Keiser University College of Golf Director of Online Golf Instruction – MBA, PGA
Maybe you've been playing the links for some time now, putting time in at the driving range and playing eighteen as often as you can (but not as much as you'd like to.) Perhaps you are at a point where you consider yourself an average golfer and you want put more effort and money into the game that you love. Maybe you're looking to launch a golf career. You know that you could benefit from more practice and some lessons from your local pro, but you also need an upgrade in your equipment. Those knock-off irons you bought at your neighbor's garage sale were probably discontinued in 1989, and, while they have served you admirably, these clubs have to go.
Both on the driving range and in the pro shop, many average golfers often overlook the importance of a good set of irons. There are many, many golf irons for an average golfer like you. Let's look at some of the choices out there today; one of these iron sets might be a winner for you.
Titleist T300
Titleist claims that the T300 golf iron is the "Ultimate Game Improvement Iron." Reviews and customer ratings have been good, so maybe their claim isn't all hype.
T300s are weighted with dense tungsten, providing golfers with more control over the center of gravity. The result is a higher launch, faster ball speed, more forgiveness, and greater distance. These irons are geared toward golfers who haven't yet achieved a single-digit handicap but are dedicated to improving their game.
Mizuno JPX 921
Mizuna offers four types of JPX921 irons for 2022, but two are specifically geared toward high- and mid-handicappers who are looking for game improvement: the Hot Metal iron and the Hot Metal Pro iron.
Both are cast (as opposed to forged, which Mizuna is well-known for) in chromoly steel.  The strength of chromoly allows for a thin, fast face, which translates to faster ball speed and greater distance. The primary difference between the Hot Metal and Hot Metal Pro is their compactness—Hot Metal pro irons have a more compact body and thus are slightly less forgiving.
TaylorMade Stealth Irons
The TaylorMade's Stealth Irons are an excellent choice for game improvement irons with a long shaft and beautiful cavity design and are relatively lightweight. These golf irons boast a sleek, modern aesthetic, with a strip of soft polymer embedded in each club head that absorbs vibration to create a soft, smooth feel. The Stealth irons have an impressive launch angle and height and a strong loft resulting in greater distances. These clubs display above-average forgiveness, making them a perfect choice for those working on their game.
PING G425
Highly regarded for their distance and forgiveness, PING irons can really help you gain an edge in your golf game. This has never been more true than with the G425 irons, which have a smaller head than the G410 without losing its sole and bounce. Made from Hyper 17-4 steel and using the same technology found in their metalwoods (Metalwood VFT), the head's strength has been increased by 10%, resulting in better flex deflection than ever before seen in a Ping golf iron.
Srixon ZX5
According to reviews, the Srixon ZX5 iron set is an ideal choice for golfers interested in improving their game. The shaft is long and forgiving, and for those who prefer to have a good-looking set of golf irons, the Srixon ZX5 delivers there, too. Its deep undercut cavity back is filled with a new badge that dampens vibrations and makes for easy launch. The V sole moves through turf cleanly, which, paired with the smooth feel of the shaft, makes for a soft launch every time.
Cleveland XL HALO
This club implements cutting-edge technology to deliver a quality golf iron perfectly suited to the average golfer looking to improve their game. The AI-designed clubhead has a backside of various thicknesses and indentation patterns that remove mass and provide improved ball speed. Each iron type has variations in these patterns specific to its intended purpose. The clubhead also helps mitigate the effects of miss-hits, and the company even offers the option of an "accuracy build" that is a half-inch shorter for those really looking for a boost.
Need More Help Launching Your Golf Career?
If you are still not sure which irons are right for you then contact us and let us help drive your golf career in the right direction. Our team at College of Golf & Sport Management at Keiser University takes pride in getting your golf game on par. Call us today at 888-355-4465 for more information.