What Is a Good Set of Golf Irons for an Average Golfer?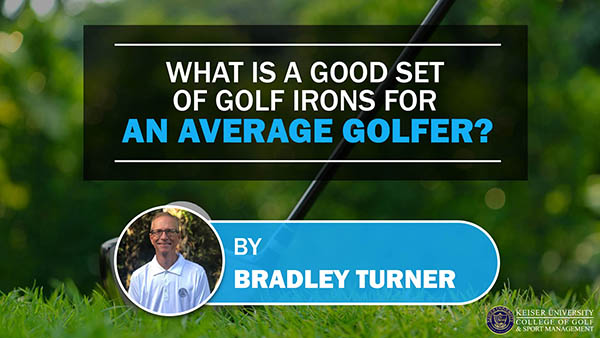 By Bradley Turner Keiser University College of Golf Director of Online Golf Instruction – MBA, PGA
Maybe you've been playing the links for some time now, putting time in at the driving range and playing eighteen as often as you can (but not as much as you'd like to.)
Perhaps you are at a point where you consider yourself an average golfer and you want put more effort and money into the game that you love. Maybe you're looking to launch a golf career.
You know that you could benefit from more practice and some lessons from your local pro, but you also need an upgrade in your equipment.
Those knock-off irons you bought at your neighbor's garage sale were probably discontinued in 1989, and, while they have served you admirably, these clubs have to go.
Both on the driving range and in the pro shop, many average golfers often overlook the importance of a good set of irons. There are many, many golf irons for an average golfer like you.
Let's look at some of the choices out there today; one of these iron sets might be a winner for you.
Cobra Fly-Z XL
Lots of great reviews have come out for this set.
The hefty weight at the bottom gives more club head speed and control, while the prominent cavity-back allows a larger, more forgiving sweet spot, all of which makes the Cobra Fly-XL an ideal golf iron set for the average golfer with a higher handicap.
These irons have a high loft and get the ball up in the air quickly.
Testers for golf.com also report that mid- to- low handicappers were able to shape more technical shots fairly easily.
The price for a set of these irons starts in the $500 range for steel shafts and in the $700 range for graphite shafts, an attractive price for a high-end name set of clubs.Ping G30
The mere mention of the Ping brand name brings to mind the high-arcing iron shots and "cleaner than it should have been" strokes and the Ping G30 irons continue to carry this flag proudly.
The oversized, somewhat awkward club head more than makes up for its bulkiness by providing a generous clubface that will provide more forgiveness than a saint.
This is a great golf iron set for the average golfer who is more concerned about getting help with consistent straight, high shots.
The G30s are priced around $800 for steel shafts and $900 for graphite.
Callaway Apex
The Callaway Apex is a wise choice as a golf iron set for the average golfer who is a mid-handicapper on their way to better golf.
While this is the priciest of the 3 sets of irons, the payoff shows in its length.
Testers are remarking about the markedly increased distance with these clubs, resulting from the thinner clubface and tungsten added to the long irons.
The two-piece forged "pro" look of these clubs shouldn't scare off the average golfer, because it is paired with a cavity back, giving the golfer that sought-after sensation of a clean, effortless stroke.
The steel shafts are around $1,100 and the graphites are about $1,300. Need More Help Launching Your Golf Career?
If you are still not sure which irons are right for you then contact us and let us help drive your golf career in the right direction.
Our team at College of Golf & Sport Management at Keiser University takes pride in getting your golf game on par. Call us today at 888-355-4465 for more information.