How Are Golf Courses Ranked?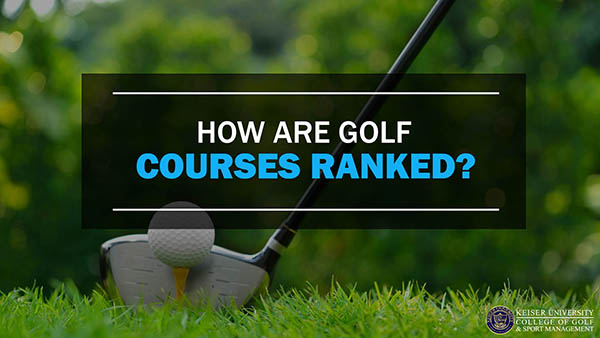 It doesn't take a golf degree to appreciate a good course. Golf course rankings are published every year by popular golf magazines and websites. The oldest is Golf Digest's biennial rankings of the greatest golf courses in America. Voted on by a group of golf experts, they have published this list since 1965.
Golf Digest Greatest Golf Courses
The 2019-2020 rankings are led by the #1 ranked Pine Valley Golf Club in New Jersey, followed by #2 Augusta National in Georgia. Some people think golf is a sport stuck in traditional ways, but it is constantly evolving.
Golf Course Ranking Factors
How do the Golf Digest experts determine the golf course rankings?
The score is a combination of:
Shot Values. Does the course offer a variety of shots?
Resistance to Scoring. How well does the course test a pro golfer?
Design Variety. Is there a variety of doglegs, distances, and hazards?
Memorability. Does the course create a memorable experience?
Aesthetics. How scenic is the course?
Conditioning. Are the fairways, tee boxes, and greens in great condition?
Ambience. Can you sense the traditions of the game of golf?
The final scores are averages of the seven categories, with the Shot Values score doubled.
Golf Magazine Top 100
Similarly, Golf Magazine produces its list of Top 100 courses. They have lists for top courses around the world as well in the United States. The most recent global list was published in 2020.
Not surprisingly, Pine Valley came in at the top spot, followed by Cypress Point in California.
Third place was awarded to Shinnecock Hills, and the fourth slot went to The National Golf Links of America. The Golf Magazine list calls on a panel of 100 voters who examine an extensive ballot of over 460 possible candidates. Voters include professional golfers, architects, and other industry experts. They look at a wide variety of factors, including design, setting, course condition, and creativity. Voters can place greater values on different categories, depending on what they consider the most important. Panelists are only allowed to weigh-in on courses they have played themselves. The magazine uses a web-based system to collect the data. Unlike Golf Digest, they also publicly reveal panelist names, believing that transparency boosts the credibility of the numbers.
Golf Course Rankings Sites
Golf course ranking sites are also very popular on the Internet. For example, Top100GolfCourses.co.uk is a site based in the United Kingdom that lets users rank courses around the world. Their list of the top 100 courses around the globe has many of the same names as other lists – Cypress Point comes in at number one, and Pine Valley is number two. Number three belongs to Shinnecock Hills. The number four slot goes to Royal County Down, and the number five position swings back to the U.S. with The National Golf Links of America. One of the best features of these golf course rankings sites is they allow regular golfers to vote on thousands of courses. A benefit of hundreds of golfers reporting on courses is that you may find out about "hidden gems" you might have overlooked. Many of us may never play Pine Valley, but we can spread our enthusiasm for the game by earning a golf management degree at Keiser University College of Golf.