Get to Know the College of Golf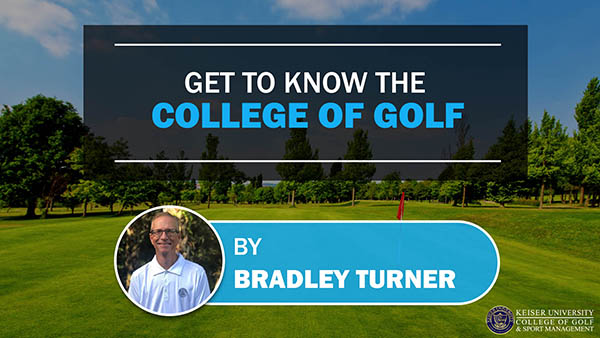 Do you have questions about our Florida golf school?  Here are some answers to our most frequently asked questions.
Is the College of Golf accredited?
Yes.  Keiser University is accredited by the Commission on Colleges of the Southern Association of Colleges and Schools to award the Associate of Science Degree and Bachelor of Science Degree in golf management and the Master of Science Degree in Golf Teaching and Learning.
How long is the program, and what degree will I earn?
The College of Golf offers many options for today's university student. The Associate degree program is designed to be completed in approximately 20 months. The Bachelor's degree program can be completed in a little over three years as we offer summer classes to our College of Golf students. Both programs can be completed on-ground or entirely online, which is becoming a preferred mode of learning in today's environment. The Master of Science degree is entirely online and can be completed in two years.
Do I need a certain handicap to attend your school?
We do not have a handicap requirement. However, you should speak to an Admissions Counselor to determine if your playing ability is appropriate for the curriculum and golf career path you seek.
Do you have a golf team?
Yes, we do!  All students can attempt to qualify for our intercollegiate golf team.  In addition, we have a club team that competes against other university club teams. The National Collegiate Club Golf Association continues to expand with over 400 colleges and university club teams competing across the country.
How many students are in each class?
Generally, there is a maximum of 24 students per on-ground classroom, depending upon the course.
What can I expect my schedule to be like?
Students are in class four days a week, three hours a day. You will know your class schedule on your first day.  For the online program, full-time students will take a total of four classes per semester.  The online classes are eight weeks long, with students taking two courses the first eight weeks and the remaining two classes the last eight weeks.
Will I receive help with my golf game?
Yes! This benefit is part of the College of Golf program and is included in the cost of tuition. The PGA faculty are available to help you improve all aspects of golf performance. For the online students, the Director of Online Golf Instruction is available to work with each individual student.
What type of golf technology is used at the College of Golf?
Our Flagship campus in West Palm Beach, Florida, offers outdoor and indoor practice and training facilities.  The indoor training area includes multiple FlightScope launch monitors, V-1 video analysis technology, and two simulators for coaches and students to utilize. The newest addition to the technology offerings includes a Swing Catalyst Pressure Mat, which provides pressure plate technology combined with video analysis and launch monitor data, all synchronized into one unit. We also have the SAM Putt Lab for putting analysis.
What are the benefits of a golf degree?
The long-term benefits of earning a degree from an accredited college or university have been written about for decades. The opportunity for employment expands as students earn various levels of educational accomplishments. The golf industry is looking for business-focused individuals with a passion for the sport. It is not necessary to be an accomplished player to be a great candidate for employment in golf. However, the ability to interact with golf customers while demonstrating a high level of business acumen will make you an asset to a golf operation.
What is the future of the golf industry?
The popularity of golf has gone up and down over the years, but the long-term trend appears to be positive for the golf industry.
If you are interested in learning more or attending Keiser University's College of Golf and Sport Management, contact us today!