Who Would be Your Perfect Partner in a Four-Ball Stroke Play Competition and Why?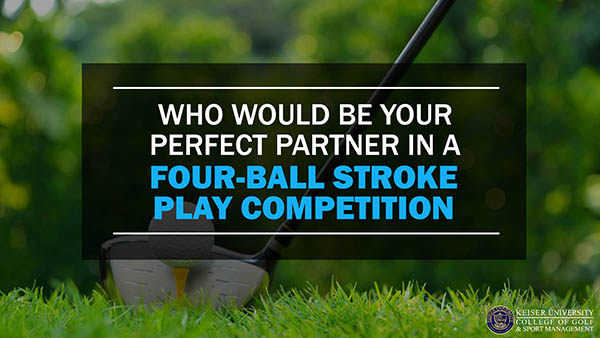 Keiser University College of Golf Instructors answer,
Who Would be Your Perfect Partner in a Four-Ball Stroke Play Competition? 
ERIC WILSON 
My ideal playing partner would be my friend and co-worker, Ken Martin. Ken has the ability to "go deep" (he once shot 28 on the back nine in a college event and shot a course record 66 in a national championship). On the other hand, I have a tendency to make pars, with a few birdies along the way. Ken and I played in a South Florida PGA Pro-Pro event a few years ago and shot an 11-under round of 61, a tournament record for a few minutes until the last team on the course posted a 59!
BRIAN HUGHES

In a four-ball competition, the best team score is represented by the lower score of the two partners. When playing my best, my game tends toward plenty of pars, so a good match-up would be a partner who makes lots of birdies.  Since Collin Morikawa currently leads the PGA TOUR in birdies per round average (and is reigning Open Champion), I'll take him as my partner any day (unlikely he would be as enthusiastic about his partner).
DAVID WIXSON
I'll take Jon Rahm. I need a partner who makes a lot of birdies, as I'm not likely to make very many. Collin Morikawa and John Rahm are ranked 1, 2 in terms of birdies made average per round. However, Rahm also makes many more eagles than Morikawa, likely because he's longer off the tee and perhaps more aggressive in his approach. On any holes that Rahm struggles, hopefully, I would make par and keep our team momentum going.
FRANK LONGABUCCO 
My perfect partner would be Lee Trevino. If we play good, bad, or indifferent, we will enjoy the day and laugh much!
KEN MARTIN
I envision Patrick Reed as an ideal partner as he would light a fire under my otherwise analytical playing approach. Reed is quite competitive, results-oriented, strong-willed, and an exemplary example of commitment to shot selection.  My sense is that, as a team, not only would we create great game plans, but we would have the fiery potential to steamroll competitors. 
John Callahan
Given my established conservative playing style, who would be my perfect partner in a four-ball format? The answer is a player with the opposite thought process, namely, an aggressive player. I want a bomber who cuts a lot of corners on doglegs, aims for the pin, putts well, and has the potential of making a lot of birdies. Sure, an aggressive style may lead to some double bogeys, but my conservative style should take care of that end. There are many aggressive players on today's PGA Tour, but I don't know them, so I'll reach back in time for this hypothetical pick and choose Mark Calcavecchia (aka Calc). In the mid-1970s at the North Palm Beach Country Club, I played golf with 16-year-old Mark and a slightly older junior friend, Dallas Apelgren. Mark and Dallas would team up and play me and my partner, T. J. Tomasi. Yes, two juniors against two golf professionals who were approximately 20 years senior, yet Calcavecchia and Apelgren beat us roughly half the time. These matches taught me this about Mark. He is the most confident and aggressive player, junior or adult, with whom I have ever played. Traits that held up well for him on the PGA Tour—Calcavecchia holds the record for consecutive birdies on tour, nine (9) at the 2009 RBC Canadian Open, and the record for most birdies in a 72-hole tournament–32 in the 2001 Phoenix Open. I'll take Calc. 
DONNA WHITE 
I would love to have played with Babe Zaharias just to watch her power as well as finesse. Also, her confident and bold mental approach, controlling every moment, decision, and the crowd. 
NANCY QUARCELINO
Annika!  We can use all her scores!
If you'd like to study with PGA Master Professionals, contact The College of Golf today.