Find a Gatekeeper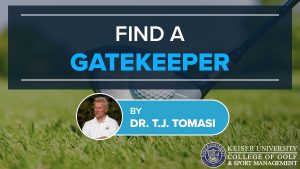 by Dr. T. J. Tomasi Keiser University College of Golf Senior Faculty and Director of Research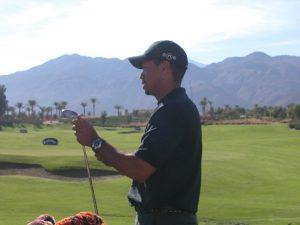 Tiger's first Gatekeeper (GK) was his dad; then came four more GKs led by the best teacher/player of the four, Butch Harmon. When his relationship with Harmon ended, so did his complete dominance. Although he was still one of the best in the world from 2005 until retirement, he has never been able to match the first five years on tour. Even Tiger couldn't change swings three more times and still completely dominate as he did under Harmon.
Note examples of other famous gatekeeper relationships in golf history: Bobby Jones and Stewart Maiden; Jack Nicklaus and Jack Grout; Arnold Palmer and his father, Deacon Palmer.
The Process to a GK:  
To supervise your development, you'll need a gatekeeper (for example, a trusted coach, an agent, or a parent) to protect you from bad and good advice that doesn't apply to you. The Gatekeeper is not only a filter, but also a protective guide — and every player needs one. To be the best you can be, it's good to find out what the best golfers in the world do and then see if you and your GK can copy it — it's also helpful to note the bad things some good players do and avoid them.
Even great players, as good as they are, needed help when trying to do it all alone. Greg Norman spent 331 weeks at the apogee, but by his own admission, he could have been better had he had a gatekeeper. "My biggest mistake in my golf career was thinking I could do it myself," he says.  "I was so determined to do it Greg's way; I was detrimental to myself.  I truly believed in myself so much, but sometimes that total belief can misguide you — your biggest strength becomes a liability."
Give it Three Years
The first step is to find someone you can have confidence in. Next, lay out a plan together, and then make sure to listen only to that voice of your GK!  Many young players are ruined by listening to every golf instructor who comes along, and there is nothing that will destroy your game quicker than listening to multiple voices.
So, give it about three years, and if it's not working within that time, find another gatekeeper. Of course, this time frame is flexible because every relationship has mitigating circumstances. Still, you should be ready to test yourself at the highest levels in three full years of mentorship.
If you'd like to study with Bradley Turner and other PGA Master Professionals, contact the College of Golf today.