What is Your Favorite Golf Memory and Why?
by Ken Martin, PGA Professional Certified in Instruction and General Management,
Keiser University College of Golf Professor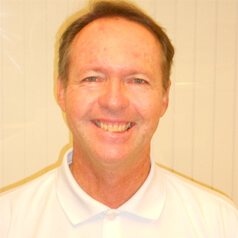 I started playing golf when I was 13-years old, so at the time of this writing, I have chased a white golf ball around the world for 45 years. To write an article on my favorite golf memory is a true challenge, as there are many worth referencing.
One that served as an accomplishment after many years of effort took place in Myrtle Beach, SC back in 2001. One of the better aspects of chasing a dream, mine having been to play golf for a living on the PGA Tour, are the many locations one gets to visit during this pursuit.
Prior to Myrtle Beach, I had worked in the golf industry and taught the game in Arizona, Colorado, Hawaii, Texas, and Germany. All the while, I was trying to hone a game that would earn playing status on the Tour.
Twenty years after graduating from college, I was at a point in the chase that I would have settled for any tour, making it to the big Tour had begun to feel a bit further away than when the chase began. I was fortunate in three ways.
First, I had become enamored with a new swing style so I was very keen on practicing and refining my playing skills at the time. Second, I met Dr. Eric Wilson, who emphasized the importance of putting practice.
Third, the Canadian PGA Tour just happened to be holding their qualifying tournament in Myrtle Beach, of all places.
There were to be 20 spots available to earn playing privileges on the 2001 Canadian Tour.
This tour actually did traverse from the west coast of British Columbia to the east coast of Newfoundland beginning in May; however, the qualifying was held in Myrtle Beach due to the wonderful weather in early April and a couple of added events at a local golf resort there that would kick off the tour.
Once I found out the event was in my backyard, as I had moved to Myrtle Beach from my last teaching job in Germany, I began preparing.
I practiced on the range in the morning, practiced on the course in the afternoon, and I practiced in my living room each evening.
Notable was the putting practice in the evening, listening to music by Enya while hitting a minimum of 100 putts down a yardstick with my eyes closed.
To honor brevity, I will fast forward to the final round of the qualifier.
It is an interesting occurrence when playing tournament golf; even without leaderboards, one with experience can get a sense of where they stand.
This event was contested over four days, 18 holes per day. On my 15th hole that final day, I botched a 4-foot par saving putt, and sensed I may have just blown my chances.
Inexplicably, while walking to the 16th tee, I thought "I don't know how, but this will all work out".
The "I don't know how" seemed pivotal, as I suddenly relaxed.
I didn't even know I was tense, but when I relaxed, I felt completely different, and the feeling was one of being open to the next experience without knowing what it might bring. It didn't seem to matter if I knew how it was going to work out; all that mattered was that I somehow knew it would work out.
My shot images became crystal clear, trying to make a good swing disappeared, I simply imagined, aimed, and fired. I birdied #16 by making a four footer, parred #17 with an excellent two-putt from about 40 feet, and arrived at the 18th hole, a dogleg left par 5 with the third shot over a lake and bunker, sensing I needed birdie to secure a position as a qualifier.
The weather was cool that day, not atypical for Myrtle Beach in early spring; temperature in the mid-50s and breezy.
When the 18th hole made its left hand turn, the wind was directly against the player.
My drive was a perfect draw to the left center of the fairway, but the wind prohibited a gallant attempt to reach the green in two; a layup was all but forced by the conditions.
I hit 5-iron short of the lake, leaving about 120 yards for my 3rd shot.
The hole was cut close to the front left edge of a kidney shaped green, about 15 yards beyond the water's edge, and five yards beyond the top edge of the bunker.
To keep the ball out of the wind, I played a pitching wedge back in my stance and imaged a low draw, still comfortable and in the moment of knowing it would work out.
The shot was solid, but a bit long for distance, leaving me with a downhill left-to-right breaking putt for my desired birdie four.
As I read the putt, I could imagine it just dropping over the front edge, perfect speed. As I set up to the ball it dawned on me that I could probably make this putt with my eyes closed, and that made me smile.
I heard Enya and struck the putt, and, as foreseen, it dropped over the front edge; I got my birdie!
The eventual result was that I qualified in 18th position for the Canadian Tour, I was in by two shots – I didn't need that last putt.
Actually though, I didn't need that last putt to qualify, but I did need that last putt because of what it meant.
It was my reward for committing to a process, and my reward for staying in the present moment, without the burden of expectation. It was a moment that has become one of my favorite golf memories.
If you enjoyed this info, here's how you can get even more. Contact Keiser University College of Golf about a degree in golf.