College of Golf Students Play Hickory and Persimmon Golf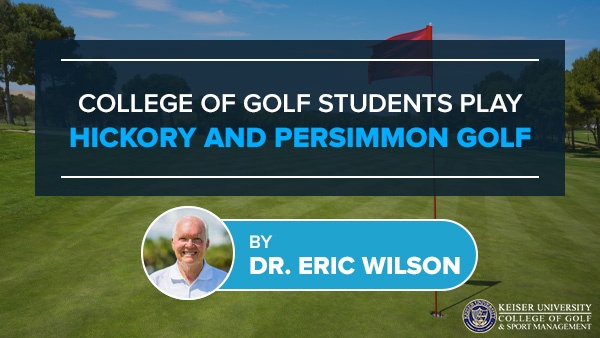 by Dr. Eric Wilson Keiser University College of Golf Executive Director of Golf Operations
Several students at Keiser University's College of Golf recently enjoyed a round of Hickory and Persimmon Golf as part of their History of Golf class, led by PGA Professionals Ken Martin and Brad Turner.
Under the direction of Dr. Eric Wilson, Executive Director of Golf Operations and a PGA Legacy Master Professional, the group used mid-irons, mashies, niblicks, and putters with hickory shafts and persimmon woods, blade irons, and Bullseye putters to play the par-72 Martin Downs Osprey Creek Golf Course. Playing in a "Scramble" format, four teams competed in the event.
The winners in a playoff with a net score of 62.9, were George Pepper, Zachary Mohr, Coleton Patton, and Carlos Rodriguez. Second place went to the team of Alex Johnston, Brad Patton, George Snell, and Michael Powell. Ken Martin, Brandon Plummer, Austin Eggleston, and Aramis Wells claimed third place, while Brad Turner, Heloise Garcin, Peter Tavella, and Trevor Ross finished fourth. Keiser University congratulates the new Hickory/Persimmon Golf Champions of the term and thanks Seahawk Golf Coach Brandon Miller for donating a "gold" cup for the winner's prize. The winning team will "own" the cup until the next competition.
The opportunity to use replica golf clubs from the 1920s and 1970s provided the students an appreciation for the skills and abilities of golf's greats of both eras. Champions such as Walter Hagen, Bobby Jones, Gene Sarazen, and Long Jim Barnes all shot incredible scores and won major championships using hickory shafted golf clubs, as did the next generation of champions with steel shafts, persimmon wood heads, blade irons, and Bullseye putters. Overall, the experience was enlightening and fun!
If you'd like to study with Dr. Wilson and other PGA Master Professionals, contact The College of Golf today.