College of Golf Students and Staff Play Hickory Golf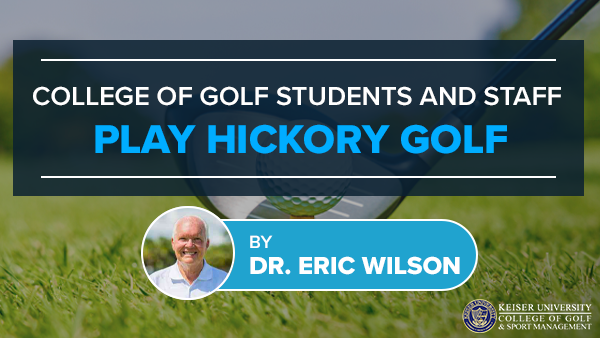 by Dr. Eric Wilson Keiser University College of Golf Executive Director of Golf Operations
Four first-semester History of Golf class students at Keiser University's College of Golf and four PGA Professionals recently played a round of Hickory Golf using hickory shafted golf clubs.
Professor Ken Martin had the group dress in period clothing, and they all used mid-irons, mashies, niblicks, and putters with hickory shafts to play the par-72 Martin Downs Golf Club in Palm City, Florida.
Playing in a "Scramble" format, the team of PGA Master Professional David Wixson, PGA Professional Brad Turner, and students Trevor Ross and Hojun Kim fired a score of 9-under par 63 to win the competition. Finishing second with a score of 7-under par 65 was the team of PGA Professional Frank Longabucco, PGA Professional Ken Martin, and students Bryan Staten and Austin Eggleston.
Keiser University Flagship Campus Golf Coach Brandon Miller donated a "gold" cup for the winner's prize. The opportunity to use replica golf clubs from the 1920s provided the students an appreciation for the skills and abilities of golf's greats of the era. Champions such as Walter Hagen, Bobby Jones, Gene Sarazen, and Long Jim Barnes all shot incredible scores and won major championships using hickory shafted golf clubs. Overall, the experience was enlightening and fun!
If you'd like to study with Dr. Wilson and other PGA Master Professionals, contact The College of Golf today.