College of Golf October 2023 Events

Keiser University College of Golf Students Enjoy Hickory Golf
Twenty students at Keiser University's College of Golf recently played a round of Hickory Golf using Hickory shafted golf clubs as part of the students' History of Golf class.
Dr. Eric Wilson, Executive Director of Golf Operations and a PGA Legacy Master Professional, had the students and Professor Ken Martin dress in period clothing, and they all used mid-irons, mashies, niblicks, and putters with hickory shafts to play the par-72 Okeeheelee Golf Course.
Playing in a "Scramble" format, the team of students, including Anthony Bestrick, Seowoo Yoon, Michael Roppolo, and Carl Klotzsche, fired a record-low score of 13-under par 59 to claim the Hickory Championship trophy. The team of Michael Conti, Angel David Leon, Connor Sternbach, and Hunter Amo finished second with a score of 10-under 62. Third place went to Michael Elias, Ziqi Gao, Tyran Suga, and Ty Oliver with a score of 66, while Thomas Valdes, Hayden Gamache, Terry Beeman, and Denny Velez finished fourth with a score of 67. Fifth place went to Faye Wheatley, Joshua Doherty, Jamie Kirkorian, and Sophia Bouvier, scoring 71.
Keiser University Flagship Campus Golf Coach Brandon Miller donated a "gold" cup for the winning team, who will "own" it until the next competition. The opportunity to use replica golf clubs from the 1920s gave the students an appreciation for the skills and abilities of golf's greats of the era. Champions such as Walter Hagen, Bobby Jones, Gene Sarazen, and Long Jim Barnes all shot incredible scores and won major championships using hickory shafted golf clubs. Overall, the experience was enlightening and fun!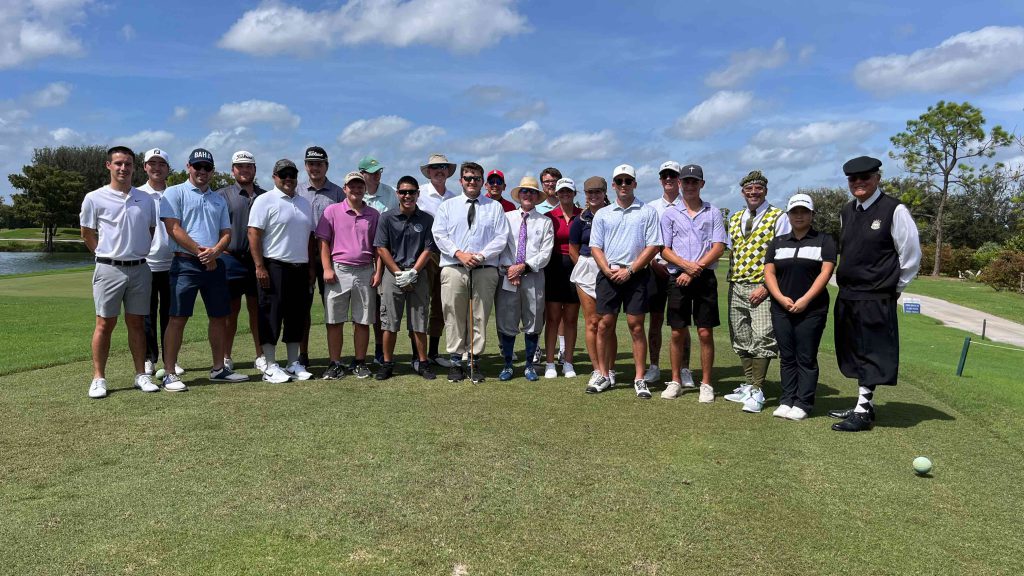 College of Golf Students and Staff Enjoy the Competition
Twenty-eight Keiser University College of Golf students recently enjoyed participating in a friendly Student and Staff competition at Okeeheelee Golf Course in West Palm Beach, Florida.
The competition format was one best ball of two net, and the winners were Denny Velez and Joshua Doherty, with a score of 11 under par 61. Isaac Wallen and Florian Benner finished second with a score of 10 under par 62.
Students attended a clinic on the "Block Chipping Practice" conducted by PGA Instructors Frank Longabucco, Brian Hughes, and Ken Martin before teeing off. The clinic opened their eyes to the possibility of how to practice chipping, which was critical to their success on the golf course.
The event was fun while being competitive, allowing learners to improve their games. Students also played with PGA Instructors, learning golf course management and mental game skills.