College of Golf March 2023 Events
College of Golf Students Enjoy Student and Staff Competition
Keiser University College of Golf (KUCOG) students recently participated in a friendly Student and Staff competition at Martin Downs Golf Course in Palm City, Florida. The competition format was 'one best ball of four gross,' and the winners were Kyle Nieter, Abbas Hussain, Robert Vinson, and Brad Turner, with a score of eight under par 64.
Before teeing off, students attended a clinic on the Block Chipping Practice conducted by PGA Instructors Frank Longabucco and Brad Turner. The session opened their eyes to the possibility of how to practice chipping, which was critical to their success on the golf course.
The event was fun while being competitive and provided students a playing opportunity to improve their games. Students also played with PGA Instructors, learning golf course management and mental game skills.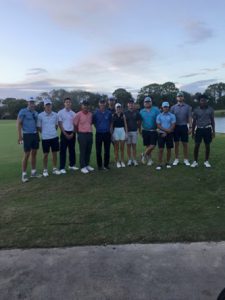 Participants in the Student and Staff Friendly Competition.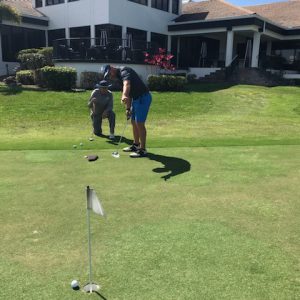 PGA Instructor David Wilson watching Zack King line up a putt during the pre-round clinic.
College of Golf Students Qualify for NCCGA Club Team
After a week of qualifying, the Keiser University Seahawk National Collegiate Club Golf Association (NCCGA) team has been finalized for the upcoming Regional Tournament to be held at Sandridge Golf Club in Vero Beach, Florida.
Keiser University has a long and successful history of competing in NCCGA events, including ten invitations to the National Championship. The NCCGA organization is comprised of over 250 colleges across the nation.
Ten students qualified for the traveling team. They are David Andreasson, 70; Kyle Nieter,73; Caden Carr, 73; Abbas Hussain, 75; Sam Wilson, 75; Heloise Garcin, 75; Robert Vinson III, 75; Ian Gillis, 78; Braden Lohr, 79, and Kellen Parris, 79. The group will compete against athletes from The University of Florida, Florida State University, The University of Central Florida, The University of South Florida, The University of Tampa, Florida Atlantic University, and The University of Miami.
Coach Frank Longabucco explained, "Our goal is simple. We will win or place high in  the Regional Tournaments and qualify for Nationals."
Fans can follow the Seahawks at www.nccga.org and the College of Golf website at www.collegeofgolf.com. Go Seahawks!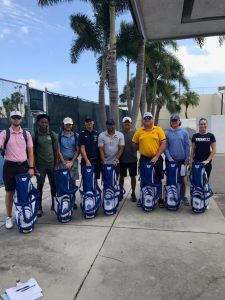 L-R: Ian Gillis, Robert Vinson III, Kyle Nieter, David Andreasson, Abbas Hussain, Sam Wilson, Kellen Parris,  Braden Lohr, Heloise Garcin