College of Golf February 2023 Events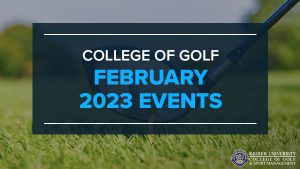 College of Golf Students Enjoy Student and Staff Competition
Keiser University College of Golf students participated in a friendly Student and Staff competition at Martin Downs Golf Course.
The competition format was a one best ball of two Net, and the winners were Burt Epifano and Frank Longabucco with a score of 15 under par 57.
Students attended a clinic on the "Block Putting Practice" conducted by PGA Instructors Frank Longabucco and David Wixson before teeing off. The clinic opened students' eyes to the possibility of how to practice putting, which was critical to their success on the golf course. Professor Ken Martin and 1988 Masters Champion Sandy Lyly interacted with students throughout the round on the golf course. The event was fun while being competitive and allowed students to improve their games. Students also played with PGA Instructors, learning golf course management and mental game skills.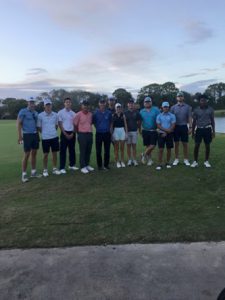 Participants in the Student and Staff-Friendly Competition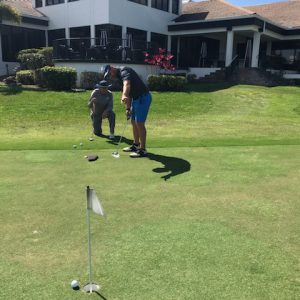 PGA Instructor David Wixson watching Zack King line up a putt during the pre-round clinic.
Keiser University College of Golf Students Fill Important Role at the Honda Classic Pro-Am
Forty-four Keiser University's College of Golf (KUCOG) students recently caddied for amateur players at The Honda Classic Pro-Am tournament held at the PGA National Resort and Spa in Palm Beach Gardens, Florida.
In addition to carrying their player's golf bags, duties included charting yardages, reading greens, raking bunkers, and advising players on shot selections.
While caddying is not as large a part of the game as it was historically before the introduction of golf cars, it is still an integral part of the great game of golf. Caddies abound on professional tours, and those caddies who work for the top echelon of professional players earn a handsome income and share in an exciting partnership during tour competitions and major championships. While the old 'show up, keep up, and shut up' adage of how to caddy successfully may apply in certain situations, it is not the suggested method of earning a player's trust during a round of golf.
Keiser University College of Golf Program Director Brian Hughes, who is also a PGA Master Professional and a former caddy for Bobby Clampett in the 2013 Honda Classic Qualifying event and for COG Professor Ken Martin in the 2014 U.S. Senior Open, provided training to the group at the Keiser University Flagship Campus Outdoor Training Area. The lessons covered the basic requirements of caddying and the many nuances and tips that Hughes acquired during his stints on the bags in professional tour events.