College of Golf Crowns First Short Game League Match Play Champion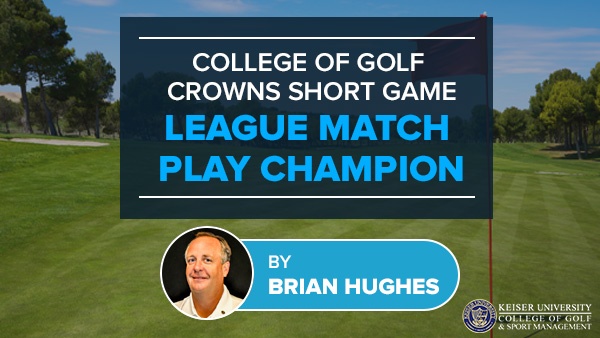 by Brian Hughes, Keiser University College of Golf Program Director – PGA, MA
With chipping, pitching, and bunker play being such an important element of improving golf performance, we at Keiser University's College of Golf started a weekly short game competitive league geared toward this area of the game. Each Wednesday during the spring semester, our short game practice area is set up with a variety of shots, with scoring and competition as part of the fun.
Students are challenged at each of 18 different locations to score as many points as possible by getting their shots close to the hole. Five points are awarded for holing out the shot, three points for getting the ball inside a three-foot circle, two points for the ball stopping in a 10-foot circle, and one point for keeping the ball on the green. At the end of 18 holes, the winner is determined by adding up the total points over 18 holes. The course is set up each week by our PGA Professional Staff, with set-up changing weekly.
While the primary goal is for students and faculty to get together for a little fun, the league is also designed to help students measure skill development in this critical area of golf. By creating added pressure, hitting a variety of shots, and building a scoring average, students can measure their current skill level, helping them understand their strengths and weaknesses and lead to more focused practice.
During the week of March 21, a competition was held for the qualifying round of the Short Game League Match Play Championship. Sixteen qualifiers played 9-hole rounds of match play to whittle the field to two finalists. The final match between Alex Johnston and Axel Friberg was over 18 holes and proved to be exciting. Alex Johnston captured the Championship on the first sudden-death playoff hole over Axel Friberg when they tied at the end of regulation. The timing of the Short Game League Match Play Championship coincided with NCAA March Madness and the PGA Tour's World Golf Championships Dell Technologies Match Play event held this week in Texas. The next Short Game League event will be an individual competition using hickory shafted niblicks and mashies.
If you'd like to study with Brian Hughes and other PGA Master Professionals, contact The College of Golf today.