College of Golf August 2022 Events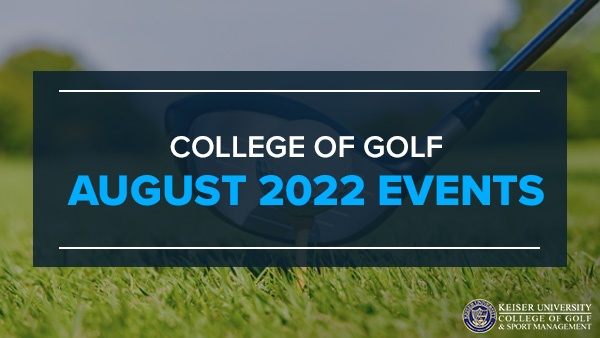 Keiser University College of Golf Residency Students Participate in Hickory Putting Championship
Keiser University College of Golf (KUCOG) online students enjoyed a unique opportunity during their one-week residency program. Professor Ken Martin and Executive Director of Golf Operations Dr. Eric Wilson organized a putting competition using hickory-shafted putters and golf balls from different eras beginning in the early 1800s and progressing through the modern day.
Students gathered at the outdoor putting green as Martin explained each of the different putting stations, culminating in an 18-hole putting competition. Students putted three-hole segments with each of the following:
Long nose putter and featherie golf ball (pre-1848)
Wry neck putter and smooth gutta percha golf ball (1848-1850)
Hackbarth putter and hand-hammered gutta percha golf ball (1850-1865)
Brown-Vardon semi-mallet head putter and bramble pattern gutta percha golf ball (1865-1900)
Schenectady putter and balata covered golf ball (1900-1960)
Calamity Jane putter and Pro V-1 golf balls (1960-modern day)
Par for the course was 36, and the Residency Historic Open Putting Championship champion was Phil Sanders, who scored 41. Finishing tied second with scores of 46 were students Bryan Staten, Hojun Kim, and Zach Andrews.
Keiser University College of Golf Residency Students Enjoy Hickory and Persimmon Golf
Keiser University College of Golf (KUCOG) online residency students and PGA Professionals Ken Martin, Brian Hughes, and David Wixson recently played a round of Hickory and Persimmon Golf using hickory shafted golf clubs and 1970s persimmon kinds of wood and blade irons as part of the group's residency program.
Dr. Eric Wilson, Executive Director of Golf Operations and PGA Legacy Master Professional, had the students and Professors Martin, Hughes, and Wixson all use mid-irons, mashies, niblicks, and putters with hickory shafts and persimmon woods, blade irons, and Bullseye putters as they played the par-72 Okeeheelee Golf Course.
Playing in a "Scramble" format, three teams competed in the event. The winners were Ken Martin, Zach Andrews, Douglas Murrell, and Brigite Babine, scoring 71. Second place by two shots went to the team of David Wixson, Dylan Shipley, and Emilio Mota. Brian Hughes, Phil Sanders, and Ralph Souders claimed third place with a score of 74.
Keiser University congratulates the new Hickory/Persimmon Golf Champions of the Residency! Keiser's Flagship Campus Golf Coach Brandon Miller donated a "gold" cup for the winner's prize, and the team will "own" the cup until the next competition.
The opportunity to use replica golf clubs from the 1920s and 1970s provided the students an appreciation for the skills and abilities of golf's greats of both eras. Champions such as Walter Hagen, Bobby Jones, Gene Sarazen, and Long Jim Barnes shot incredible scores. They won major championships using hickory shafted golf clubs, as did the next generation of champions with steel shafts, persimmon wood heads, blade irons, and Bullseye putters. Overall, the experience was enlightening and fun!