A One-Way Ticket to the Announcer's Booth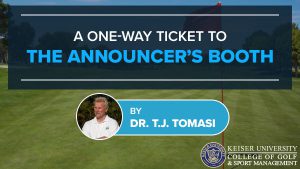 By Dr. T. J. Tomasi, Keiser University College of Golf Senior Faculty and Director of Research
Like most anything else, golf swings can get out of whack, and when they do, the fixes are threefold (1) ignore the problem, (2) do a complete swing overhaul where you tear up everything part by part and replace it, or (3) re-calibrate the part that is out of whack.
I believe (assuming your swing is decent, but your time is limited due to a job, family, etc.) that, as an amateur with no aspirations of going pro, you need to focus on tweaks vs. reconstruction. That is, you should perform a full-swing reconstruction only as a last resort. Why? Because there is much less downtime when you re-calibrate, and there is a good chance that without the full commitment of your time, the new swing will be no better than your old swing.
Here is a piece of advice I give my amateur students that don't have the time to invest in full-swing reconstruction. It consists of the two magic words in golf – Short Game.
Let me tell you the story of Ian Baker-Finch, the 1991 British Open Champion who was one of the top players in the world but retired to become a first-class golf commentator. The payoff for his swing reconstruction was what I call 'the one-way ticket to the announcer's booth.
Finch finished in the top 10 at the Masters three times, including a tie for sixth in 1992. He also won the 1988 Australian Masters and the 1993 Australian PGA Championship. So, this guy could play, yet he quit the game in 1997 after his swing struggles culminated in an opening round of 92 at the 1997 British Open, a round that included an out-of-bound on the first hole where Finch hooked it approximately 200 yards offline.
How could such a promising career be ruined so suddenly? Finch, a medium-length hitter, became convinced he needed to hit it farther, so he began experimenting with a new, more powerful swing. As is often the case, once he had changed his old swing, he couldn't get it back again, so it was 'goodbye tour golf – hello commentators booth!'
Golf Takeaways:
1) Once you develop your swing, adopt a cautious swing change policy. The rule of thumb is Tweaks rather than Gouges.
2) Spend the majority of the time that you have allotted to golf on developing a good short game.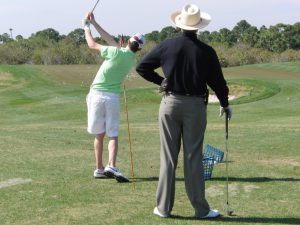 This young pro knows that short shots like this often save a round or a career.
Learn to Play Golf
If you would like to become a part of American golfing history, contact Keiser University College of Golf today. Our team of professional instructors pride themselves on bringing your golf game to where it needs to be.