A Good Teacher Will Make Learning Easier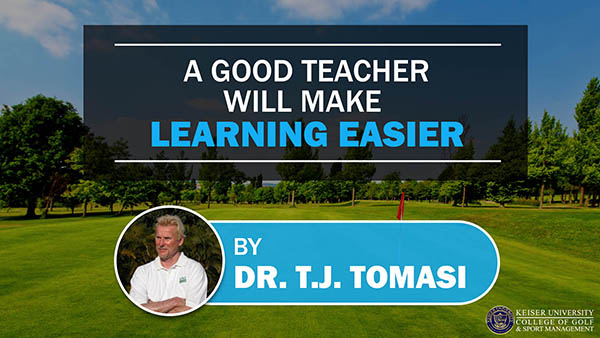 By Dr. T. J. Tomasi, Keiser University College of Golf Senior Faculty and Director of Research
Tiger Woods switches teachers far more often than any other great player. He's had at least four that he'd admit to since he turned pro in 1997.
Bobby Jones had only one teacher — Stewart Maiden, and he wasn't around much; Jack Nicklaus had Jack Grout, and Nick Faldo had David Ledbetter. Ben Hogan had no teacher, and neither did Sam Snead, Byron Nelson, Lee Trevino, nor Ray Floyd. Arnold Palmer had only his father, while Tom Watson had Stan Thirsk in his early years, then Byron Nelson while on tour.
Today it is the norm for serious players to have a full-time teacher. As I just mentioned, many great players in the past learned the game on their own, but with the use of modern technology demanding in-depth understanding and the mushrooming of high school and college golf programs spurred by the huge money payouts on the pro golf tours, the formal instruction of golfers has skyrocketed.
Of course, no matter what era you are in, there is a small percentage of players who excel. The difference is that today there are many more good players in the general golfing population — today's "good" is far better than in any other golfing era. This increase in general expertise is largely due to the availability of trained teachers whose primary goal is to make your golf game better.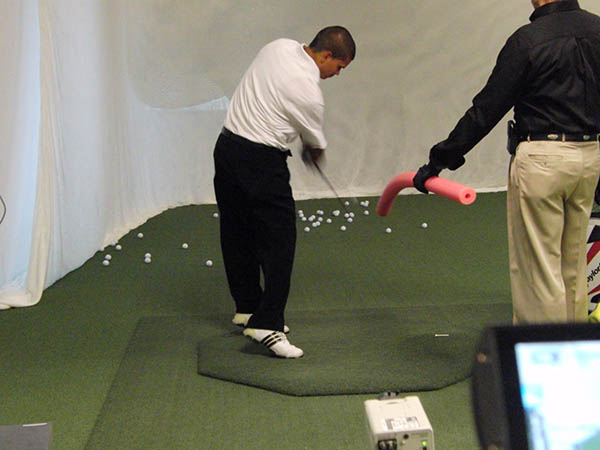 A young pro being taught at Keiser University is learning both how to teach and how to play simultaneously. Notice the technology I use here is a combination of new and old – a TrackMan launch monitor that diagnoses impact and a noodle that keeps his swing path healthy.
If you'd like to study with Dr. Tomasi and other PGA Master Professionals, contact The College of Golf today.