9 Golf Podcasts You Should Listen To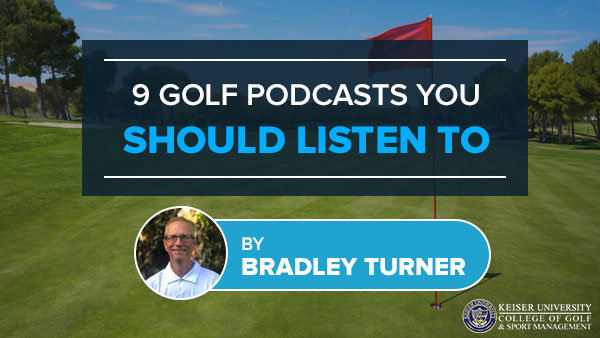 by Bradley Turner, Keiser University College of Golf Director of Online Golf Instruction – MBA, PGA
Golf Entertainment Podcasts
Golf is supposed to be fun, right? If you enjoy the lighter side of the game and want to be entertained by fun hosts, the following podcasts are a good start in discovering fun and entertaining content. The topics on these two popular podcasts have captured a large and diverse listening audience and will certainly bring a smile to your face.
Fore Play – Barstool Sports
A weekly podcast for the everyday golfer who enjoys sitting around with friends, chatting about the game of golf. A wide variety of topics for the golf fanatic, the podcast hosts are young, energetic, and bring a new perspective to the game. This is one of the most popular podcasts in the golf genre and is a fun and informative two-hour show. Listen to Fore Play
Local Knowledge – Golf Digest
This podcast is a Golf Digest product, so if you enjoy reading the magazine, you are a match for this podcast. Golf Digest covers a wide array of entertaining subjects and understands how to tell a compelling story for listeners. If you are interested in any golf topic, the chance is very good that you can find this content in the massive library of episodes. Shows run about 30 minutes in length, so it is easy to listen to an episode while commuting to and from the office. Listen to Local Knowledge
Professional Golf Tour Podcasts
If you are interested in the superstars that play the game and the latest information on the professional tours, here are three podcasts from well-informed hosts that will satisfy your listening interest.
On the Mark
Brother to Master's Champion Trevor Immelman, Mark Immelman hosts a podcast that provides insight into the best players on the PGA Tour.  Mark is also an announcer for the Golf Channel and CBS Sports, so he has a front-row seat for the latest happenings with players and the PGA Tour. Frequent guests are current and former PGA Tour players, top golf coaches that discuss golf swing mechanics, and mental coaches to improve performance. Listen to On the Mark
Golf's Subpar
Former PGA Tour professional Colt Knost and his partner Drew Stoltz talk golf with some of the best players in the world. Knost is also an announcer for CBS on PGA Tour telecasts and is in the know with all things on the professional tours. If the PGA Tour is of interest to you, then Golf's Subpar is a good choice in podcasts. There are many episodes with PGA Tour player interviews, insight from Tour caddies, and a recap of tour events. The most recent interview was with Greg Norman discussing the Saudi Tour as he announced the tour schedule for 2022. I thought this tour was dead on arrival, but after listening to this podcast, there may still be a faintly beating heart of hope with Norman's vision of professional golf. Listen to Golf's Subpar 
No Laying Up
With over 500 episodes in their library of podcasts, this podcast will provide weekly recaps on the results of PGA, LPGA, and DP World Tour events. Weekly tournament previews are in-depth and informative to listeners. Topics cover all the worldwide professional tours, the players that participate in the events, and influential changes in professional golf. Listen to No Laying Up
Golf Instruction Podcasts
There are many good podcasts available to those interested in game improvement or simply want to learn more about the golf swing. It is difficult to narrow the list down, but I have selected the two podcasts that I have listened to the most. It is always great to take advantage of my drive time to work and continue with my own professional development by listening to these podcasts.
Golf Science Lab
Cordie Walker is the host of this informative podcast that discusses the latest research on golf performance. Frequent guests include top golf coaches, golf biomechanists, professional golfers, and research specialists. The science of golf is multifaceted and complex, but this podcast will help you understand the foundation of teaching and performance concepts. Cool stuff for the data-driven learner. Listen to Golf Science Lab
Athletic Motion Golf
Mike Granato and Shaun Webb are outstanding teachers and provide the audience with fact-based evidence for their instruction ideas. Through the use of three-dimensional motion sensors, pressure plate technology, and launch monitors, Granato and Webb team up to convey the science of the golf swing in a fun, entertaining, and educational manner. If you want to understand why you may be having difficulty making changes to your golf swing listen to the Athletic Motion Golf podcast. Listen to Athletic Motion Golf
Golf Industry and Design Podcasts
For those that are passionate about the industry and have an interest in the future direction of the game, the following podcasts dig into the serious side of golf as a sport and business.
State of the Game
As the name implies, this podcast will touch on the golf industry and the many factors that influence it. Episode 1 was recorded in January of 2012, with the most recent Episode 119 being aired in March of 2022. Topics include the future of the game, changes to the Rules of Golf, the Ryder Cup, equipment trends, and interviews with leaders in the golf industry.  You will not find any golf swing advice on this podcast. Listen to State of the Game
The Fried Egg
For armchair golf course architects, this is a podcast for you. Noted golf course designer Tom Doak is a frequent guest on the podcast, and he shares his experience of designing and building golf courses with listeners. Interviews with other noted designers provide a wide perspective of thoughts on the fascinating topic. The podcast reviews topics of design and construction as well as discussion of historic golf venues like Augusta National. Listen to The Fried Egg 
If you'd like to study with Bradley Turner and other PGA Master Professionals, contact the College of Golf today.