6 Reasons Why Couples Should Play Golf Together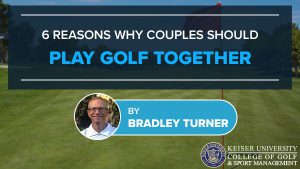 By Bradley Turner Keiser University College of Golf Director of Online Golf Instruction, MBA, PGA
There are plenty of reasons why couples should play golf together, but historically this has been an issue for some golfers. With women accounting for only 25% of the golfing population, men tend to think of only inviting their male golf buddies to join their foursome. Men, in particular, can create challenges for themselves when they invite their significant other out on the links. The typical male golfer thinks they know everything about teaching golf, yet they generally know very little. As a PGA golf coach, a rule I insisted upon when teaching golfers was for them to tell their significant other that I was the golf coach! My students were instructed never to listen to their partner's golf advice. Men are guilty of trying to fix the golf game of their wives or girlfriends, which only adds fuel to the fire of learning to play golf.
To get started playing golf together without major conflict, you must agree to the expectations on the links. First, you should always encourage each other through the challenges of the game. Second, advice is for the car ride home. Better yet is to align with a PGA golf coach so both of you can continue to improve. Lastly, golf should be fun. You can have a great time without the requirement of shooting a great score. Once the ground rules have been established, you will absolutely enjoy playing golf together. Here are six reasons why you should play golf with your partner.
#1. Something New to Do with Your Partner
New experiences are the spice of life, so a little golf spice might be the perfect activity for you. If you or your partner are new to the game, you may not know that the benefits of playing the sport expand beyond the golf course experience. Golf is the sport of business, so if you own a small business or are employed in a local organization, golf is a great way for you and your partner to connect with people in your community. Something new like golf might just open the door to even more opportunities, both personally and professionally.
#2. You Get to Play More Golf 
Make Sunday a fun day by playing golf with another couple, followed by a bite to eat and a cold beverage. This "Sunday Funday" is scheduled monthly on my social calendar, so I am committed to playing golf on certain Sundays. Another idea is to join a couples league so you both can play more golf. Spark Golf is a league designed for casual golfers of any skill level that want to spend more time outdoors socializing with other golfers. Spark Golf is likely available where you live, so you should check it out. By adding "Sunday Funday" and Spark Golf to your calendar, you can play more golf this season.
#3. You Get to Spend Quality Time with Your Partner 
Golf is the perfect sport to find a boutique travel destination for you and your better half to spend a long weekend together. The variety of golf experiences available in America is only surpassed by the unique regional cuisine you will enjoy. An early morning breakfast followed by a round of golf at a great venue is a perfect way to start the day. End the day with a special dinner and an evening exploring your destination. It sounds like a good way to spend quality time with your partner.
#4. Improves Your Golf Game
If improving your game is important to you, getting your partner involved in golf is a good strategy. Maybe sign up as a couple with a qualified PGA instructor who can help you achieve your improvement goals. If your partner is new to the game, avoid the belief that you can teach them how to play golf. You can't, so let the experts do their job. You both will be better for it.
#5. Healthy Activity
Studies of golfers have revealed the fact that golfers live longer! If you want to share a long life together, golf can be a catalyst for making that happen. Sharing the passion for the sport while walking the fairways of life is a mentally and physically rewarding activity. While most golfers in America tend to ride in golf carts when playing the game, if you choose to walk the golf course, the health benefits are magnified. A typical 18-hole round of golf will require you to walk over five miles across the hills and valleys of your golf course. The more golf you play while walking, the longer you will live, so says the research!
#6. Life Long Enjoyment on the Golf Course 
The last reason for playing golf together might be the most important. Now that you know that the research tells us that golfers tend to have a longer life expectancy, why not enjoy the journey with your spouse by your side? There are very few outdoor activities you can do together that match the benefits of golf. Just imagine the places you will go! Golf is everywhere, so you should start planning your next golf vacation with your spouse and begin to enjoy a lifetime of golf together.
If you want to take your game to the next level, contact our team at Keiser University's College of Golf & Sport Management today. With our dedication and experience, together, we can elevate your game to new heights. Give us a call today at 888-355-4465.