17 New Year's Resolutions Every Golfer Should Make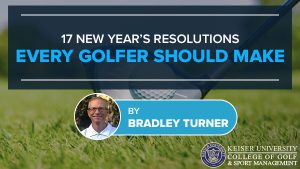 By Bradley Turner Keiser University College of Golf Director of Online Golf Instruction – MBA, PGA
Another golf season is underway in the southern states, while the northern golfers can only sit by the fireplace and watch golf on television. But soon enough, spring will be here, and golfers everywhere will be back on the links. If you are like most golfers, you may have made some New Year's resolutions relating to your game. Here are 17 suggested changes for you to incorporate into your own golf experience this year. All 17 may not apply to you, but a good majority are likely to fit into your New Year's golf resolutions. Good luck sticking to the changes you want to make to your golf game!
#1 Play More Golf  
You have already made this resolution to play more golf. Me, too. Except that life and work get in the way. To play more committed golf, I suggest that you join a league or group that plays on a regular and scheduled basis. Committing to a group or scheduled time to play makes it much easier to allocate life and work activities around your golf needs. Another way to play more golf is to be the golf proponent of your golf friends. It is not easy to organize golf games, but if you want to play more golf, you should be the one to get others to play with you.
#2 Find a Golf Coach
Hopefully, you already have a golf coach. If not, this is the year to find one. Whenever I start working with new students, I complete a short questionnaire with them to find out about their golf background. The data reveals that 56% of my new students have never taken a lesson from a professional golf coach. They are mostly self-taught or possibly helped by friends or family members. About a third of these new students have taken at least one lesson from a golf coach, with the majority taking only a handful of lessons. Only 15% would consider they have been coached by a professional over an extended period. The statistics tell us that 85% of you need to find that golf coach!
#3 Get the Family Playing
Family traditions are important, and what better way to bring the family together than to play an afternoon nine holes followed by a family dinner? Saturday afternoon in the summer is a great time to find golf course availability and family discounts on green fees.
#4 Get Professionally Fitted Golf Clubs
If you are in the market for new equipment, make sure to get a professional fitter to help you with this process. Do not go to a discount sporting goods store and buy golf clubs off the display rack. Pay the premium price and get the clubs that reward your golf swing.
#5 Consistent Practice Schedule Each Week 
If one of your resolutions is to improve your golf game, then you will need to dedicate some time to practice. A couple of times a week to work on changes suggested by your golf coach will get you moving in the right direction. You may want to invest in a practice net for the garage or backyard for those days when time becomes an issue, yet you can still get some work done around the house. And we are not talking about chores around the house.
#6 Don't Use Your 60-Degree Lob Wedge Out of the Sand
Please stop using your lob wedge out of the bunkers. Make sure and have a sand wedge with at least 12 degrees of bounce to help you get the ball out of the sand and onto the putting green. If you can consistently get out of the bunker and on the green 95% of the time, you don't need to work on this part of your game. A good sand wedge and a little bit of coaching is the likely solution to your bunker problems.
#7 Chip with Your 7 or 8 Iron
Chipping with too much loft is a common problem with higher-handicap golfers. The less loft you use, the better the result will be. Of course, you need to be able to land the ball on the putting surface and then let it roll out like a putt. Stop trying to fly the ball to the hole with massive spin. PGA Tour players can do that, but most others can't.
#8 Become a Great Holer Outer
A holer outer is someone who makes short putts, especially under pressure. Everyone can become a great holer outer! However, you will need to spend some time on the practice putting green to build this skill. Take five balls and find a straight putt. Place a coin at one-foot intervals starting at two feet away from the hole, then three feet, four, five, and six feet. Make five in a row from two feet and then move to the next distance. If you can make 25 putts in a row, you are putting like a world-class golfer. Anytime you miss a putt, you must start over at the two-foot interval.
#9 Develop a Fast and Efficient Pre-Shot Routine 
Most golfers do not have a consistent pre-shot routine. If you can write your pre-shot routine down on paper right now, you have a good pre-shot routine. What do you do both physically and mentally before each golf shot? If you can answer that question, you don't need to add this to your New Year's resolution list.
#10 Visualize Your Golf Shots
Arnold Palmer believed that seeing the intention of the golf shot would lead to him being able to paint that picture with a well-executed golf shot. Similar to an artist with a paintbrush, you must be able to imagine what you want to paint before you can paint the picture. Golf and painting, who knew the similarity? Become a habitual visualizer for better performance.
#11 Develop a Warm Up Routine 
Resolve to prepare yourself properly before any competitive matches. This means that you should eat right, stay hydrated, and get to the golf course in plenty of time to warm up. I like to arrive at least one hour ahead of my tee time as it gives me the opportunity to get physically and mentally ready to play.
#12 Forget the Gym – Simply Stretch
Gym resolutions are common but difficult for most people. How about just spending five minutes a day stretching? Five minutes is better than nothing; in short order, those five minutes will translate into a more efficient and effective golf motion. Of course, if you can spend more time, that is even better but dedicating five minutes a day is an easy resolution this year.
#13 Play Faster
Time is one of the big barriers to golfers playing more golf. Five-hour rounds of golf can be very frustrating. Are you a fast player? Can your foursome play 18 holes of golf in under four hours? Make sure you do your part in speeding up the pace of play. Three hours and 45 minutes is a perfect pace for a foursome of seasoned golfers.
#14 Encourage Others to Play Faster Too!
Don't be afraid to get others in your foursome to pick up the pace too! Be nice about it but be persistent in improving their pace of play. I would much rather play with a high-handicapped golfer who plays quickly than the scratch golfer who thinks that a five-hour round is essential to their ideal performance.
#15 Eliminate Hope Shots this Year!
Hoping to hit a good shot is something you want to eliminate this year. When you are faced with a shot that does not match your skill level, resolve to hit the shot with a quiet mind and accept the result. Worrying over the outcome often leads to poor results. Muster as much confidence as you can and then smile at the result, good or bad.
#16 Keep Your Emotions in Check
There is no need to be a club thrower or a profanity-laced golf partner. There is no question that golf is a confounding, frustrating, demanding, and humbling game. You don't need to go ballistic on the golf course if things are not going your way. I have never seen a golfer begin to play better golf when their emotions get the best of them.
#17 Accept the Results – Enjoy the Game 
You play golf because you love the game. It is fun, most of the time. If golf is too important to you, then your golf performance can influence your level of enjoyment. Learn to celebrate the good holes and accept the bad holes. The best players in the world make triple bogeys too!