12 Items to Bring for a Successful Golf Trip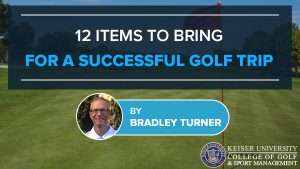 By Bradley Turner Keiser University College of Golf Director of Online Golf Instruction – MBA, PGA
Every passionate golfer will get excited about a golf trip with their links buddies. Planning the trip is half the fun, with course availability the primary concern. But you want to remember some essential items you must plan for and bring on a golf trip. Failing to prepare for your golf trip properly may likely end up with you wishing that you had not left in the first place. Here are 12 items to bring for a successful golf trip, no matter your destination.
1. Quality Travel Cover for Golf Clubs
For those that travel to play golf more than once a decade, purchasing a quality golf bag travel cover is worth the investment. You can find a good golf bag travel cover for under $200.00, so don't think you need the top-line brand. However, remember that this travel cover protects your favorite driver, wedge, and putter.  Don't forget to unscrew the driver head to ensure the shaft is not damaged in transit. I would also recommend turning the three metal and hybrid clubs upside down in the golf bag to prevent similar damage.
2. Bag Locator
The most important item to get to your destination is your golf clubs. An innovative device that tracks the exact location of your golf clubs is an Apple Tag. This device syncs with your Apple device and uses GPS tracking technology. You will be able to track the location of your golf clubs at any time or anywhere in the world. Hopefully, your clubs don't land in Phoenix when you get off the Orlando airplane.
3. The Essential Golf Equipment
Before you load up the golf bag travel cover with your clubs, take an inventory of the essential items to bring on your trip. This includes a range finder with extra batteries, gloves, tees, sunglasses, and outerwear if the weather is uncertain. Only pack a few golf balls for your trip. It is amazing how much weight is added to your golf bag with an excessive amount of golf balls. Wherever you go on a golf vacation, you can buy golf balls. You want to avoid carrying three dozen golf balls in your bag while towing your luggage and clubs throughout your golf vacation.
4. Proper Size Suitcase
Some experienced international travelers suggest that if you are gone for four or forty days, pack a small suitcase with four days of clothing. That seems a bit tight, but it is nice to travel with easy-to-handle bags. Remember, laundry service is available at many hotels, and a washer and dryer are available for those that use Airbnb. Worst case scenario, if you are running tight on clothing, a souvenir golf shirt or two is a good solution!
5. Golf Attire for the Weather
Travel as lightly as possible. Plan your outfits with the understanding that you are on a golf vacation. It will not be a fashion show when you hang with your golf buddies, so clothes should be comfortable and practical, with colors that mix and match throughout the golf week. And as stated above, travel light!
6. Bring Your Backpack
This item makes your travel experience much easier as you can bring essential items on the plane, such as your laptop and power cords, phone chargers, water bottle, and passport. Anything you want to avoid being stored away at the bottom of the plane must find a place in your backpack. A few choice snacks are a good idea too!
7. Headphones for the Plane
Noise-canceling headphones are a blessing on an airplane full of kids en route to Disney World. Sleeping on a long plane ride makes for a good first day on the golf links, so bring your airplane pillow and headphones to assist in the journey.
8. Portable Phone Charger
Most of us have become well-trained in remembering to bring all the needed chargers whenever we leave home. For many people, this might be the most important item to bring on a golf trip. When your phone runs out of juice, it is great to have a portable battery charger available on your golf travels.
9. Adapter for International Travel
If you are traveling internationally, bring an adapter for the electric outlets. In Europe, the electrical outlets are configured differently than in America. These adapters are inexpensive but required for golf vacations outside the United States.
10. Plan for Excursions
Be careful of the over-ambitious golfers who want to play 36 holes every day of the trip. One round of golf per day will be sufficient for most golfers, so plan accordingly. There are likely unique excursions that provide a much-needed break from the downhill three-foot putts you will be confronting. The Trip Advisor app will give you plenty of things to do after completing your golf round.
11. Plan for Dinner
As a foodie, I am always interested in highly-rated local restaurants. While the golf piece of the planning is clearly the most important, making dinner reservations might be a close second! This pre-trip planning task will require some diligent effort, but it will also make for a wonderful end to each day on the links.
12. Don't Forget the Souvenirs
Scout out the potential souvenirs you want to purchase before your round of golf. Who knows what exciting shots will be struck, creating the desire to have a memorable keepsake for the office. A souvenir from a once-in-a-lifetime golf course like the Old Course at St. Andrews is a must-purchase. I spent a few pounds on a logoed rain-resistant vest that I planned to keep for many years, only to leave it in the back of a golf cart at Deer Run Country Club a month later. I still miss that vest, dang.
Learn more!
Want more tips? If you want to take your game to the next level, contact our team at Keiser University's College of Golf & Sport Management today. With our dedication and experience, together, we can elevate your game to new heights. Give us a call today at 888-355-4465.