11 Fun Facts About Rory McIlroy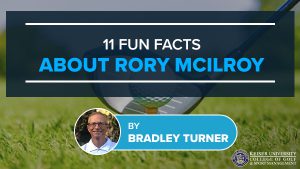 By Bradley Turner Keiser University College of Golf Director of Online Golf Instruction, MBA, PGA
The current number three ranked player in the world of golf is also the most popular golf star. If you follow the game of professional golf, then you certainly know about Rory McIlroy and his enormous skill in playing the game. However, there may be a few things you don't know about Rory, so take a look at these eleven fun facts about the world's number three golfer.
1. Made His First Hole in One at age 10
Rory made his first hole-in-one at the young age of 10 years old. Over the next 22 years, he made an additional nine aces with his first professional hole-in-one in 2015. That year must have been exceptional since there were 41 aces on the PGA Tour in 2015.
2. McIlroy Earned His European Tour Card in Two Starts
In 2007, McIlroy first competed on the European Tour at the age of 18. He made the cut in his first European Tour event, and at his second event, he finished in third place, earning him enough money to get his tour card for 2008! He is the youngest golfer in European Tour history to earn his playing privileges with a tour card.
3. Won the Silver and Gold Medal at the Open Championship
The Open Championship awards the Silver Medal to the lowest amateur completing the 72-hole tournament. Rory is one of only two players in the long history of the Open Championship that have won the Silver Medal as an amateur and then went on to win the Gold Medal and Claret Jug as a professional. It is probably not a difficult guess as to the second golfer; Tiger Woods is the other.
4. He Dropped out of High School
Not an advisable strategy for a young golfer, but McIlroy dropped out of high school at the age of 16 to pursue his goal of becoming the number one player in the world of golf. His parents supported this decision as they knew something the rest of the world did not know. Rory was that good of a golfer!
5. Pound for Pound – Longest Driver on Tour
At 5 feet 9 inches and only 160 pounds, Rory has been hitting the ball long and far for his entire professional career. His first year on the PGA Tour was in 2010 when he finished 12th in driving distance. Since 2011 he has been in the top 10 in driving distance every year, with the last few years ranked first or second in driving distance.
6. Tiger – Jack – Rory
This is a pretty cool club. The only golfers to have won four major championships before the age of 25. Unfortunately for Rory, that major championship count has stalled at four while Tiger and Jack continued to rack up victories. A few months ago, it looked like Rory had his second Claret Jug, but Cam Smith shot a fantastic 30 coming in to steal the win from McIlroy.
7. Young TV Star
Like Tiger, Rory grew up in the spotlight and first demonstrated his golf skills for the TV camera at the age of nine. Hitting pitch shots into a washing machine signaled to the golfing world that a new face would soon be making waves on the professional tours.
8. PGA Tour Victories
With 22 PGA Tour victories, Rory has more than any currently active PGA Tour player at the age of 33. Of course, this does not include Tiger Woods with 82 and Phil Mickelson with 45. Dustin Johnson will likely win another PGA Tour event, but his chances are limited as a LIV player. Rory is playing as if he is going to be the number one player for the foreseeable future.
9. Once Engaged with Caroline Wozniacki
In 2014 it appeared as if two superstars were going to be marching down the aisle of marriage. Caroline Wozniacki was the former number one female tennis player, while Rory was at the top of his game with four major championships. In case you don't recall Caroline, she has since retired from professional tennis but amassed over $35 million in winnings. What a power couple that could have been!
10. PGA Tour Player Board
Rory is the first international player to sit on the PGA Tour Player Advisory Council. It has been a rough few years for the PGA Tour with the Covid pandemic of 2020-2021, followed by the controversy of the upstart LIV Tour.
11. Has the Same Golf Coach
Throughout his career, Rory has had the same golf coach. Michael Bannon was the head golf professional at the golf course where McIlroy grew up. Since the age of 8, Bannon has been Rory's primary golf coach, and he continues to work with him today. McIlroy has sought advice from other coaching professionals, but he has stayed with Bannon throughout his career.
The last fun fact that cannot be verified as a fact. According to the tea leaves, Rory will end his career with 35 PGA Tour victories and six major championships. That sounds about right to me.
If you'd like to study with Bradley Turner and other PGA Master Professionals, contact the College of Golf today.