11 Female Golfers You Should Learn More About Today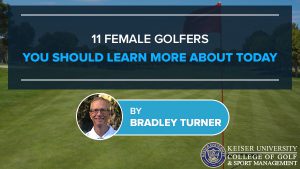 By Bradley Turner Keiser University College of Golf Director of Online Golf Instruction – MBA, PGA
The American golf population is primarily men, with female golfers accounting for only 25% of all golfers. The great news for women's golf is that there are positive signs of growth and interest in the game. In the last few years, the USGA has received record entries into their most prestigious championships. Last year, the U.S. Women's Open had a record of 1,874 entries into the qualifying stages of the tournament. The U.S. Girl's Junior Championship and U.S. Women's Amateur have also set records in the past two years. Women's golf has come a long way over the past century and will likely continue to flourish in the future. Golf has become an international sport, and this is especially evident in women's golf. In this article, you will learn about eleven influential women in the game, beginning with the current female golf stars, followed by recently retired stars, and concluding with some of the first female golf stars in the sport's history.
Current Female Golf Stars
#1. Lydia Ko (New Zealand)
This New Zealand native, at the age of 15, is the youngest golfer to ever win an LPGA Tour event. She has been a dominant player in women's golf and became the number-one ranked player in the world at a very early age. She won 15 events, including two major championships, by age 21. A three-year winning drought was snapped in 2021, and she has since earned four more LPGA Tour titles. She has recently regained her ranking as the number-one player in the world.
#2. Nelly Korda (Florida)
Nelly Korda's father was a professional tennis player who won the Australian Open in 1998 and, at one point, ascended to the number two-ranked player in the world of men's tennis. Nelly's sister Jessica is also an LPGA Tour winner, and her brother Sebastian is ranked 26th in the world in tennis. The genetics of this athletic family is amazing! Nelly is leading the way and is currently the second-ranked player in women's golf. At the young age of 24, she has won 12 LPGA Tour titles, including one major championship. The future looks very bright for this American golf star.
#3. Jin Young Ko (Korea)
Korea continues to produce champion golfers, and Jin Young Ko might be the best golfer ever from her country. At 27, she has won 15 LPGA Tour titles, including two major championships. She is one of the best ball strikers on tour, and this skill will continue to produce big tournament wins in the near future.
#4. Brooke Henderson (Canada)
Brooke Henderson won her first LPGA Tour title at the tender age of 17 in 2015. In her first victory, she won by an astounding eight strokes—an incredible start to a promising professional career. A long hitter off the tee, she was named Canadian Athlete of the Year and is a superstar in her golf-crazed country.
Recently Retired Female Golf Stars
#5. Annika Sorenstam (Sweden)
Possibly the most outstanding female golfer of all time, Annika Sorenstam won 72 LPGA Tour titles, including ten major championships in her hall-of-fame career. Unfortunately for Annika, she was amassing her incredible record at the time of another famous golfer, Tiger Woods. He was the face of the game, and many golf fans were unaware of the type of golf Annika was playing. She is the only female golfer to shoot 59 in a professional golf tournament. Annika and Tiger dominated their respective tours from the mid-'90s until 2008 when Annika retired at the early age of 38. Annika's first victory was the US Women's Open in 1995, about the same time as another female golf star from down under.
#6. Karrie Webb (Australia)
A month after Annika's victory in the US Open, an unknown Australian captured the 1995 Women's British Open Championship. Karrie Webb is the best female golfer from Australia, having won 41 times on the LPGA Tour, including seven major championships. Unfortunately for Karrie, she played second fiddle to Annika, much like Phil Mickelson was overshadowed by Tiger's incredible record. The consolation for Phil and Karrie is that they are in the top 10 players of all time on the respective tours and members of the World Golf Hall of Fame.
#7 Nancy Lopez (New Mexico)
The Arnold Palmer of female golf, Nancy Lopez, had the charisma and the golf game to compare to the King. As a young 21-year-old rookie, she won nine LPGA events in 1978, including five consecutive tournament victories. During her consecutive victory run, the sports and news media barnstormed the LPGA Tour covering the incredible rookie sensation. The summer of 1978 was the start of Nancy Lopez's Hall of Fame career as she arguably became the most famous golfer in the world. Lopez ended her career with 48 LPGA Tour wins, including three major championships.
#8 Juli Inkster (California)
Inkster won three US Women's Amateurs before becoming professional in 1983. That alone is enough for consideration into the Hall of Fame. As a professional, she won two US Women's Open Championships along with four other majors and 31 LPGA titles. In the Solheim Cup matches between the US team and Europe, Inkster has more match wins than any other American. Inkster was inducted into the World Golf Hall of Fame in 2000.
Historic Female Golf Hall of Famers
#9. Kathy Whitworth (Texas)
The all-time leading winner on the LPGA Tour with 88 titles, Whitworth was a winning machine in the 1960s and early 70s. Her first win was in 1962 at the age of 22, and she continued to win over the next 23 years, with her last win in 1985. In the major championships, Whitworth could not match her astounding LPGA Tour-winning performances, but she managed to win 6 of these tournaments in her record-setting professional career.
#10. Mickey Wright (Texas)
Mickey Wright's golf swing is considered one of the finest fundamental golf swings of any professional player, male or female. Her powerful yet elegant golf swing produced 82 LPGA championships, including thirteen major titles. Wright was the best female golfer in the 1950s, and with the emergence of Kathy Whitworth, these two Texans were the face of women's golf in America during the 1960s.
#11. Babe Zaharias (Texas)
An iconic and possibly the greatest female athlete ever, Babe Zaharias was also the first female golf superstar. She got her nickname "the Babe" because she was able to hit home runs on the baseball field. Zaharias also won three medals in the 1932 Olympic Games in track and field events. In virtually every sport she tried, she excelled with her incredible athletic abilities. She could hit a golf ball farther than most male golfers and drew a crowd of spectators wherever she played. Babe won the US Women's Amateur in 1946 and the British Ladies Amateur in 1947. These two tournaments were the pinnacle of women's competition, and the Babe captured both championships. The first US Women's Open was held in 1946, with Patty Berg winning. The Babe won three US Opens in 1948, 1950, and 1954 and 41 LPGA Tour titles.
If you want to take your game to the next level, contact our team at Keiser University's College of Golf & Sport Management today. With our dedication and experience, together, we can elevate your game to new heights. Give us a call today at 888-355-4465.