Why do Golf Courses Have Dress Codes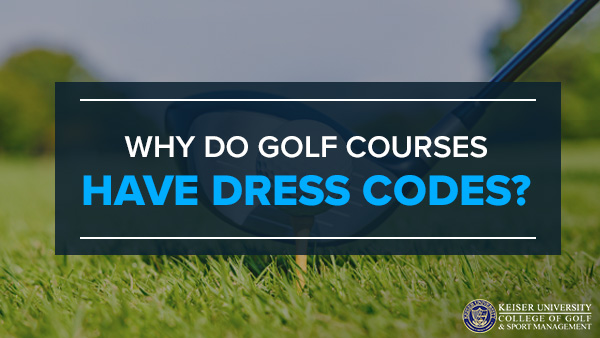 Ever wonder why golfers wear those clothes they do? Well they are following the golf course dress code. See what's a must and what you can get away with
Why do Golf Courses Have Dress Codes?
Golf has long had a dress code and etiquette that players must adhere to. This has been a way to keep new golfers as well as veterans of the game in line with the traditions of the game. Each course and golf competition has its own rules on dress code.  
Golf Course Dress Code
So, what attire is appropriate for golf courses?
Collared Shirts
Most golf courses mandate that men must wear a collared shirt. Women must wear modest-looking shirts, which can include collared tops.  No t-shirts are allowed.
Trousers or Shorts
Most courses require men to wear trousers when playing. Knee-length shorts are generally allowed as well. However, jeans shirts, jeans or cargo shorts are not permitted. Players should not wear any type of workout or fitness clothing.
Golf Shoes
Golfers must wear either soft spikes or traditional metal spikes to play on the courses. Trainers, running shoes and the like are not appropriate for most golf courses.
Socks
Traditionally, golf courses require socks to match the player's full attire.
Hats
Golf courses usually only permit baseball caps (clean and not beaten up) or straw hats to be worn by players.
Your golf attire is one way to prepare for the game. Another way to look great on the course is to improve your game. See what Keiser University College of Golf can do for your game. Contact us today.